100 Steps – I would walk 1,000 to go!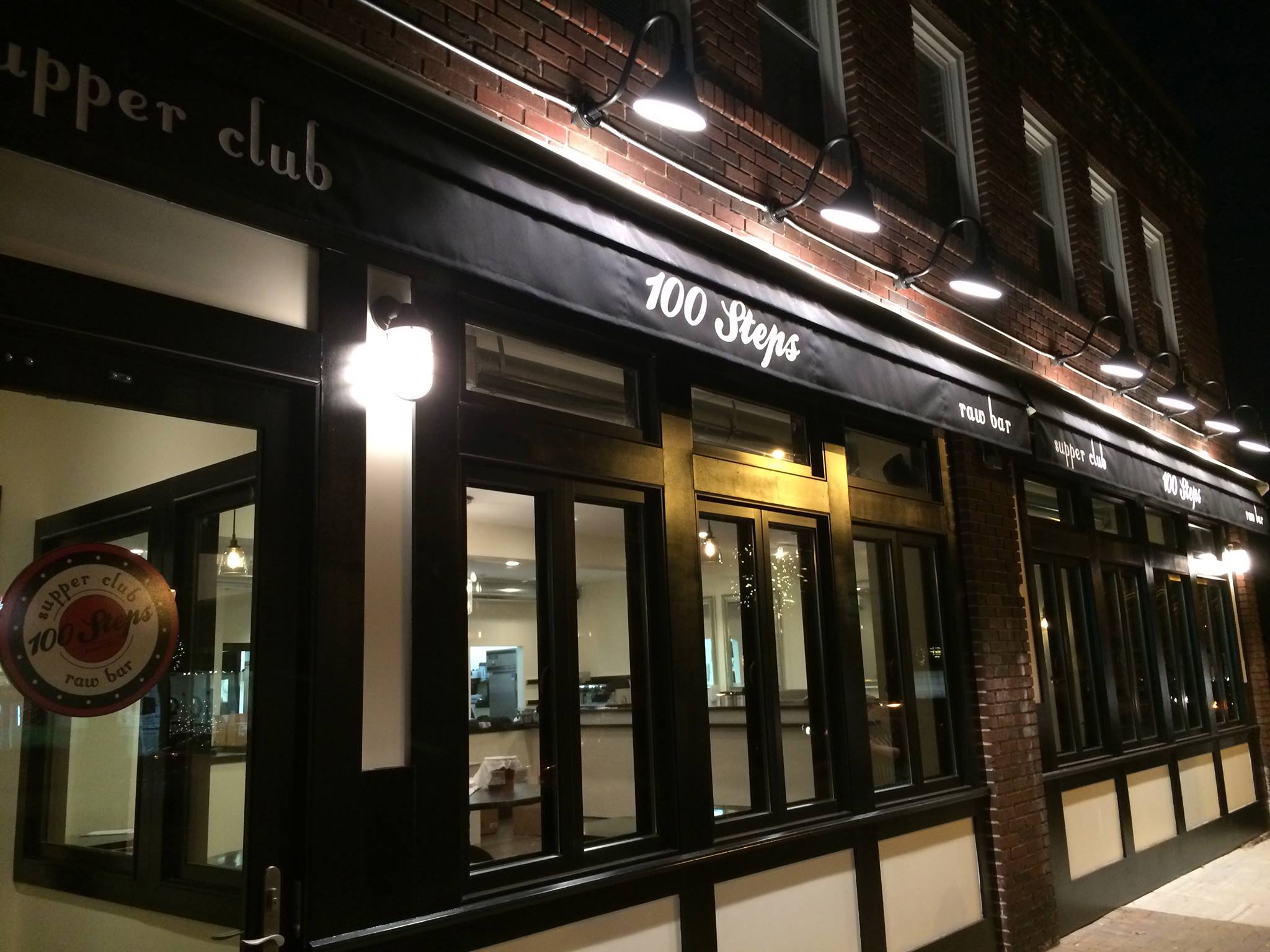 Whenever I hear about a new restaurant I run. Especially when I hear oysters, raw bar, and the words "you must go." Truthfully, it is hard to find a great oyster bar without having to make the trip into the city. So when I heard about 100 Steps in Cranford, it was a no brainer.  We made the reservation a few weeks in advance because I was told it wasn't an easy reservation to get. You do not need a res at the oyster bar but I figured if we were driving all the way to Cranford, I would like a confirmed table. It turned out to be a snow storm on Saturday night but we drove to Cranford anyway. I wasn't missing this meal even if I had to drive the sitter home.
We walked in and I knew right away, unless the food is bad, I was going to like this place. Great vibe, open space, wasn't too loud (which I hate) and we were FAR away. I didn't recognize one person in the whole place. BONUS.
They sat us at a corner table which I must admit was probably the best seat in the house. It was a circular little booth by the window. We had views of outside and the entire restaurant (perfect people watching spot).
(we sat at that corner table where the two red and white pillows are resting together)
The waiter brought over the menu which looked FAB! I think I stared at it for over 5 minutes. He explained that all the dishes were very small and meant to share. In other words it was more like Tapas.
Greg and I decided since it was snowing, yucky and just one of those nights , we were going to skip the oysters and go straight to the plates.
We shared the fried clam baby mini sandwich. I should say we each got our own little slider because they were too tiny to share. They were FANTASTIC!!!
The Kale salad was next on the list. I don't have a photo because it came out too dark but you can use you imagination. If you are a Kale fan, you will love this salad!
3rd course was the charred octopus. I thought for sure Greg wasn't going to order this because of the egg yolk (he eats everything but he has this weird thing about eggs. Scrambled ok but sunny side up or hard-boiled, um ,no.)
The octopus was cooked perfectly! Phew because if octopus is not cooked correctly this could be a deal breaker in a restaurant review. This octopus was a home run!
4th course and 3,000 calories later (worth every bite) was the strozzapretti pasta. If you decide to dine at 100 Steps, you better order this dish! O M G!!!
A little background on this dish from the chef at 100 steps: "The name "stozzapretti" means "priest stranglers" and the name and pasta shape originated in the Umbrian region of Italy. Old wives tale tell of a glutinous order of monks + priests who ate a local housewives pasta at a festival too quickly and the thick twists caused them to "choke" and repent for their gluttony! Not sure if the tale is true…but, the pasta certainly drives me to a bit of gluttony!" All I can say is this is a STAND OUT DISH. It would be a crime if you schlepped all the way to Cranford and did not order this incredible pasta.
The thought of eating dessert after that pasta was crazy but guess what? Go big or go home. We ordered 2 desserts to share (and you wonder why I complain all the time about why I can't lose weight – Saturday night people- bane of my existence). You only live once right?
We ordered the sticky toffee pudding. This was Greg's idea. I don't love sticky anything but he was so enamored by the description:
sticky toffee pudding
creme fraiche frosting, candied walnuts
we ordered it:
It was really good (Shhh, don't tell Greg because I was trying to talk him out of it the whole time).
We also ordered the salted caramel budino which I ate so fast I never took a picture.  I did happen to find a similar version online just to give you an idea … IT WAS SUPER!!!!!!
Atmosphere, food, service, A+!!!!!!!! We will be back in the spring with a bottle of white and a big order of oysters! Plus I definitely want to try their cheese and salumi boards!
The people next us ordered some:
Speaking of the couple next to us, It was ironic that we were so far from home yet the couple sitting next to us was speaking in-depth about my community and a few people I know. I held my breath and did not utter a word. It took everything inside of me not say "you know, I would be careful who you speak about because although you may not know me, I know every single person you were talking about. Scary, small world."  But I had such a nice evening I didn't want to ruin it so I finished my wine and left gracefully.
100 Steps is a must go! I can't wait to hear your review. I heard their sister restaurant "A Toute Heure" is even better so that will be our next stop on the restaurant tour.
(this is the other view looking at the oyster bar)
100 Steps, 215 Centennial Avenue, Cranford, NJ 07016. 908.276.6600