A Toute Heure – A Farm to Table Sensation!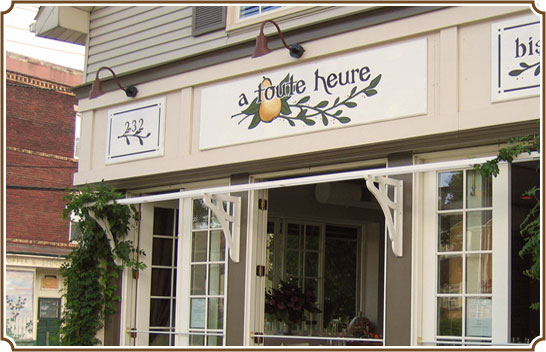 Last month was crazy. Between the 40th Birthdays and the traveling I do not think I have really had any alone time with Greg. It has been a whirlwind of activities. Greg and I needed a night! I have been dying to go to A Toute Heure  ever since I wrote about 100 Steps a few month ago. One of my friends has been raving about this restaurant but he asked that I not write about it. HA! How can I experience an incredible dinner and not share it? I told him if I hated it I wouldn't write about it.
Guess that didn't happen. Not only did I love this restaurant, Greg turned to me and said "Amy, this could one of the best meals in New Jersey I ever had." Believe me that says a lot coming from Mr. Foodie himself.
I will make this disclaimer: This restaurant is not for someone who does not like to expand their culinary horizons.  If you want a piece of grilled fish and vegetables, eat home or go somewhere else. A Toute Heure is an incredible dining experience. Get ready to be taken away!
A Toute Heure is set in a 1930s restored house in Cranford, NJ.
The dining room is a petite, delightful room with high ceilings, big windows and bare wooden tables seating 38.  It is casual and cool with a great vibe.  I should note something that really stood out to me was the music. They were playing an awesome classic rock playlist that covered all the greats. It was just loud enough to put you in a good mood and not so loud that it interfered with conversation at your table. I am not sure if that would be anyone else's take away but when I hear good music it enhances my experience.
Greg and I were seated at a beautiful table up front by the windows.
Our server, Jane, who was one of my favorite servers I have yet to encounter (see Jane on the left), handed us two menus.
I took one look at the menu, looked at Greg and said "Um, where do we even start?!"
Jane explained that the menu focuses on locally sourced, seasonal ingredients.  The menu changes daily and is ever changing.  It is based around the chef's specials, local foods, seasonal treasures, and whatever looked best at the market that morning!  Amazing! I asked her for the stand out dishes and she rattled them off in seconds. Greg and I decided we would share a bunch of things. I am not a fan of an entrée. I would rather order a bunch of apps and maybe one entrée to share. That is exactly what we did. 
The restaurant is BYO so we brought a bottle of white and red. We were unsure when we left what we wanted to drink so we figured we would let the menu decide for us. We opened white.
We began our food marathon with the warmest, most delicious sea salt bread and honey butter. I could have eaten this for dinner and called it a night. I am still dreaming about this bread today. I knew this was a sign of great things to come!
I rarely order or eat polenta but Jane said it was a must have. So our first course was the crispy, fried polenta with masala, truffle oil and a bruleed egg yolk on top. I knew Greg was really stepping out of the box here because Greg and egg yolks don't exactly go hand in hand. Jane explained we have to spread the egg yolk on top of the polenta and dig in. I smiled, had a sip of wine and ate my first bite. Wow, if you love polenta – you MUST get this dish! (if it is available)
I love scallops and shockingly so does ONE of my sons! I was given an incredible scallop recipe that I will post this week if you want it (comment below so I know you want it or like the article).  I thought the preparation of the scallops sounded so good we had to try it. Mustard seeds, leeks, and mushroom duxelle (duxelle is a mixture of chopped mushrooms, onions and shallots that is sautéed) , YUM!
Yeah, this dish was FAB!!!
Jane told us a lot of the patrons come just for the mussels. Mussels are my favorite summer dish at the beach so if this what people were coming for, this was a dish I wasn't going to turn down. We weren't sure which mussel pot to go with but Jane said that Kara's mussel pot with spicy chorizo sausage and cream sauce is a house favorite. It is the only mussel dish that has remained on the menu since opening day. Done! Kara's mussel pot it was.
It was so good you couldn't even tell it was a mussel pot after you soak up the entire broth with your bread – YEAH, THAT GOOD!
At this point I am half way through a bottle of wine, have stopped worrying about my calorie intake and excited about what else there was to come. Although I wasn't sure how much more I could eat.
After that winner we shared the gnocchi. Gnocchi is the last pasta dish I would ever order. It is usually very filling and heavy. Definitely not my favorite. But Greg LOVES gnocchi and after Jane explaining this is not your ordinary gnocchi, that it is actually made with a lighter phyllo dough instead of traditional potatoes, we went for it.
We did not leave a crumb. Love pasta? This dish was amazing!
After the gnocchi, we shared our last course  – the special fish of the day. It was a red fish with farro, kale and radicchio. It was definitely my least favorite of the bunch but I am not sure if it was because I was so full by this point or red fish was not my first pick for fish. It was extremely nice of them to split for us though.
As Greg and I were eating our last course, a couple was seated next to us. This was for sure their first time at A Toute Heure because they had no idea  it was BYO. We overheard them talking about how upset they were that they didn't know this tidbit of info. Greg offered them our bottle of red that we did not open. They were extremely grateful and I would hope if the tables were reversed (pun intended), someone would do that for us. Karma, people. Karma.
I had no idea how I was going to manage dessert but there wasn't a shot I was turning it down after perusing the dessert menu!
If I was by myself, I would have probably ordered the chocolate chip cookies because believe it or not, they are my favorite dessert. But how does one turn down the warm chocolate pudding cake with peanut butter ice cream, peanut brittle, salted caramel sauce and marshmallow? They don't!
All I can say is, O M G! This was to DIE FOR!!!!!!!!!! AND remember that couple who we gave the bottle of wine to earlier? They sent us this:
This was a trio of vanilla, dulce de leche and chocolate homemade ice cream. Yes, I tried this too! After polishing off a bottle of wine and enjoying 6 courses, I told Greg he was going to have to roll me out of there. Would I recommend this restaurant? HANDS DOWN YES! Don't walk, RUN!
A Toute Heure is the first of many visits in the future.
Here is a little scoop about the restaurant:
They are open for lunch Tuesday – Friday (12-2pm). Walk in seating, reservations for parties of 5 or more only.
They are open for dinner Tuesday -Saturday (5-10pm). Reservations recommended! If you are trying for a Saturday night, make your reservations weeks in advance! Maybe if you mention lulu, they will help a little more? Never know! Or call their sister restaurant 100 steps!
The 2nd Saturday of every month they offer extended daytime hours, 12 noon – 10pm with their full menu!
The last Sunday of each month they offer an a la carte brunch from 10:30am-1:30pm. Their brunch menu is OUTRAGEOUS!!! I can't wait to go!
Finally I would like to mention while we were there, we met the owner Andrea. She is a wonderful owner who cares about her patrons, makes sure that each of them are happy throughout the meal but by design remains in the shadows working the front of the house.
Truly a farm to table sensation!
A Toute Heure, 232 Centennial Avenue, Cranford, NJ 07016. 908.276.6600