The Running of the Jews – Camp Visiting Day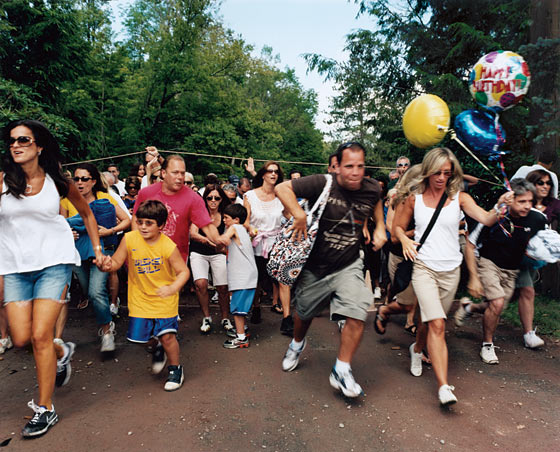 It's funny, in all the years that friends of mine have been speaking about visiting day I wasn't really paying attention. Now that this is Zach's first year at camp, I have certainly been listening!
First of all, when I was a kid at sleep away, my parents came up, brought me some candy, etc. We spent the day doing what? I don't remember and they left. When I started talking about visiting day with my friends I began to hear nightmare things that went on. I just kept thinking thank god this does not go on at Zach's camp. I don't think I could deal. I am not equipped for the madness. I'm just not. It is not that I was raised on a farm. I went to camp, I went to Syracuse, I lived in the city, I live in THAT town. BUT I still can't deal with the things I am going to discuss.
Second of all if this does go on at Zach's camp (as I have no idea what to expect), I may take him home upon arrival (ok, not really).
I know this has been going on for years. I know. But I didn't have a kid going to sleep away then so I never thought about it. UNTIL  – I heard about "The Running of the Jews". Parents who never exercised a day in their life  are now all of a sudden marathon runners. Full out SPRINTING to their kids.
Can't you hear the song "Chariots of Fire" playing in the background. How much time do you think they spent stretching before they took off?  Watch below:
(I apologize in advance if you are in this video, I tried to pick something from several years ago because I found a video with someone I knew and I was like I CANNOT post this! I will have 300 calls tomorrow and thrown out of Livingston). This little video is just an EXAMPLE of the "Running of the Jews". SEVERAL other camps do this and while I completely understand the feeling and the determination of wanting to see your kid, this just goes beyond any level. Does it not look they are running FROM The Blob, A Walking Dead Character, the diseased in World War Z? The scariest mother – f**ker ever!  I am surprised nobody has been killed yet! By the way, in the video did you hear the woman say "GET OUT THE BLANKET"! LOL. I mean is someone going to steal her spot? Isn't the camp HUGE? I feel like it's opening day at the beach and everyone is bolting to see who can get the closest spot to the water. Did you see the guy with the cart? I do know that it's hot and people need shade so they want the a shady area but is it worth killing someone? Okay one more… this one may even be better! (I love all my friends who send their kids to this camp – I mean NO disrespect but you have to laugh!)
All the parents run with coolers, Baked By Melissa boxes, bagels from their local bagel shop, Chinese Food, Greek Food, etc. You name it's there. Cookie Cakes, Dylan's Candy packages, Candy Bunks.  It is a full gourmet Plaza Food Hall. (I do love it there though  – have you been? – Todd English, Plaza Hotel. OMG GO!) But at CAMP? down and dirty camp?!
I mean, look, of course I am bringing my kid some candy. The kid hasn't had candy in 4 weeks, YES 4 weeks! Do you think he is going to make it? I just think the amount of candy that is brought to camp is beyond anything I have heard before. These kids have ONE day to eat candy. ONE DAY. Do you really think they are going to eat a candy tower the size of Mt. Everest in one day  even if they share it with their bunk?! I do not want my kid throwing up before I leave him.
I do know that at my son's camp they give us lunch of fried chicken and chocolate chip cookies which I will happily eat (even though I would prefer a lobster roll if I am going all the way up to Maine) but at least the camp prepares us lunch. I think if I pulled out a container of Nana's Tuna I would be banned. I guess if the food is so terrible and I really do not want to wait in a line for an hour for food I would consider bringing something with me. But I just don't see myself driving to Molyvos for a Greek Salad before my departure.
I also heard that some camps actually have this…READY? Parents bring tents and chairs and set up for the day. TENTS? Are they tailgating? Isn't the point to spend the day with your kid, go to the waterfront, see the bunk, meet their friends, counselors, etc. If I am going to travel x amount of miles to camp "BEST CAMP EVER"  than there better as hell be a place for me to plant my ass. I will not be required to bring a tent and a chair and scout out the "best place to sit". This is not a Dave Matthews Concert. For real! (unless of course it's a heat wave, 110 degrees outside and there is not a shady part in the camp).
Like I said before, I truly understand the feeling of wanting to see your child. Three – four weeks is a long time.  A very long time.  I will be ecstatic to my son. As I was perusing the web for a visiting day I think is more my speed, I came across this one. Let me just tell you, this is an all girls camp. I have no allegiance to them (I HAVE ALL BOYS, LOL) OR do I even know a kid who goes here. I just watched it and I thought I hope this is what will go on when I get up to Maine next weekend.
There is something about the kids  making their way to their parents, seems a little more civilized, ya know?  I am not sure how your camp does it. I do not think there is a right way or a wrong way. I just think the hysteria of 1000 parents sprinting to their kids, setting up camp with Luger's and Barney Greengrass has gone too far. Right?
I welcome your feedback and comments.
 If you enjoyed this post, subscribe to my blog for new updates!