The Meat House! Have you been???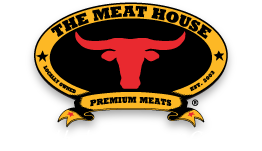 When I was little, I remember my mom taking me to the butcher to pick up dinner. The man who worked behind the counter was named Sam. He was overweight, bald head and had a bloody apron. I remember him so well because my mother dragged me there often. The bakery was next door and she always used to pick me up my favorite cookies.  It's probably the only reason she got me to take the ride.
I haven't seen a butcher like that since I was 8.
AND THEN I HEARD ABOUT THE MEAT HOUSE. OH BOY!!!!
The Meat House opened in Summit 10 days ago. If you haven't been yet, I suggest you hop in your car and take a ride over.
The Meat House offers premium, hand-cut to order meats that are prime and choice.  They offer everything from natural red meats to turkey, to all natural chicken and  lamb. They also offer pork and homemade sausages.
If you are looking for grass fed beef, organic meats and American Kobe Wagu, they have it! If you happen to be in there and you are looking for boneless pork chops but they are not in the cabinet. Ask! They keep a ton of meat in the freezer. THEY HAVE EVERYTHING and its VERY FRESH! They provide only the freshest and highest quality meat.
Here you can see they sell slab bacon, bone and boneless pork chops, homemade sausages, etc
They were sold out of the bacon wrapped Meat Loaf when I go there but they had Hamburger Patties, Cheddar Burgers, T-Bone steak, Eye Round steak, 92% sirloin and 85%  hamburger, Meat House marinated steaks.
As you can see below the selection is endless! They had a beautiful Flank Steak, Strip Steak (my fave), Filet Mignon, Dry-Aged Porterhouse, and Grass Fed Burger from a local farm.
Lastly they had an all natural selection of Short Ribs, Buffalo Strip Steak, Rib and Tri Tip.
What has modernized this butcher from the old school butcher we grew up with is their selection of marinades. They have a traditional "Meat House" marinade, Lemon Pepper marinade, Korean "Kalibi BBQ, Maine Maple Bourbon, Teriyaki, and Sweet BBQ. The chicken featured below is prepared in some of their famous marinades.
Not only can you shop for meat at this amazing store BUT they also have a wide selection of fresh fish that is caught and shipped to the store everyday. They always know where their fish comes from, sometimes they even know the captain! The butcher will always know the source. Meat House offers Fresh Clams & Stuffed Clams, Crab Legs, Mussels, Oysters, Steamers, Sushi Grade Tuna, etc.
The Meat House really went the extra mile and brought in fresh produce which gives you ,the customer, the opportunity to only have to make one stop! How special is that!! Plus they have a huge selection of cheeses and even an olive bar!
If you want to stop in for lunch, they have a make your own salad bar and an incredible deli counter that is not to be missed! They have all boar's head deli meats.
Need a place to eat your lunch? They figured that out too….
So definitely stop in, I promise you will leave with a lot of goodies.  Ask for Kyle the Butcher…he really knows his shit. Tell him Amy sent you!  By the way if are in a hurry and need to place your order ahead of time, Call 908-228-5960. They will have it ready for you to pick up!
I would love to hear how your feedback!
The Meat House, 321 Springfield Avenue  Summit, NJ