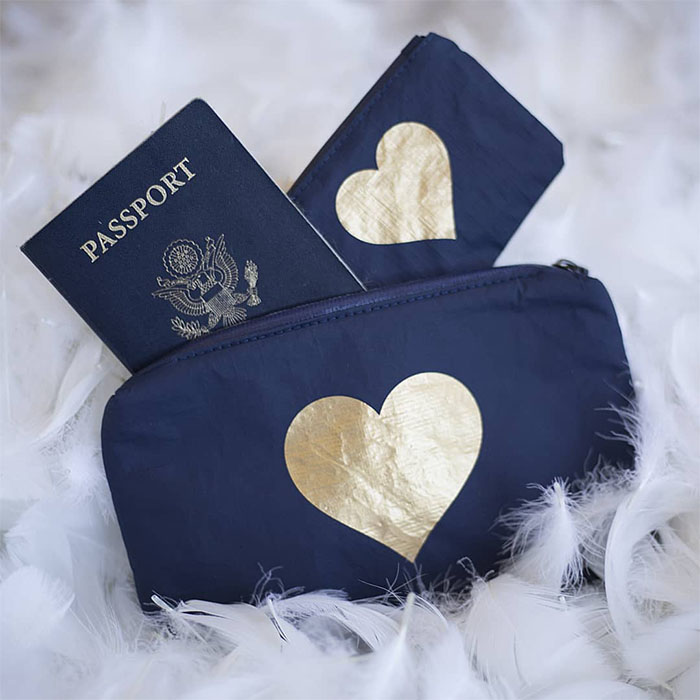 I was sitting on the plane a month ago and this woman next to me had this adorable bag that kept all of her lipsticks. I couldn't stop staring at it because I loved the material. I finally asked her where it was from and she replied "it was a gift." So annoying. I mean, WHO MAKES IT?? It was bothering me the whole flight so the minute we landed, I turned to her and said, "I hate to be annoying but would you mind looking in the bag to see the brand? There must be a label…"
She looked at me stoned face and said "Hi Love Travel." Well thank you very much, was that so hard? ANYWAY…. I called the company right away to see how I could go about selling their adorable line.
Ever since I became a travel agent, I have been on the search for lightweight, chic, functional travel gear. I knew this was it.  It doesn't matter where you are going or what you are doing, there is a pack for any activity! The lightness of a pack can be used from schlepping to work, running around with the kiddos, tossing wet bathing suits, flying, a weekend getaway, whatever! What I love about to them is that they weigh nothing and they are made of this cool recyclable material. The packs are also mold and mildew resistant which is a huge plus when carting all my toiletries around.
All you need to organize while you travel or for every day. So many uses; for toiletries, wet bathing suits, makeup, packaged snacks, chargers, as a stylish clutch and more!
Matching Set of Three Packs: One Medium Zipper Pack, One Mini Pack and One Emergency Pack
Medium Pack: 11″L x 2″W x 9″H – Purposed for toiletries, wet bathing suits, sweaty t-shirts, packaged snacks, electronic chargers or folded over as your new stylish clutch.
Mini Pack: 7.5″L x 4″H – Purposed for make up, credit cards and cash, keys, chargers and Life's Mini Necessities!
Emergency Pack: 4.5″L x 3″H – Purposed for life's emergencies from band-aids to hair ties, aspirin to mints and All of Life's Little Savers! ID and keys fit perfectly too!
Navy with Metallic Heart $74
Black with Metallic Heart $74
Metallic Silver with Black Star  $78
Black with Metallic Stripes  $74
Love this versatile piece which transforms from a Crossbody Purse to a Clutch. Remove the chain and slip your hand through the strap for clutch mode.
Great for travel (when you don't want to take your expensive purses), to go to concerts and for Friday/Saturday Nights out again when you don't want to worry about a purse getting spilled on.
7.5″ L x 5.5″ H
Black with Silver Heart $68
Black with Silver Star $68
Metallic Silver $76
HAPPY TRAVELS! 
XX

This popup will close in:

Don't Miss a Post! Get Lulu and Lattes in your inbox!