NETFLIX, AMAZON PRIME, HULU 2018!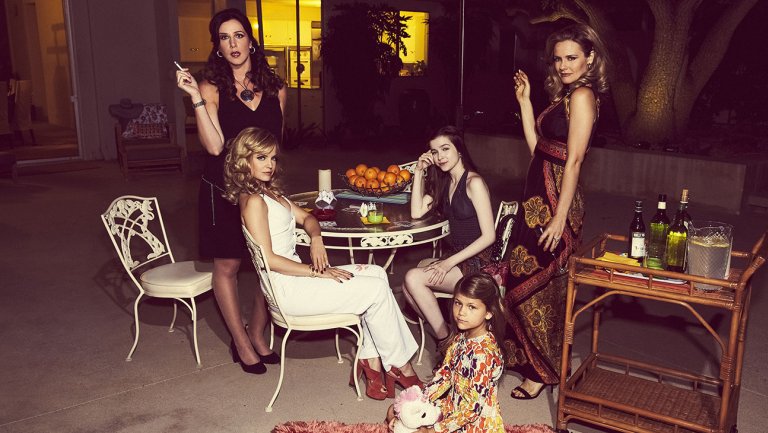 It's cold as fuck outside which makes me want to go NOWHERE. I kind of want to get back in bed but in my own crazy mind I would feel guilty doing that so I'm huddled around a space heater in my office wondering what new Netflix series to begin. The deal Greg and I made 10 years ago was even if we don't talk all week (because we are busy doing 20,000 things) we must watch one hour of awesome TV a night (where we still don't have to talk). As we begin 2018, I thought maybe I would mention some of the best series I saw in 2017 and the series I am highly anticipating in 2018.  A first look at 2017:
PEAKY BLINDERS (netflix)
I am listing this first because I just finished season 4 which was holy shit good. I am usually not a fan of British gang dramas but of all the series I have seen on Netflix, Peaky Blinders is, FOR SURE, in the top 3. The Peaky "Fucking" Blinders is a notorious gang in 1919 Birmingham, England, led by the fierce Tommy Shelby, a crime boss set on moving up in the world no matter the cost. Each season is only 6 episodes which you will breeze through. Your husband/boyfriend/guy friend will LOVE LOVE LOVE this one! Even if you don't watch it, he should! It's Boardwalk Empire meets the Sopranos in 1920.
THE HANDMAID'S TALE (hulu)
This was my favorite series of 2017 (over Big Little Lies). Disturbing and riveting. This is a binger!  Elizabeth Moss seriously kills it. There is a reason she won the emmy for her performance in this series. WOW. Run don't walk.
THE MARVELOUS MRS. MAISEL (amazon prime)
Once you get passed the first 20 minutes of episode one, you will fall in love with Midge Maisel, a 1950's Jewish housewife who becomes a stand-up comic. FUNNY!!! Everyone seems to be chatting about this brand new series. It is TERRIFIC!!! Rumor is it's loosely based on Joan Rivers.
FAUDA (netflix)
Speaking of Jews, I think I watched this series in two days. BINGE WORTHY! It's basically about an Israeli agent who comes out of retirement to hunt down a Palestinian militant. What I found most intriguing is it gives us a surprisingly balanced look at the conflict in the Middle East. The series is so big in Israel that the evening of December 31 was not the end of 2017 but the beginning of season two of Fauda. I can't wait for it to hit the US! GRIPPING!!!
OZARK (netflix)
I wasn't sure half way through the first episode if I liked it or hated it. But I gave episode 2 a shot and I began to understand why everyone was raving. Jason Bateman gives one hell of a performance in this series. He plays Marty Byrde, a financial planner, who relocates his family from Chicago to a summer resort community in the Ozarks. With wife Wendy and their two kids in tow, Marty is on the move after a money-laundering scheme goes wrong, forcing him to pay off a substantial debt to a Mexican drug lord in order to keep his family safe. I ended up LOVING this but I have no update as to when in 2018 it will be returning. All I know is that there will be a season 2. 
Big Little Lies (HBO)
Loved this series! I couldn't watch it fast enough. Based on the best-seller by Liane Moriarty; Nicole Kidman, Reese Witherspoon and Shailene Woodley star as the three prominent "mothers of Monterey."  The series brings to light society's myths regarding perfection and its romanticization of marriage, sex, parenting and friendship. This was a summer winner! Season 2 (yes it's coming back) will premieres in 2019.
FARGO (netflix)
Although this show is named after the Coen brothers' classic movie, the series is actually a semblance of all Joel and Ethan Coens' work. It was originally conceived as a mini series but acclaim of the show's first season led to its renewal and evolution into an anthology. Each season focuses on a new set of characters and a different year and plot, but retains similar themes that ultimately keep them connected. If you are a huge Coen fan, this is a no-brainer. Series is FANTASTIC. Catch up!
OA (netflix)
Truth be told, I haven't seen this one but Greg insisted that I include it, so I am. Marling is a blind woman who comes back after disappearing for many years. Her sight is restored and she has a tale to tell. Although there are eight episodes they vary wildly in length – from 70 minutes to 30 minutes. The whole thing has been made to make you feel uneasy and apparently it  does a great job of that.  It's on my list for 2018
BLOODLINE
ON MY LIST FOR 2018

:
CATASTROPHE (amazon prime)
"Wickedly smart and bitterly funny, Catastrophe's two short seasons reveal uncomfortable but honest truths about marriage and children, especially in the case of its two leads who were never looking for either (at least, not with each other). An unexpected pregnancy after a one-night stand turns into a patchwork relationship that is more realistic than anything else on television, one where its protagonists struggle, mess up, make terrible decisions, yet ultimately choose to be together through all of it while being genuinely warm and funny. Delaney and Horgan are fantastic, as are Ashley Jensen and particularly Mark Bonnar and Jonathan Forbes in supporting roles. Catastrophe is a show to binge quickly, and then go back and watch again immediately. It's cringe-comedy at its finest and most revealing, whose only sin is brevity". — Allison Keene
Sharp Objects (HBO) premieres June 2018.
If you loved Big Little Lies, I heard this will be your next TV obsession. Based on the book by Gone Girl author Gillian Flynn, Amy Adams stars as Camille Preaker, a reporter who returns to her hometown to investigate the murders of two young girls. Sharp Objects was originally set to be a feature film, but HBO acquired the rights and decided to transform the narrative into an eight-episode season, which will be directed by Big Little Lie's Jean-Marc Vallée. I can't wait for this one!
The Assassination of Gianni Versace: American Crime Story (FX) premieres Wednesday, Jan. 17 at 10 p.m.
The first iteration of Ryan Murphy's true-crime anthology series, The People v. O.J. Simpson, became an awards show steamroller, and it seems the next all-star cast will bring the same level of prestige to the screen. Penelope Cruz is portraying Donatella Versace, Édgar Ramírez is playing Gianni Versace, Ricky Martin has been cast as the designer's longtime partner, Antonio D'Amico, and Darren Criss is taking on Andrew Cunanan, the man that murdered Gianni. This is going to be GREAT!
HEATHERS (paramount network -taking over Spike TV ) premieres Wednesday March 7th at 10pm.
One of my favorite movies of the 80's is returning this year into a 10 episode series that will not be featuring Winona Ryder and Christian Slater (unfortunately). However, Shannen Doherty, will be guest-starring in the pilot to pass the baton on to a new generation. If it captures the "Fuck me gently with a chainsaw" tone of the film, this will be must-see TV.
AMERICAN WOMAN (paramount network -taking over Spike TV ) premieres Thursday June 7th at 10pm.
Alicia Silverstone and Mena Suvari star in this sitcom based on the life of Real Housewives of Beverly Hills star Kyle Richards. Set in the 1970's, American Woman is centered on Bonnie (played by Alicia Silversone), a 40-year old woman with a beautiful home and two beautiful daughters. Finding herself alone after her marriage fails, Bonnie is an enigma of the times: a single woman with no means to support herself or her children. With the help of her two best friends, Kathleen (Mena Suvari) and Diana (Jennifer Bartels), these three women each discover their own brand of independence in a glamorous and ever-changing world reluctant to give it.
IT WAS HIM: THE MANY MURDERS OF ED EDWARDS (paramount network -taking over Spike TV ) premieres Monday April 16th (time TBD)
Veteran Police detective John Cameron has been investigating convicted serial killer Ed Edwards for years and has compiled evidence that connects Edwards to some of the most famous murder cases. Cameron has joined forces in his investigation with Wayne Wolf, the grandson of Ed Edwards, who only found out five months ago that his grandfather was a killer.  Together they seek justice for not only the wrongfully convicted but the families of the victims.  Heard this is bone chilling!! No trailer yet. 
Noteworthy series returns in 2018:
MAKING OF A MURDER, SEASON 2 (no air date yet)
HOMELAND, SEASON 7 (starts feb 11th)
THE AMERICANS, SEASON 6 (early 2018, not a set date yet)
BETTER CALL SAUL, SEASON 4
If you missed The Killing, Bloodline or The Fall – go back and watch it!
*** There is still not a release date for The Affair Season 4 but it's "supposed" to be early 2018. In the meantime while I am not recapping, let me know if there is a MUST WATCH series or something you think would be fun for me to recap – must be a show we can watch together in "real time" (like how the Affair is new each week, ya know). No disrespect but the ONLY show I will automatically veto is "This is US". It's too gut wrenching and depressing. Spicy, fun, more up my alley :).
HAPPY SNOW DAY TO THOSE ON THE EAST COAST!
XX