A Visit to the Waldorf Astoria, Park City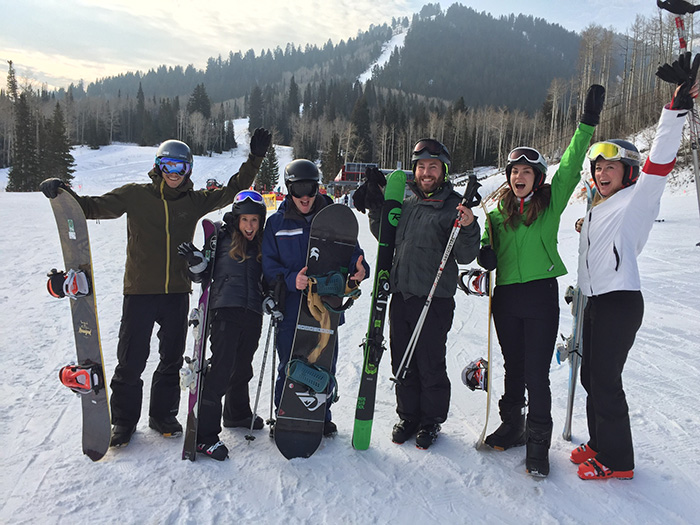 Last week I did a quick visit to the Waldorf Astoria in Park City, Utah with a few Smartflyer agents. I was super excited to go because if you are a skier, you know, there is nothing better than skiing out west. I actually started to write an entire blog post on Aspen (visiting both winter and summer) in the middle of last summer but the Bar Mitzvah shit got in the way and it's still hanging out there. I definitely will finish it as there is so much I want to tell you! Anyway, the beauty of flying to Park City is that it's a direct flight into Salt Lake and a 30 min drive to Park City. If you take an 8am flight out of New York, you can be on the mountain by early afternoon.  The only thing I really knew about Utah (as I had not been prior) was there was a heavy Mormon population, (contrary to popular belief, polygamy is not practiced by Mormons and it is illegal in Utah…that I didn't know), the great salt lake is saltier than the ocean, Utah gave women the right to vote before the Federal Government (TRUTH), and Utah has the tallest mountain peaks in the country. The things I did learn while I was there will be unveiled now…
I landed in Utah headed to baggage claim. As I was going down the escalator, there were hundreds of people standing there with balloons and signs. All these people waiting for ME? (lol). I couldn't imagine what they were doing there until the driver told me that family and friends come by the boatload to greet missionaries every week. I was definitely not in Kansas anymore…
After a quick drive, I pulled into the Waldorf which was beautifully set for the holidays!
There was a gingerbread display that made me laugh only because I wonder how long it lasts until the kids secretly try to pull the candy off it and sneak it into their mouth.
I was escorted to my room which was SICK! My favorite part of the room, besides the size and homey feeling, was the fireplace. I loved falling asleep every night with the fireplace on without having to worry that the room would burn down. All 175 rooms at the Waldorf are spacious with a mountain style flair. Perfect for a family destination.

I had a nice surprise waiting for me in my room. This cake became a major issue for me, though. You cannot put the world's best red velvet cake in my hotel room and expect me not to eat it the whole thing in one sitting! UGHHHH. Thank you MH, it was delicious. Thankfully I had enough activities planned for the next few days to burn it off 🙂
Since we had all flown in from different parts of the country (Cali, Chicago, NY), dinner was arranged at the restaurant, Powder, in the Waldorf. After eating at many restaurants in Park City, you must go there for dinner. The Charcuterie Plate, alone, was amazing!
The cauliflower steak, WOW! I could have eaten this for dinner and been done.
I wasn't sure which entrée to order as the buttermilk fried chicken looked really good but I went with the Flat Iron Steak. So happy I did. It was THAT GOOD.
As if we hadn't eaten enough, we ended the night making s'mores around the firepit out back. You literally had to roll me in the elevator after that night!
The following morning we stopped for coffee and breakfast at Kneaders (get the french toast if you go and buy the caramel sauce to bring home). We were supposed to go snowmobiling but due to the fact there wasn't much snow, our plans changed to horseback riding. I love horses so I was pretty excited. The only drawback was the temperature. It was 16 degrees! Thankfully I dressed appropriately. No cowgirl hat for me, more like wool hat and gloves! Rocky Mountain Outfitters is the way to go. They are located about 15/20 minutes from Park City on a huge ranch in Midway, Utah.
It was simply breathtaking.
I was lucky enough to have a beautiful, well-mannered horse named Flash.
The only problem with Flash, though, was he did not know when to stop eating. He literally ate the entire two hours.
After a morning of riding, everybody was ready for lunch.  Now, after eating 10,000 lobster rolls all throughout Maine, the best lobster roll is at Freshie's Lobster Co in Park City, Utah. I swear. The owners, who are originally from Maine and New Hampshire, moved to Park City and opened Freshie's in 2009 at a Farmers Market in a food truck. Word quickly caught on about their MUST HAVE lobster rolls, they couldn't keep up with the demand so they had no choice but to expand and open a restaurant. Freshie's won the World's Best Lobster Roll at the  "Down East Lobster Roll Festival" competition in Portland, Maine this past year. Believe me, they deserved it! Best damn lobster roll EVER! GO THERE!!!! You can read more: HERE.
No mayo, just a ridiculously toasted buttered roll and fresh lobster meat that will keep you coming back for more!
I am not much of a fisherman. Once and awhile I take the kids to the bay in Margate but that's about the extent of my fishing career. Fly Fishing was a first. Truthfully, I was bugging because it was cold out and the idea of walking through freezing cold water was not appealing. I wasn't sure if the waders actually kept you dry but remarkably they do! I had zero idea if the water was 40 degrees or 10 degrees. Even the boots worked.
The only issue was the bottom was quite slippery. When we first set out, it was like walking through a swamp. Have you ever stepped in really wet sand and your feet got stuck and it was a bitch to pull them out? Yeah, well that is what happened to me except I wasn't in sand, I was in a freezing cold river being swallowed by mud. The guide had to literally pull ME out (so embarrassing).
Once we fought our way through the sludge, we found the perfect place to learn and catch some trout. If you are going fly fishing in Utah in December, the only fish you are bringing home is Rainbow trout. It was no coincidence trout was on every menu in Park City.
After about an hour of getting the hang of it, I FINALLY caught one! Catching that trout felt like such an accomplishment . I wonder if I am on the only Jewish girl in Livingston, NJ who has fly fished? I can only imagine calling my friends and saying, "Hey girls, what do you think…instead of doing our annual Miami girls trip, let's do a weekend fly fishing in Utah?" They would literally think I lost my shit. It is fun though!
(yes, I threw it back)
We had about an hour of downtime between fishing and dinner.  I think that is about how long I stood in the shower.
We went to Chimayo, a southwestern inspired restaurant, located on Main Street.  The food, ambiance, and service was all top-notch! Rumor has it they have the best margarita on Main Street. I was also told to order it with mescal instead of tequila…
The guacamole and crab dip was a delicious starter! If you are a fan of guac, you will devour this in 10 seconds.
The seared sea scallops were huge and cooked to perfection!
In the summer they have this ahi tuna taco. I had to mention it because it's supposed to be THE DISH to order when it's warm.
After a very long day of horseback riding and fly fishing, I was exhausted! I hate being the one who bails on after dinner drinks but I just couldn't do it. Off to bed I went. HEIGH HO…
The Waldorf has an amazing service called Ski Butlers. If you need to rent skis/boots, etc., you don't ever have to leave the hotel. The ski shop (butlers) come to you. All you need to do is give them a little info about your ski skills and your sizing and they will be at the Waldorf with your equipment (even the waivers). It made a hell of a difference not have to schlep to the ski shop, get fitted, go back to return everything, etc.
Although Park City had not received much snow, we made the best of it with the 10 or so trails that were open. The weather made all the difference. I HATE skiing in the freezing cold. 40 degrees was perfecto and skiing was the ultimate last day activity. One of the best parts about staying at the Waldorf is that it is the only luxury resort in Park City with direct access to both skiing and snowboarding. I literally walked across the street, got on a chairlift and was skiing. Oh, the Waldorf is also pet-friendly in case you didn't want to leave your furry friend at home.
John, the leisure sales manager who invited us on the FAM, saved the best restaurant for last, Riverhorse on Main. Wow, this place was a 10. I knew it the minute I walked through the dining room. The vibe alone set the tone for what was in store. The dining room was modern yet elegant. Not stuffy at all. The ambiance was a combination of charming, relaxed and romantic. I LOVED the touch of live music that was subtle yet you could sing along if you wanted. The service was 5 stars. Not once did anyone feel pressured or rushed.
and the food…
THE FOOD! We got a few apps to start including the Ahi Tuna Tartare Trio (3 different types of ahi tuna) with a crispy wonton. Fantastic!
Bacon wrapped shrimp. What else can I say?
The Trio of Wild Game is the most popular entrée on the menu. It is a beautifully plated entrée of North American buffalo, a venison chop and a "filet mignon" of elk with huckleberry with asparagus, herbed wild mushrooms and polenta towers in a port reduction. This is not something I would ever order BUT for those that did, they raved!
After a memorable meal, we stopped in No Name for a drink. It's funny, although Utah is known for its Mormons who do not drink, the state has 21 breweries, 7 distilleries (including the only ski-in, ski-out whiskey distillery, High West), and 9 wineries. We tried to go to High West after dinner but it was, unfortunately, closed for a private party. Rumor has it they make the best artisanal drinks! On a side note,  if I had one complaint, it would be the pour of liquor. I guess, by law, every bartender must measure the amount of alcohol they pour in each drink. Major pet peeve of mine. Just pour it. But the law is the law.
When I returned to the room, there was a gift bag waiting with a framed picture and the softest bathrobe ever from the gift shop, Palette, in the Waldorf. (The gift shop, by the way, is the goods! The woman who runs it takes such pride in every item she chooses for the store. There was even an article written about her. I can't find it but it exists). What an extremely nice gesture to end such an incredible trip!
Peace out! Back in Feb with real snow, a visit to the Montage and St. Regis, and a lot more restaurant suggestions!
Thank you JB for an amazing stay at the Waldorf in Park City. You certainly made it memorable. I can't wait to come back!!
XX
p.s any questions, thinking about visiting… contact me at [email protected]