Lulu's Holiday Gift Guide 2017 – The Kids, Tween, College and Teacher Version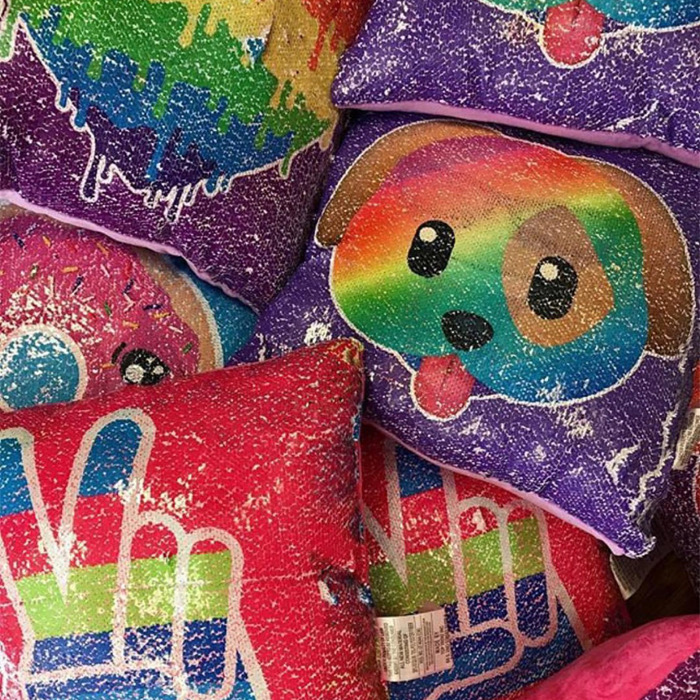 When I was 7 or 8, all I wanted for Hanukkah was "The Green Machine". I hate that they advertised it for "Guys 8 9 10 years old who really know how to ride". Ummm I knew how to ride and I was not born with a penis. Fully offended Marx Toys. Remember it?
Well I got that Green Machine and my parents couldn't pull me off it (and yes I was the only girl in the neighborhood with that big wheel). Fast forward 30+ years later and the ride ons have replaced my favorite Green Machine. Wait until you see them! This year I tried to pull together a slew of items that the kids, teens, college students and teacher's will love. This years holiday treat  is anything purchased in the Lulu Store $10 off anything over $100, $20 off anything $200, $30 off anything $300, etc. 
*Please note ALL ITEMS THAT ARE PERSONALIZED AND/OR CUSTOMIZED must be ordered by end of day TUESDAY NOVEMBER 21st  in order to get in time for holiday! (yes THIS TUESDAY!)
So Hair Up, Bra Off…let's go shopping!!!
These bangles are great gifts under $30!
Cartier Inspired Rhinestone Bangle $22
Star Bangle $22
Heart Bangle $22
The star bracelet/choker is the daintiest jewelry there ever was…
Star Bracelet $32
Star Choker $48
Obsessed with this  bracelet set! It's my personal fave of the bunch! Loving all of these "Love, Lisa" pieces
Clover 3 Piece Set – $94
If your daughter (or you) love hearts, than this is your set…
Heart Beaded Bracelet Set $50
You can make it very personal and pick the set with her initial!
Initial 5 Pc Set $140
This pretty necklace is 15″ in length and sits comfortable on your neckline or make it shorter to wear as a choker! It has a lobster clasp closure so you can link it onto any link if you make it short!   The three pave's are different colors to add the perfect mix of metals.
Pave Necklace $58
One of the hottest trends this year is the pave bar necklace. This one is 15″ and can be worn as a choker by clasping it shorter in the back.
Pave Bar Necklace $42
Here is an awesome way to personalize your kicks with anything you want! Peace sign, initials, stars, hamsa, etc. Sky is the limit!
Custom Shoe Decals $10 for a set
KEEP WARM
I think the only way I could get my boys to wear gloves is if they were touchscreen capable. These North Face Gloves are and will keep their hands super warm!
North Face Tech Gloves $24
The Pom hats have become more customized with these sweet little patches!
Custom Pom Hats $42
Double Pom Hat $42
Football season is in high gear. I don't even see my kids on Sunday! I know they would love this Retro Trucker Hat! Available in all the teams…
NFL Trucker Hat – $18
The newest accessory for the phone is the grip stand! It can have your monogram, or any word or phrase you would want!
Custom Monogram Phone Grip/Stand $12
Camp Phone Grip/Stand $12
This adorable good vibes printed wood lap desk features a built-in slot for tablet or smartphone. Includes a carrying handle and polystyrene bead-filled tapered cushion ensuring a level work surface. Desk measures 12″ x 17″ and comes packaged in a color box with handle. Great for use in bed, on a plane or train, in a car, at the park.
Good Vibes Lap Desk $25 (unicorn style also available on site)
Now the kids can have their own version of the apple watch for a significantly less money with great apps!
VTECH Smart Watch – $47.99 (also avail in purple)
Karaoke fan? This is hottest gift if this is your gig! Wireless that connects by bluetooth to your smartphone.
Karaoke Mircophone – $29.99
Love this Rose Gold Kate Spade iPhone Case! Fits iPhone 7/8 o r 7/8 Plus
Rose Gold iPhone Case  – $75-$85
Print your pictures on the go! Hooks up via bluetooth to your iphone/android etc.
Polaroid Mobile Printer – $104.49 (comes with 10 sheets of printer paper, make sure to order more!)
LET'S GET BEAUTIFUL!
Does your daughter want those gorgeous beach waves? Here's how!
Beachwaver Pro – $198.00 (you get what you pay for! This one is the BOMB!)
If you been reading my blog long enough, you know that I am a HUGE believer in clean beauty. Beautycounter is my favorite company as their mission to get SAFE products into the hands of everyone. Gd only knows the chemicals that are in all of those kids lipsticks, makeup sets, etc. This charcoal set is the answer to your tweens/teens blackheads without harming their skin. The lip glosses have the antioxidant power of vitamin E and don't contain synthetic fragrances. Love this limited edition!
Charcoal Set $48
Perfect Pout Set $48
This is such an adorable custom nail set! Comes with nail scissors, tweezers, clippers and file.
Personalized Manicure Tool Set $12
Wow, so many times I wish I had this. The portable vanity makeup case with light up mirror! YES!
Vanity Travel Case $219
SHE'S CRAFTY
GAMES
Literally hours of fun on the beach, in the backyard, where ever!
Spikeball – $59.99
When I can't find my kids for 3 hours, I know they are in the basement playing knee hockey. Amazing for the kids and YOU (lol).
Knee Hockey – $38.99
I know this is a repeat of last year but it is STILL one of the best gifts!
Double Hoop Shot – $219.99
Apparently this is the top selling boys game for ages 6-12!
NFL Game Day – $26.24
This game is GREAT for all ages!! You can't imagine the stories you will create!
The Awkward Storyteller – $20.00
RIDE ON'S
I mean talk about FANCY! I seriously considered buying one of these in the kids version since it's about the only way I could afford one :).
G RIDE ON WAGON $159.99
PORSCHE RIDE ON $259.99
AUDI Q7 RIDE ON   $309.99
Everyone had a favorite activity at camp and mine was the Go Karts. I will spare you the story about the horrific accident I was in (a 10 year old probably should not have been allowed to drive a Go Kart with their friend) BUT I am going to assume that is why the Go Karts are no longer at camp. Honestly, I would still buy one tomorrow! They are so much fun and if you are ballsy enough to let your kid get one, this is it!
Coleman Go Kart $1,349
Super cozy custom camp PJ Sets!
Boys & Girls Camp PJ Sets $84
The world's most comfortable PJ pants out there! I bought myself a pair, I swear!
Camp Sports & Camp Love $50
These Water Bottles are the perfect tailgate gift!
Custom College Metal Water Bottle $25
I told my 13 year-old he could design a pair of slides, he picked these. The fact that I have a 'Cuse Fan so early in the game brings me so much hope! iSlide also is giving ALL my readers 20% off their custom pair. Just put the code LULU20 at checkout!
Custom Slides start at $49.99
After a drink or two it may be time for some…
College Sunnies $20
College Apparel has risen to a new level! They did not sell these sweats at the Schine bookstore. No they did not…
College Tanks, Tees, Sweatshirts and Sweapants $56-$58
Keep warm from tailgating to the game in these beanies and armwarmers!
College Beanie $32  Beanie and Armwarmer Set $48
If the college beanie isn't happening, the trucker hat may be just the alternative.
Stars Trucker Hat $26
Hamsa Trucker Hat $26
I don't remember cooking in college but this cookbook is the BEST cookbook for any college student that can simply put 5 ingredients together 🙂
5 Ingredient College Cookbook $12.06
Inflatable and awesome! I am sure it won't be long before these are in my kids rooms!
The Loungee $39.99
The ultimate tailgate table! Available in a slew of colleges!
Tailgate Table $25.27

This popup will close in:

Don't Miss a Post! Get Lulu and Lattes in your inbox!