MITZVAH, IT WAS A MITZVAH!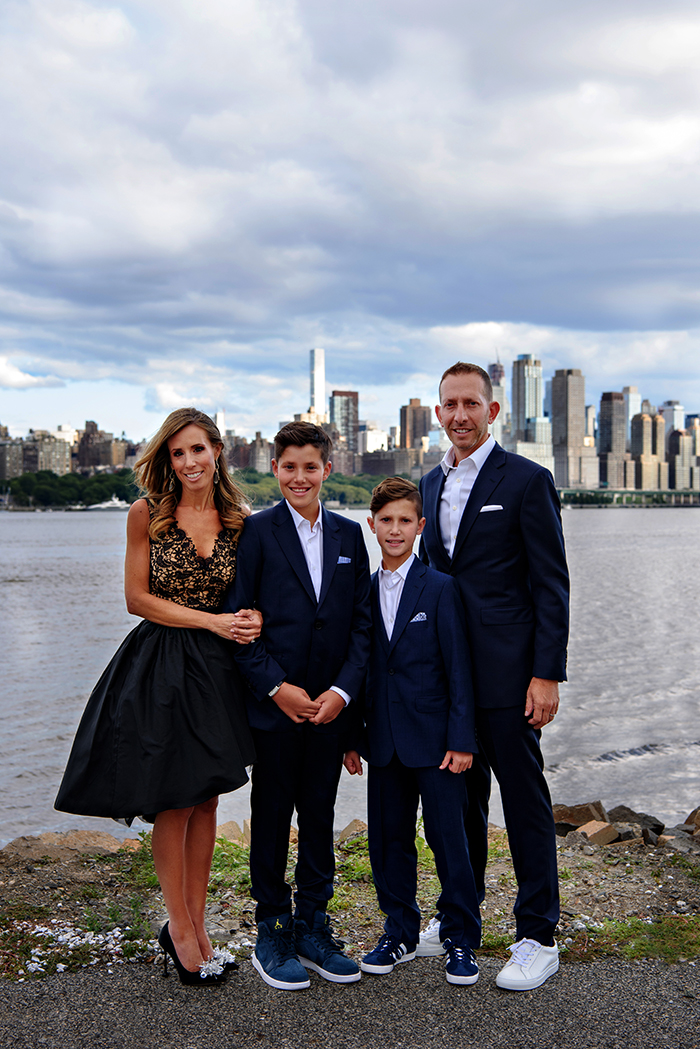 After my previous mitzvah blog, my first thought as I sat down to write this was "take a deep breath, it's over." A year of planning and it was over within a blink of an eye. My first thank you is to whoever heard me praying 8 months for a clear day. It could not have been any nicer.
Although I was so sad and disappointed that my rabbi would not entertain doing a Havdalah service, Lenny Mandel, who I have known for years, not only did a phenomenal job, he was the right man for the job! It was a service in what I would call "Amy fashion": very chill, warm, and intimate.
 We started off with Dr. Suess:
and ended with Billy Joel songs in Hebrew.
Zach did one hell of a job and we could not have been any prouder. All of his hard work certainly paid off. I could have walked away after the service and gone straight home. It was an hour that will live in my heart forever. Thank you Lenny for making it all happen in such a special way.
I had the kids buses come after the Havdalah so I wouldn't have to worry about any kids jumping in the Hudson. I am 80% sure that would have happened. Jersey Street set up the kids cocktail hour on the third floor and the adults on the second floor so the adults were not stuck eating pizza. One of party planner extraordinaire, Beth Fink's, amazing ideas were to serve mini Jack Daniels with pigs in the blanket and Patròn with quesadillas.
The second floor of Waterside was an ideal place to have the cocktail hour. (Hi guys)
Finally, it was time to get the party started!
AND Z!
When Jersey Street did my husband's surprise 41st (I like to do things on an off-year), they knocked it out of the park. I knew I wanted to use them but I made it clear my vision was less is more. Besides the fact that the party was for a boy, the floor to ceiling windows helped create the loungy vibe I was after so I did not feel the need to over do it. I did cover the chandeliers and have Bombshell create a graphic for the bar.
But after going back and forth a zillion times, I pulled the trigger and covered the dance floor. Bombshell Graphics killed it!!! It seriously changed the entire room and it was worth every penny (Yes, Greg it was).
Even after a ton of dancing!
What's a Bar Mitzvah without the Hora?
Although we skipped the candle lighting, I did request a mother son dance (to a Bob Marley song).
Greg gave one hell of a speech (thankfully he does this partly for a living) and I didn't have to mutter a word (I do NOT do that for a living, I prefer to hide behind the computer :).
The montage was hilarious! (at least my mother thought so)
Unbeknownst to me,  the kids picked up a game of "NOT" beer pong.
But also danced! Thank you Total Entertainment and Nebraska for BRINGING IT!!!!
After a super fun night that ended before it even began, guests left with their choice of Better than Entenmanns, Maple Bacon, S'mores, Peanut Butter & Jelly or Cinnamon Sugar donuts thanks to Glaze Donuts.
Of course, the kids could not leave without a favor. They each got a pair of Z bluetooth headphones.
AND IT'S OVERRRRRRRRRRR
P.S Yes, I did the fucking water bottles! Thank you Shari Turbin
(if you have no idea what I am talking about, read my last post: Behind the Scenes of Planning a Mitzvah)
HUGE THANKS TO EVERYONE WHO MADE THIS SPECIAL DAY HAPPEN.
For saving me my sanity and marriage (just kidding), for making it all happen effortlessly, but most of all for being my rock through this entire process. There is not a shot I could not have done it without you. You have mastered the art of Party Planning. Not only did you dot every i and cross every t, your style and grace with ANYONE who comes into contact with you is, by far, what makes you a shining star! Thank you, thank you and thank you!  BETH FINK EVENTS
For taking my vision of a simple yet elegant room and creating it flawlessly. For sending me a proposal and being spot on to what I had asked for in terms of budget and design. For doing an EXTRAORDINARY job as always! JERSEY STREET PRODUCTIONS

For being a pleasure to work with and for convincing me why covering the dance floor was the right decision!  BOMBSHELL GRAPHICS
For providing such an unbelievable venue! From the service to the cocktail hour to the party, everything was effortless. The food exceeded ALL expectations, the views were insane, the service was impeccable and the process was smooth sailing! WATERSIDE CATERING
For capturing every moment, for your abundance of natural born talent! JKP PHOTOGRAPHY
For your selection of the most tasteful, classy invitations on the market and always making the process so easy!  JULIE MALOOF DESIGNS
For your expertise in everything MUSIC!!! For keeping everyone on the dance floor no matter the circumstance and for treating your clients like they are your family.  TOTAL ENTERTAINMENT
For, not only being such a delight to work with, but learning about how super talented you really are! Logo Design TRACI LEVINE DESIGNS
For having the most creative favors and packaging under the sun!  BEST OF BEST GIFTS 
For your insane assortment of ridiculiously delicious donuts! GLAZE DONUTS 
For saving me so much time and money at $1.40 a Water Bottle and doing a perfect job! SHARI TURBIN
For never having to say "can you fix this?" Your makeup skills are out of this world! Marisa Roitman 973-449-5356
For your absolutely amazing talent in transforming a picture of a dress into an exact real life version without missing a detail! A true and rare GEM!!!  Lyn Kohn (973) 467-7800 
AND LAST BUT CERTAINLY NOT LEAST
Drum Roll please….
My biggest thanks goes to my husband who "walked the walk" with me from the birth of this party to the very end. Who stood by side and laughed (and rolled his eyes) at all my crazy ideas that (mostly) never came to fruition. Who ALWAYS had it under control when I was losing my shit. Who showed up for EVERY SINGLE Bar Mitzvah meeting at the temple no matter what was going on at work. Who sat me down six months before the Bar Mitzvah and showed me a particular picture of a classic Porsche I have been dreaming about since I was 15 and said "This or 5 hours?" Who rallied at the end and took care of the hard conversations I was too chicken to have. But mostly for the moment in the kitchen at 2am, when all was said and done, he turned and looked at me and said "Amy, I will never do this again."  Because it was then I knew we were going to Israel for boy #2. WOOHOO!
XX