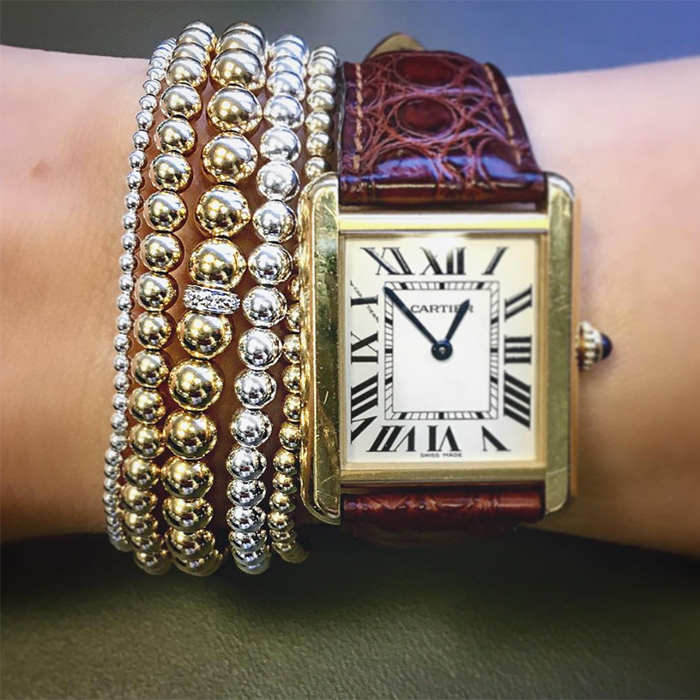 This past summer I spent a week in the Hamptons. I had been looking for months for these gold bead bracelets and I figured if I was going to find them anywhere it would be in the shops in East Hampton.  Well, no luck. Ironically, a guy who shared a fire island house with my husband called my husband weeks after our Hamptons trip to discuss his wife's new line, The Gibson Collective. Wouldn't you know it…
Her beautiful collection of beaded bracelets and necklaces includes classic, effortlessly chic everyday pieces. Each bead is carefully authenticated and is made of 14k gold, rose gold, or Sterling silver. I love pairing them with the genuine pave diamond beads, roundels, and charms. Each bead is solid gold filled – not gold-plated or dipped – which means you don't have to worry about discoloration over time! They make gorgeous gifts and the perfect Bat Mitzvah gift when you don't want to give money!
The essential bead bracelets are perfect for stacking in your choose of 14k gold, rose gold or sterling silver.
2mm $40
3mm $45
4mm $50
5mm $55
Triple Stack (3mm, 4mm, 5mm) $150

This popup will close in:

Don't Miss a Post! Get Lulu and Lattes in your inbox!