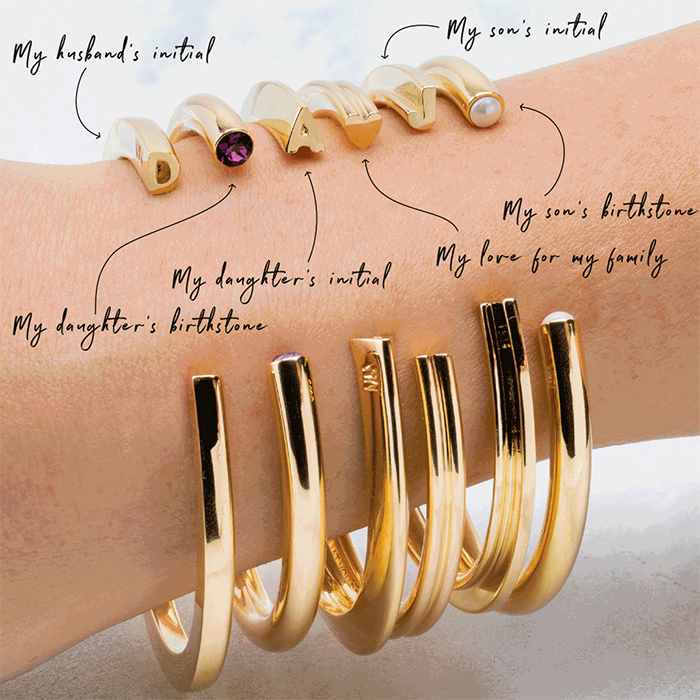 Buying gifts is super hard especially when it comes to jewelry. Unless someone tells you exactly what they want, it's always a guessing game. And, unfortunately, that gift usually ends up as a return leaving the giver feeling defeated. After many years of marriage, I explained to my husband, while I appreciated all his effort, it would be best if he "asks" me what I would like instead of surprising me with a gift I will likely return (and feeling terrible about it). While this was an easy fix for "us", this is not always the case with friends and family. Recently I came across a line of jewelry that I thought was such a great, sentimental, chic gift; I couldn't imagine anyone not liking it! Oddly, I had no idea that the designers of Stella Valle (Army Veterans) were actually on Shark Tank years ago for a fashion collection that was backed by Lori Greiner and Mark Cuban. They recently launched their new Stella Valle collection still backed by Greiner and Cuban that I love!
What makes this line so unique is that it is the perfect gift for moms, sisters, bridal showers, birthdays, etc! They took a twist on charm jewelry and created a clean, modern line that looks fab on!
Basically you:
I LOVE THE BANGLES!!! Z & P for my boys, diamonds are a girl's best friend (mine anyway, lol), and I added the heart and triangle to complete the set.
You can choose from any initial, gemstone and shape.
Prices are amazing too!
Initial Bracelets $49 – Gold, Rhodium
Gemstone Bracelets $55 – Gold, Rhodium
Symbol Bracelets  $49 – Available in Heart, Smiley, Triangle, Diamond & Hexagon  (gold, rose gold, rhodium)
All the symbol bracelets are engraved
HEART –  DO WHAT YOU LOVE. LOVE WHAT YOU DO
SMILEY – DO WHAT MAKES YOUR SOUL HAPPY
TRIANGLE- STRONG WOMEN. MAY WE KNOW THEM, MAY WE BE THEM, MAY WE LOVE THEM
DIAMOND- YOUR AS STRONG AS A DIAMOND. NO ONE CAN BREAK YOU
HEXAGON- BE YOUR OWN KIND OF BEAUTIFUL
The line also features adorable, dainty stackable rings.
You can choose from a heart, smiley, triangle, diamond and hexagon. The rings are available in both gold and rhodium.
Stacking Symbol Rings $29
When you are searching for a gift, I always believe it's nice to give something both meaningful and chic. Stella Valle did an incredible job of combining the best of both worlds! Their amazing new collection is now available in THE LULU STORE with free shipping!!! Please use the code FREESHIP at checkout!
XX

This popup will close in:

Don't Miss a Post! Get Lulu and Lattes in your inbox!