6 Days, 600 Miles of Californication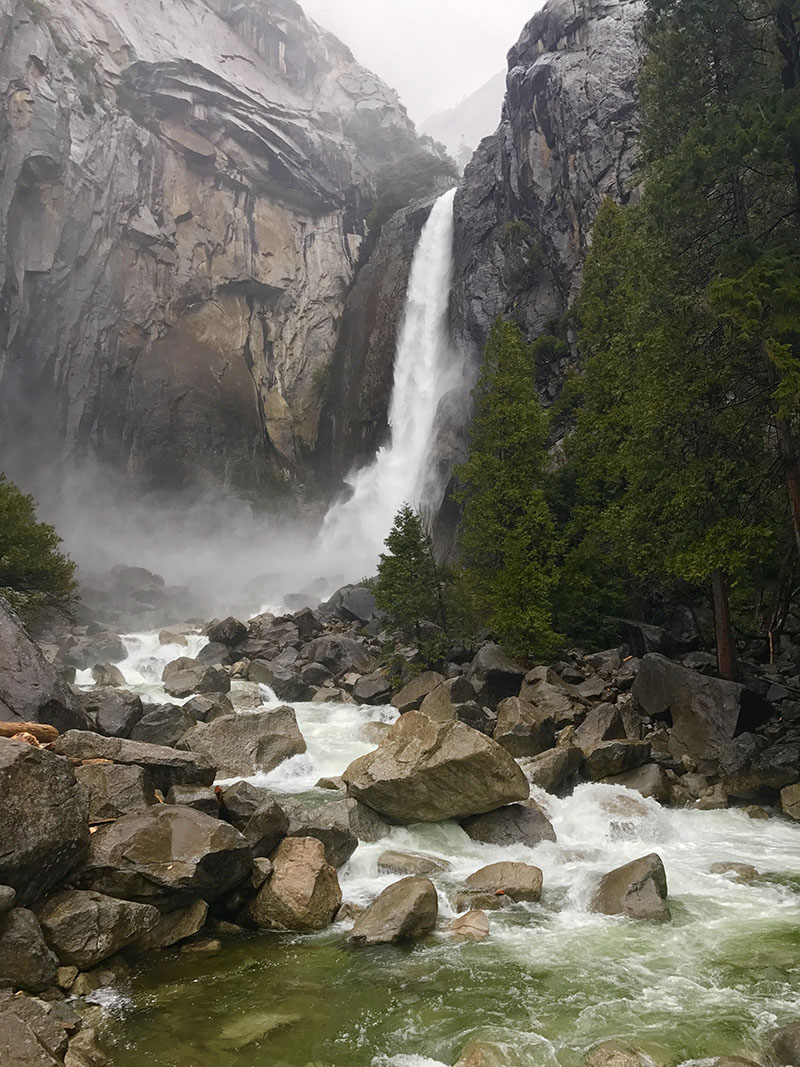 Life is unpredictable. If you asked me last year where I would be Spring Break 2017, I would have told you Israel. However, due to some unforeseen life events, we wound up on a road trip through California. A very, very long road trip. My brother moved to LA when he got hitched so we figured we would begin our trip in the city of angels. Plus, I was dying to see my sister-in-law and my new baby niece.
I have never been one of those people who is obsessed with celebrities and Hollywood gossip. It's not a good thing or a bad thing, just not MY thing. When I worked at the Ralph Lauren Mansion on 72nd street in '98, I saw every famous person imaginable. I sold shoes to  Julia Roberts, made an absolute fool out of myself in front of David Schwimmer (when Friends was hot), met Bruce and scored Indiana Jones' autograph. I even hooked up with Mark Wahlberg at my bachelorette party (just kidding. But I did dance with him and he told me that he wanted to marry a nice Christian girl who went to church on Sunday.  Ha, wrong girl Marky Mark!) Touring the celebrity homes in Beverly Hills & Bel-Air , visiting Paramount Pictures and taking a stroll down Rodeo is a must if it's your first time to LA but one and done! I do suggest taking a drive to Santa Monica (love it there!). The kids will love the pier.  Santa Monica Crossfit is also AMAZING! Speaking of working out, if  you are yoga fan – HOT 8 – hands down. More questions about working out – shoot me an email (the new Versa class is great). The one thing you MUST do is hike Runyon Canyon. I could wake up every single day of my life and do this hike!
Since we did not have much time in LA we spent our time eating (Sugarfish – the sushi melts in your mouth. You don't have to travel to LA any longer, they opened in NYC last November) and hanging at the pool at the hotel. I LOVE The London in West Hollywood. I know there are a ton of hotels to stay at in LA but there is something about the London that feels so homey. The rooms are HUGE, the breakfast is perfect and the rooftop pool is nice without a huge scene.
After a quick stay we ventured on a 4.5 hour drive to Yosemite.  I have heard so many incredible things about Yosemite I thought it would be the perfect place to spend two days with the kids before we ended in Napa. Definitely a little different from the norm. When I was researching a place to stay in Yosemite, Tenaya Lodge seemed to be the place to be! In hindsight, it was THE hotel to stay at in Yosemite with family. A  cozy, rustic family-friendly lodge. If you are traveling without kids, I would recommend Chateau du Sureau.
Tenaya Lodge is centrally located between northern and southern California just outside Yosemite National Park's south gate. Four airports are within just a few hours of the lodge (Oakland, 3 hours, LAX, 5 hours, San Fran, 3.5 hours and Fresno 1 hour).
The lodge is like a kid's playground. They have an ice skating rink my kids loved.
Mountain Biking (depending on weather)
Horseback riding
Indoor (heated) and outdoor pool.
There is also an arcade, archery, an outdoor fire pit with S'mores, archery, kids snowmobiling, snowshoeing, white-water rafting, and a kids adventure club.
If there is one activity you MUST DO, it's the Flashlight Hike. It's a 1.5 hour guided night hike through the forest. I would not recommend hiking this at night by yourself. I mean, Yosemite IS famous for their black bears and mountain lions. This hike was a group of 20 kids and adults, each equipped with flashlights, led by a knowledgable local guide The guide showed us a variety of Sugar and Ponderosa Pines in the forest, quizzing us on the difference between Cedars, Sequoia's and White Fir. I personally couldn't concentrate because I felt like at any minute Cropsey was going to jump out from behind a tree. It didn't help that my kids kept hiding behind them while trying to scare the daylights out of me. That was fun (not). They loved it, although my Instagram story said otherwise.
The one thing  you cannot account for, when planning a vacation, is the weather. It's a total crap shoot. We were not prepared for what Yosemite had in store for us. When we arrived, it was a bit chilly but still sunny.  However,  the following morning, we woke up to pouring rain, 30 degree weather and snow. I wasn't so keen on visiting Yosemite National Park in the snow but Greg wasn't hearing it. We did not drive all that way not to see it. So we went. We pulled up to the entrance of the park and the man in the entrance booth asked if our car was four-wheel drive. If our car was only front wheel drive, we had to have chains for our tires. UMMMM, we had a rental car that  I knew was not four-wheel.  I gave Greg that look like "whatever you do, do not, under any circumstance, tell him the car is only front wheel drive. We are NOT putting chains on our tires, we got it."
(people actually put these on their car)
What began as a rainy drive became this:
The ONE day we could see Yosemite National Park, it had to snow (story of my life). The drive through Yosemite in the pouring rain was really a shame. The trees were gorgeous but, if I am being honest, I need to return to see its real beauty in sunny, warm weather. We did stop at Bridalviel Fall which was spectacular even in the rain. I actually took this picture from the car. It's also a great place to stop if you have to take a bathroom break (there are restrooms).  If the weather is nice, there is a paved walkway to hike up to the base of the falls, which is a short but often damp walk.
I bailed on the Bridalviel hike but I did not pass up the hike to Yosemite Falls. BREATHTAKING!!!
Some of you may know El Capitan as the operating system for the MAC desktop. But El Capitan is actually the largest sheer face of granite in the world found in Yosemite. Another must see when driving through the park.
I wish I could tell you we went on this incredible hike, fished, and rock climbed but unfortunately the weather g-ds were not on our side.  Yosemite is a place you should see in your lifetime. I guess for me, I will have to see it twice! After that day, I was craving a good bloody and I sure as hell got one!
The food at the lodge definitely exceeded my expectations (this veggie burger was no ordinary plain jane burger)
Our last stop on this Griswold adventure was to one of my favorite places, wine country! Napa is not exactly a place I would vacation with the kids but since we were flying out of San Fran, I figured it would be the perfect place to relax before we had to jet back to reality. Calistoga Ranch has been on my bucket list for some time. Every client who has experienced this resort, RAVES!!! I am also a HUGE fan of any Auberge property (see my review on Chileno Bay) so I knew we were in good hands.
Napa is a four-hour drive from Yosemite. Yee-haw, another four hours in the car.  If you follow my facebook page (you would have seen all the commentary). We made a stop at In & Out Burger.  I don't know what the fuss is all about. Maybe because I don't eat hamburgers but they sure do not look like anything special nor does their menu.
After a long drive, we pulled into Calistoga and I instantly got the feeling of "I never have to leave". Calistoga is set on 157 acres of beautiful wilderness.
The rooms are actually secluded lodges surrounded by gorgeous scenery with an outdoor living space and a private jacuzzi. We stayed in a Bay Forest Spa Lodge which had a living area (pull out sofa for the kids) and a separate bedroom with a king bed. The kids were PSYCHED to have this set up. You know your kids are happy when you settle in and they do not ask you what you are doing/going every five minutes. I actually read a book for an hour without hearing a peep (true story).
I am a stickler for sheets. I truly believe they make the difference between a solid night sleep and an awful one. The Italian linens and down duvet was SUPERB. I could have stayed in that bed for two days and never left (except for coffee and wine). The indoor/outdoor bathroom was the icing on the cake. If you are a fan of an outdoor shower – Calistoga Ranch is your place. You can shower under the stars or…..
you can shower inside…
Calistoga Ranch is also equipped with a gym, a yoga studio, lots of hiking trails and a relaxing spa. The yoga class was great!
This picture was taken from top of the trail. A beautiful hike in the morning!!
Calistoga Ranch's private restaurant, The Lakehouse, combines the local ingredients in the region and the wine in Napa Valley to create an incredible culinary dining experience one would expect at an Auberge resort . In fashion with the lodges, the restaurant blurs the line between indoor and outdoor. Glass walls offer magnificent views of the gorgeous oak groves and open onto an expansive deck that overlooks Lake Lommel. We had breakfast there each morning.
This is the deck overlooking Lake Lommel. (It's a terrible picture of me, as I just woke up an hour before it was taken, but I wanted to give you an idea…)
Calistoga even has convertible Mercedes-Benz loaners to take a drive around Napa. I highly suggest it! We thought the kids would enjoy a gorgeous drive through Napa as we dragged them wine tasting.
(this picture, by the way, is the extent of our wine tasting in Napa Valley – one stop wonder)
But they did LOVE the campfire pie from Cindy's Backstreet Kitchen (toasted marshmallow fluff, fudgy chocolate, almond ding & oreo cookie crust). It was out of this world. The food was EXCELLENT as well.
Our two day stay in Calistoga was the perfect end to our long adventure. We packed up, packed it in and drove to San Francisco listening to every ghetto rap song imaginable (I owed the kids that since I schlepped them to Napa). However, if I hear HUMBLE. by Kendrick Lamar one more time I may delete their spotify account (jk).
After eating, drinking, laughing, arguing, and driving 600 miles from Los Angeles to Napa we made it….still married with two kids!
XX
…until next time
P.S: here is a bit more polished/concise review of Calistoga: CALISTOGA RANCH RECAP