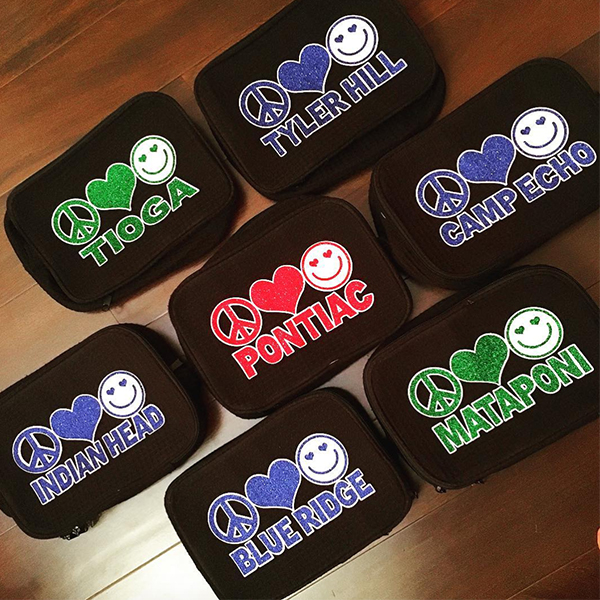 Here we are again….less than 8 weeks before camp starts! I don't know about you, but I am super stressed. I haven't even ordered camp clothing yet. Yeah, I am that behind. Hopefully everything still fits from last year (not a chance). With the little time we have left, I put together all my favorite camp 2017 finds that are all available in shopluluandlattes. Such GREAT stuff this year your campers will LOVE!!!
So many fun designs for girls and boys in these extra soft personalized blankets.
Super Soft Personalized Blankets $85
The sweatshirt blanket is definitely something you will want to keep forever!
Sweatshirt Blanket $60 Lots of design and color options
These blanket bags are on FIRE!!!!! Grab 'em before they go go go….
Blanket Bags $95 – Lots of print options for boys and girls
Who wants to put their feet on a cold bunk floor in the morning? These floor mats are available in a ton of design options.
Camp Patches & Basketball $40
Kids can't go to camp without an awesome trucker hat to cover their heads on those steaming hot days.
Custom Camp Hats $26-$30
Remember these?? Do these pins bring you back or what? LOVE!
Peace Love Pins Set $15
This pedi party is not only adorable for camp but a GREAT birthday present!!
Pedi Party for 2 $34
ENJOY AND HAPPY PACKING
XX
p.s – don't forget to follow us on our new shoplulu insta page & facebook page for all new goodies in the store! 

This popup will close in:

Don't Miss a Post! Get Lulu and Lattes in your inbox!