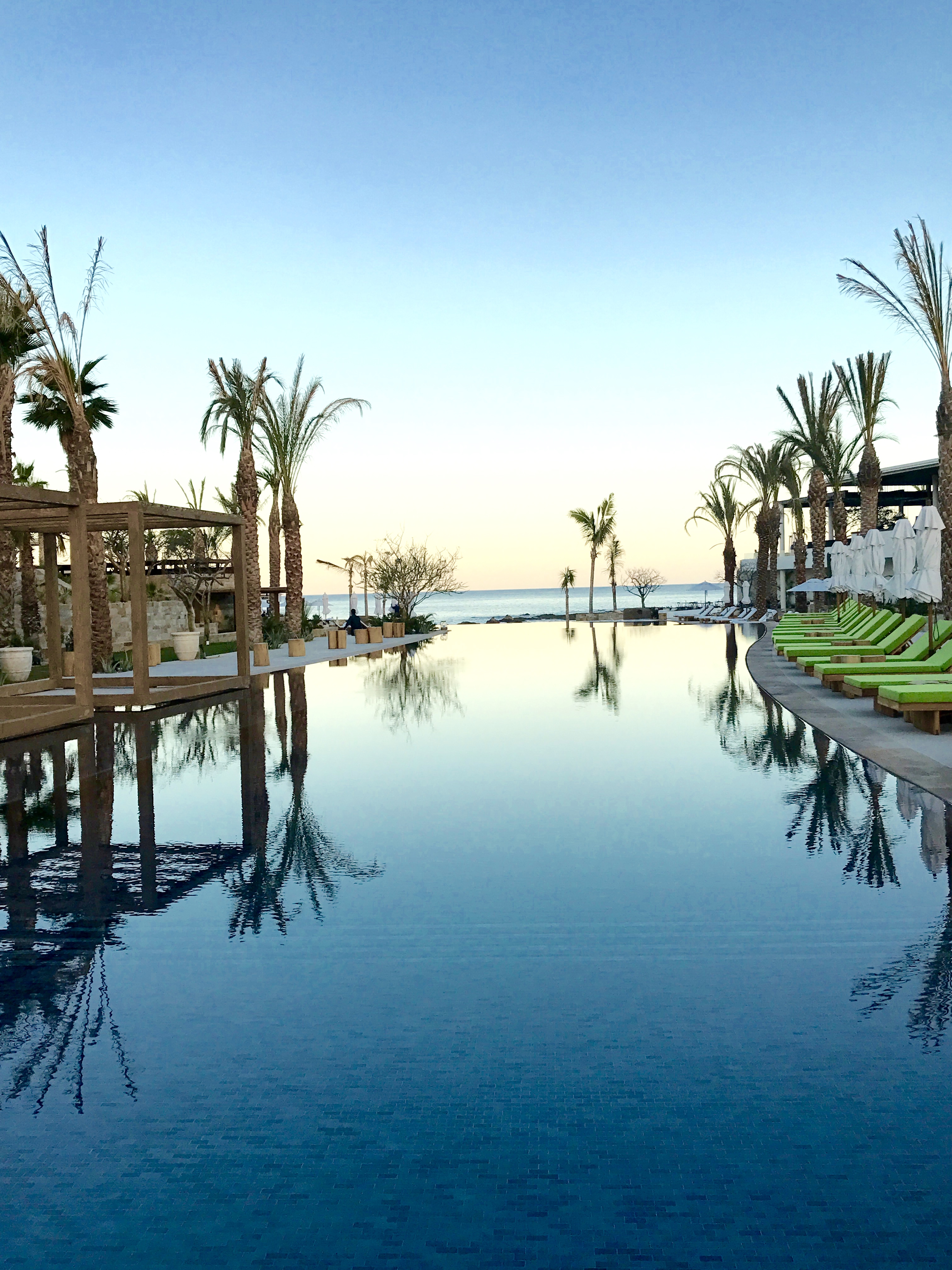 Last Thursday I went for a quick weekend getaway to visit the brand new Chileno Bay Resort & Residences in Cabo.  I have been anticipating the opening of the new Auberge resort since I first heard about it back in December. Although Cabo has so many resorts, it is hard to find a FAMILY FRIENDLY, luxury resort with a swimmable beach. They were having their kick off fitness inauguration weekend and I jumped on the chance to visit. Plus Greg had a ski weekend planned with the kids so I felt a little less guilty leaving them. Whenever someone calls about the Caribbean, I try to suggest Cabo first. Although it is a 6 hour plane ride, Cabo is a destination that far exceeds most places in the Caribbean.  Cabo is the perfect mix of gorgeous weather, magnificent hotels, incredible food, fun night life and privacy (it is rare to run into anybody from your hometown)! So few east coasters are willing to go the extra 2 hours but I can't tell you enough how much its worth it. If you have vacationed in Cabo, I am positive you would agree. It's been my go to spot for years!
The ONLY negative about traveling to Cabo is the flight situation.  The only direct flights are Saturday and Sunday. I had to take two flights Thursday but flying home Super Bowl Sunday was a breeze. They also need to improve the hotel pick up as seen here from my snapchat: 


It took me a solid ten minutes to find my driver but all was well once I stepped into the SUV. I was offered a selection of drinks from sparkling water to beer and a delicious assortment of cactus candy . There was even wifi in the car.
Chileno is a fast 25 minutes from the hotel. I was greeted with a cold towel and Juan Carlos led me to my room. Upon entering, Juan Carlos announced that first I must have a Chilenito. Can you believe this was in my room?
Juan Carlos instructed me how to a make a proper Chilenito:
There were delicious Mexican snacks to accompany my Chilenito. Also (a side note), the check-in process is taken care of in your room so you don't have to deal with the front desk. Winning!
I stayed in a pool view room that was just beautiful. The closet was spacious with room for hanging items and lots of drawers. The bathroom had the most gorgeous tile and an AMAZING OUTDOOR SHOWER!! I don't love showering outside but this is was an exception.
The bed was super comfortable and I was excited for the weekend to begin.
I am a foodie. My entire vacation can be a zero or a ten based on what I eat. If there is one thing Auberge is known for it's their culinary expertise. I will tell you right now, the food I ate last weekend blew me away! I am talking TEN!!!!!!!! Everything I ate was better than the next. The food affair began with our kick off dinner at Comal, Chileno's signature restaurant. They source organic, local ingredients and craft latin infused dishes that are simply out of this world. A few of their signature dishes we shared were
After a simply incredible dinner, it was time to hit the hay!

Part of this weekend was a fitness trip. The resort has a huge fitness studio with brand new, high-tech rowers, weights, ellipticals, and treadmills. As well as yoga classes, TRX classes, CrossFit and a spin room. Unfortunately, the yoga instructor didn't make it so we did an exclusive CrossFit weekend. Chileno hired an incredible team to run the fitness program. I took off almost two years of CrossFit  so I was a wee bit nervous to jump back in but it's one of those things you pick up the second you start. Once you learn how to do proper kettle bell swings, wall balls, box jumps, etc. you never forget.
If you are unfamiliar with CrossFit, I will give you a 3 second tutorial. There is a WOD (or workout of the day) that is done at a BOX (or local CrossFit gym… when I was a CrossFit fanatic, I went on a quest to workout in every box imaginable… I think I have been to over 25?) This WOD was 12 minutes and the Cabo box was OUTSIDE (those are the best). Yes, the workout was only 12 minutes but those 12 minutes could be the longest 12 minutes of your life. We had to do 3 rounds of 4 different exercises every minute on the minute. I didn't realize it as I was doing it but the dumbbell snatches (no comment necessary) basically left me unable to walk the following day.
After that workout, we were all ready to eat breakfast. I am not a huge breakfast person but if avocado toast is on the menu, it's a no brainer. The avocado toast at Chileno is by far the best I have EVER eaten.  I know this sounds insane, but I woke up this morning thinking about that g-d damn avocado toast. And what is even better, Chileno has a cold pressed juice bar. Avocado toast with a sunny side up egg and a cold pressed green juice is reason enough to return.
Can you get over this breakfast spread?
There are three pools at the resort. An adult pool, a family pool and a kid's pool. Since I was solo, I took full advantage of the adult pool. I did not even place my beach bag on the ground before someone was setting up my chair. They also brought a bucket of bottled waters and they asked if I wanted a cocktail. "Why yes, please!" I had the most amazing drink that was served in a coconut. You MUST order if you stay.
Chileno has a kick ass lunch spot called TnT (Tacos and Tequila). Food can be served pool side or you can sit by the ocean. This about sums it up:
The spa wasn't opened when we were there (it's opening March 1st) so we headed over to Esperanza for massages and dinner. If you stay at Chileno in the month of Feb, you can utilize the spa at Esperanza. I highly recommend it. I practically fell asleep . The best part was the warm robe they wrap around you when your time was up. I did get a peak at the new spa at Chileno, the salt sauna looks incredible!
After our relaxing massages, we did a tour of the property and had a delicious dinner by the pool. Esperanza is an amazing hotel for both families or couples. One thing I learned during the tour is that they bring in celebrity fitness trainers with state of the art workouts for the guests and residents. Esperanza covers everything! Look at this evening they prepared for us:
This sweet potato dessert (odd as it sounds) was out of this world!
DINNER WAS FAB!!!
The S'MORES were amazing!
The hit of the night was when Justin Timberlake (aka as Kyle) showed up for a guest appearance to perform Tearin Up My Heart:
After MANY cocktails, I wasn't sure if anybody was going to make it CrossFit Day 2. Shockingly, we all showed up. There is nothing worse than the 52 card workout in CrossFit (well maybe the Murph). Which means what? Each suit (hearts, diamonds, clubs and spades) correspond to an exercise. The coach flips card after card and you complete the exercise.  For example – if you pull a 4 of clubs, you have to do 4 burpees. Now if the coach pulls 5 spade cards in a row, that translates to a shit load of burpees in a row. It sucked (especially when you are hung over).
After a grueling workout, we then had the chance to water bike. Now that was fun!
Whale Watching in Cabo is a must do activity. You can usually see them right from your resort! We took an afternoon trip to find Willy.
and we found him!!
Our final evening we had a special dinner on the beach at Chileno Bay Resort. It was the perfect end to a spectacular weekend.
My favorite part was sending the paper balloons off into the night as you make a wish. I will tell you if mine comes true 😜.
Sunday, I got up super early and enjoyed a peaceful morning at the pool before I had to make my flight. I figured I would enjoy my last few moments of quiet before I stepped foot onto a plane filled with crazy Super Bowl fans.
I was handed a lovely departure gift which was a cookie that had a tag attached to it that is actually a SEED! It's chamomile that you plant in the ground. I have zero clue how to do that since I was not born with a green thumb but I am going to try. The staff at Chileno does not miss a beat!!!!
HASTA LUEGO!!!!
A huge thanks to Liz, John, and the entire Chileno and Esperanza family for an INCREDIBLE kick off weekend! Hugs to Donna, Kyle, Laura, Maggie, Melissa and Susan for making me feel so welcome. I can't wait to return!!!
XX