Caribbean Paradise – A week in Anguilla & St. Barths – Part 2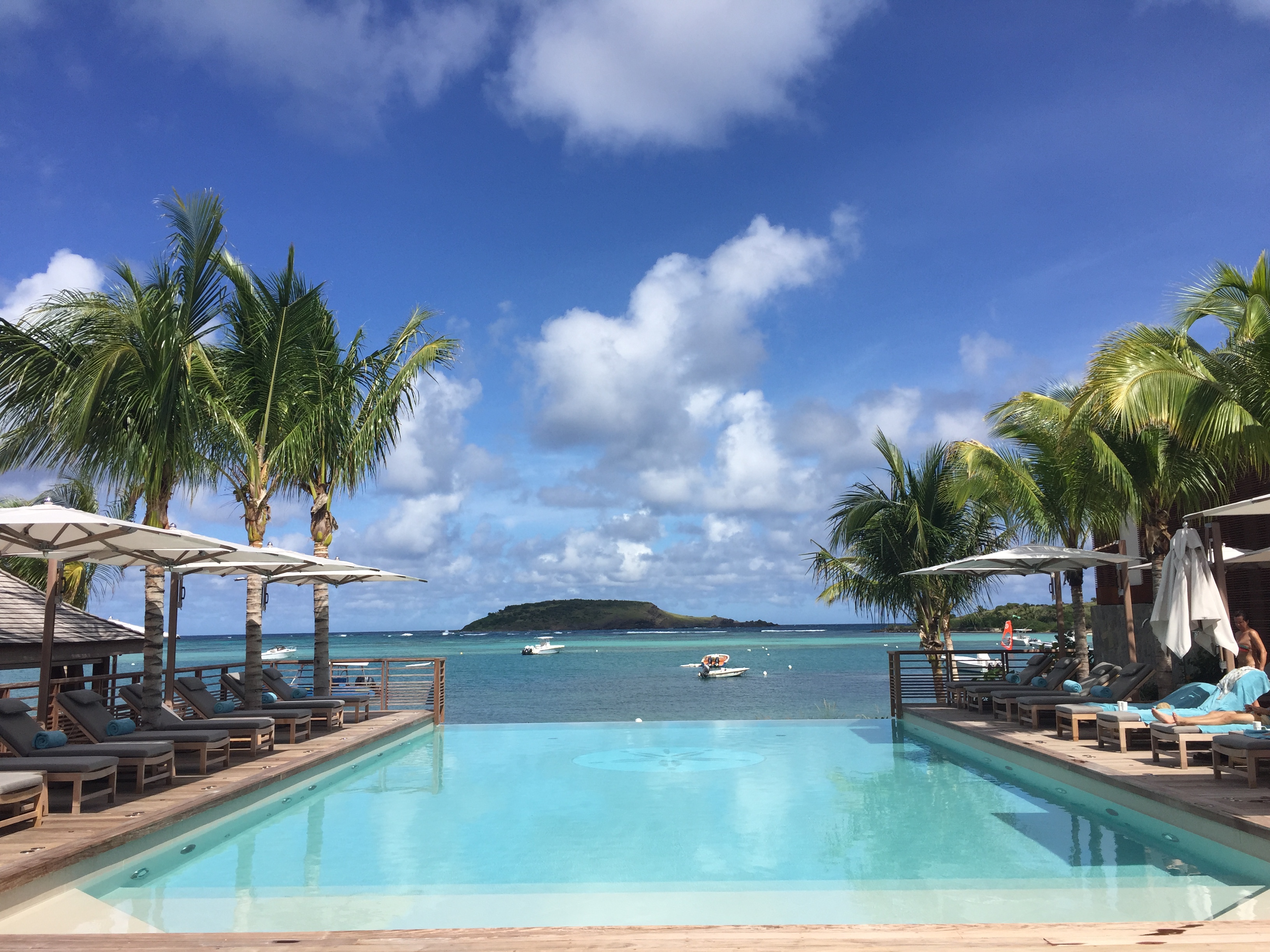 As long as I can remember I have been a nervous flyer. Something about leaving 100% control into a pilot's hands doesn't sit right with me. I have to think that is why my headphones and I have been best friends since the age of the Sony Walkman. Some people take Xanax, I throw on headphones and play the same Otis Redding song every single time I take off. If I die to this song, it won't be so bad. We all have our quirks, that's mine.
You have two choices to go from Anguilla to St. Barth's.
The boat aka as the VOMIT COMET or the plane. I did not get the memo that the plane was a six seater with literally three tiny benches across as the seats. I was not a happy camper.
I also did not get the memo that the pilot was 5,000 pounds, sweating and considered "texting" and flying legit. Thankfully it was short and clear of bumps. The landing was insane (see above) but I would do it again in a heartbeat (that is how much I loved St. Barth). Also it's 15 minutes versus the 45 minute boat ride (or 25 if coming from St. Maarten)
If you haven't been to St. Barth yet, a little insight …. This is an island that feels NOTHING like Anguilla. One step out of the tiny airport and you may as well be in the South of France. It's basically St. Tropez except the people are much nicer.  It is extremely well maintained filled with chichi boutiques, bistros and bars.
You MUST rent a car. This is not an island to take taxis. There is WAY too much to see and do. The island is not cheap and if you wind up relying on taxis the entire trip, you may go home broke. Definitely rent a convertible. We rented a mini cooper which was perfect. The smaller the better.
The roads are super tiny and the drivers are seriously nuts. I was so worried about the flight but the drivers were really the ones to worry about! The car rental is part of the airport. We grabbed the rental car and drove across the street to the market where we picked up cheese, prosciutto, bread, wine and a few other goodies.  The employees in the market do not speak a LICK of English so unless you know French, you have to wing it. But this was an amazing tidbit that a good friend of mine told me before I left. It made for the ultimate picnic on the beach.
We pulled up to our home for the next four days and I smiled from ear to ear, the hotel was GORGEOUS! St. Barth has so many magnificent hotels it was hard to choose but I picked Le Barthémely because it was brand new.  I had clients already inquiring about the hotel and it was vital I experienced the Le Barthémely before recommending it.
We arrived early, as in 10am early, and I was super excited to find out our room was ready. There is nothing worse than arriving at a hotel only to find out you have to wait hours before you can unpack, change and relax. Nobody likes to throw on a bathing suit in the hotel lobby bathroom. The check-in process was quick and we were whisked off to our room. The hotel has only 46 rooms and suites which makes it so nice and intimate. Our room was simply elegant with an amazing ocean view.
I also loved that we could walk straight out to the pool in the morning . The Hérmes soap, shampoo, conditioner was such a nice bathroom surprise.
One of my biggest pet peeves with most hotels is the mini bar. If I am paying x amount of dollars to stay at your hotel, soft drinks and snacks should be FREE. Le Barthélemy has a fridge stocked with water, sparking water, coke, diet coke, chocolate and it's all included. It's such a small detail but it really goes a long way. Don't you think?
After we settled in, we drove over to Nikki Beach. A visit to St. Barth is not complete without Rosé all day at Nikki Beach. This is a MUST DO.  Nikki Beach is the best place to let your hair down and have a little some fun in the sun. The combination of people watching, great sushi (food is good but order the sushi), friendly staff and yummy drinks make it one FUN day.

If this doesn't give you a feel, try this:
A few things to know:
Go on a Sunday, reserve a bed and bring your friends. It's sort of like Cloud 9 (in Aspen) but it's on the beach. If you haven't been to Cloud 9 yet…. put this on your bucket list STAT (that is if you like a lunch party).
After a day of drinking and a long afternoon nap, we decided to have dinner at the hotel and call it an early night. I am so not one of those people who can drink all day and night. Like I am either a day drinker or a night drinker. Props to you if you are one of those people who can battle through it.
Breakfast at Le Barthélemy is AMAZING. Besides the morning view:
Actually we could have sat inside but I really don't think it compares. The  fresh fruit, granola, homemade bread, muffins, eggs – whatever you want. It's all included and it was FANTASTIC.
After breakfast, we drove over to Le Toiny as it was recently renovated and I was curious to see the newly updated hotel. Le Toiny is a 5+++ star hotel. Like holy shit gorgeous, white glove service, and rooms you don't want to ever leave. It's seriously a small paradise. The hotel only has 14 luxury suites which are comprised of 13 one bedroom villa suites and 1 junior suite. Every suite has an ocean view with a private heated pool. It is to die for. This is where you want to spend your honeymoon.
Because Le Toiny is set in the hills, you have to take a car down to their private beach. Now if you know me personally, you know I have a thing for Land Rover. The older the better. Le Toiny actually built these Safari Land Rovers to transport guests up-and-down the hill to Le Toiny's full-service Beach Club. Sweet!
It's a two-minute drive down an old goat bath to a beautiful quiet beach.
There was this itsy bitsy boutique that had the cutest resort wear! A found a line or two that I am going to be carrying this spring. GREAT STUFF!
Greg and I shared probably one of the best lobster salad's I have ever eaten. Fresh lobster, pink grapefruit, cherry tomatoes minus the olives (I despise them) with an orange wine vinaigrette was simply fantastic.
I should add that Le Toiny is far from Gustavia so it doesn't attract the day trippers who flock to Eden Rock and sometimes Isle de France. It's really a nice way to spend your afternoon.
St. Barth is known for its pristine white-sugar sand beaches. There are 16 beaches that each have their own charm and advantages. We headed to Gouverneur's Beach after Le Toiny for an hour of sun and relaxation.
Gouverneur's Beach is an unspoiled small beach with turquoise water that just goes and goes on and on. Rumor has it Captain Monbars buried his stolen treasure in a hidden cave. No one has found it yet! We ran to town after for some quick shopping. The shopping in St. Barth is A-MAZING!!!!!!!!! I could write an entire article on the stores alone. Anyway I am walking down the street and I hear "AMY?" I turn around to see one of my oldest friends and neighbors since 1st grade, Adam. He was in St. Barths with his longtime girlfriend. Smallest world ever. We wound up having dinner with them and their friends, Erica and Alex who were also in St. Barth on vacation. If you follow me on snap, you saw the night. We had a great dinner at Bagatelle (yes same as the city but smaller and Thursday's is 80's night so they brought in an 80's cover band which made the night that much better) I wish I saved my snaps from that night. After Bagatelle we went to Le Ti. If you travel to St. Barth this is the one place you MUST go! It is an institution on the island. I never expected the super fun and crazy night we had! Amazing drinks, incredible music, cabaret, dancing on tables is what makes Le Ti epic! They have a room full of costumes where you can choose accessories (or full clothes) to get in the mood of dancing and partying with very happy friends (hi Erica) and strangers!
They say what happens in St. Barth's stays in St. Barth's and after a night at Le Ti, it's easy to see why.
If the night before was an all out party, the following day was quite the contrary. Alex and Erica told us we HAD to go to Saline Beach. I am so happy we took their advice. My wishes when I die are to be cremated and thrown on a beach. This is my beach. It's pure perfection. The whitest sand, the bluest water. A smile on everyone's face.  It is simply SPECTACULAR. You walk down this hilly path that leads to a sand dune. When you reach the top, you cannot believe your eyes. Paradise.
What I did not expect was how many people were NAKED. Like topless women, fine. But naked men – would have preferred a heads up. If I can draw an image in your mind, picture this:  a 65 year-old man standing by the edge of the water, wearing a fedora, eating a baguette with an uncircumcised penis hanging out listening to Michael Jackson's ABC.  Again, on my snap. Sorry if you missed it, lol.  Putting that aside, I was in pure heaven. Definitely one of my favorite days, ever.
The hotel gave us chairs and a picnic basket where we enjoyed the perfect beach lunch.
We did not have enough time to visit Colombier, Shell, and the other white sand beaches but I know I have to return just to hike and see the sunset at Colombier's.
We stopped in town on the way home for some last-minute shopping since we were leaving early the next day. The boutiques are divided among Gustavia (more like Madison Avenue – Cartier, Chopard, LV, Bvlgari, etc) and St. Jean (chic boutiques). If there is one store you must stop in its, Human Steps.
It is a high-end designer shoe store but in the back they have a sale rack that is KILLER!!! I got Prada wedges for 1/3 off and you can still find them full price in department stores. I watched someone walk out of there with three pairs of shoes for the price of one. It's a gem! You should also know that the stores close from 12-3 so don't try to shop during those hours. I will tell you, the Europeans got the whole siesta situation right!  Don't you think if we closed our businesses from 12-3 (or even 12-2) to take a nap, have a glass of wine, eat a long lunch, have sex or whatever, we would all be more productive and possibly a little more sane? I do.
Our last meal was a tough call because there were so many restaurants we didn't get to dine at but we picked L'Isola which was delicious Italian food. It was the perfect way to end the trip.
A few other stand-out restaurants that were on my list that I didn't make this time around
Maya's
Maya's to go is also AMAZING (croissants and cappuccino)
La Plage at Tom Beach Hotel (go for lunch) – great beach party!
Tamarin (must go – garden setting and atmosphere is spot on)
Santa Fe (best lunch view on the island and food is super!!)
La Case De L'isle located in Cheval Blanc is an incredibles spot morning, noon or night. Food is fab and the hotel is GORGEOUS!
L'Esprit de Saline (charming lunch spot before enjoying Saline Beach)
Black Ginger (Thai)
Le Gustav (Japanese)
La Langouste, an outdoor Creole and French restaurant at Flamand Beach Hotel. It's a must for seafood lovers — the fresh lobster is probably the best on the island.
On the Rocks at the Eden Rock Hotel for a very romantic evening!
plus so many more (we can discuss!)
St. Barth, all in all, is an island where you create what you want it to be. You can make it a party with afternoons at Nikki Beach and La Plage and nights at Le Ti and BAZ bar. You can turn it into a peaceful getaway with days spent at the gorgeous beaches and a delicious dinners at L'Isola, Maya's, Bonito, etc. St. Barth can also be a mixture of relaxing days and a party at night. As my friend Adam said "St. Barth is not a place to go for the week and stay at your hotel." It's what I LOVE so much about the island. It's why, for the first time in so long, I was depressed returning home. There just wasn't enough time to do everything I wanted to do. BUT the good news is I know when I return there will be more to explore, discover and see.
Anguilla and St. Barths are two very different, special places. The ultimate vacation would be a combo of the two but if you asked me today if I could get back on a plane this second and choose one – St. Barths baby!
XX
p.s if you missed Part One, here it is : ANGUILLA