Caribbean Paradise – A week in Anguilla & St. Barths (Part 1 of 2)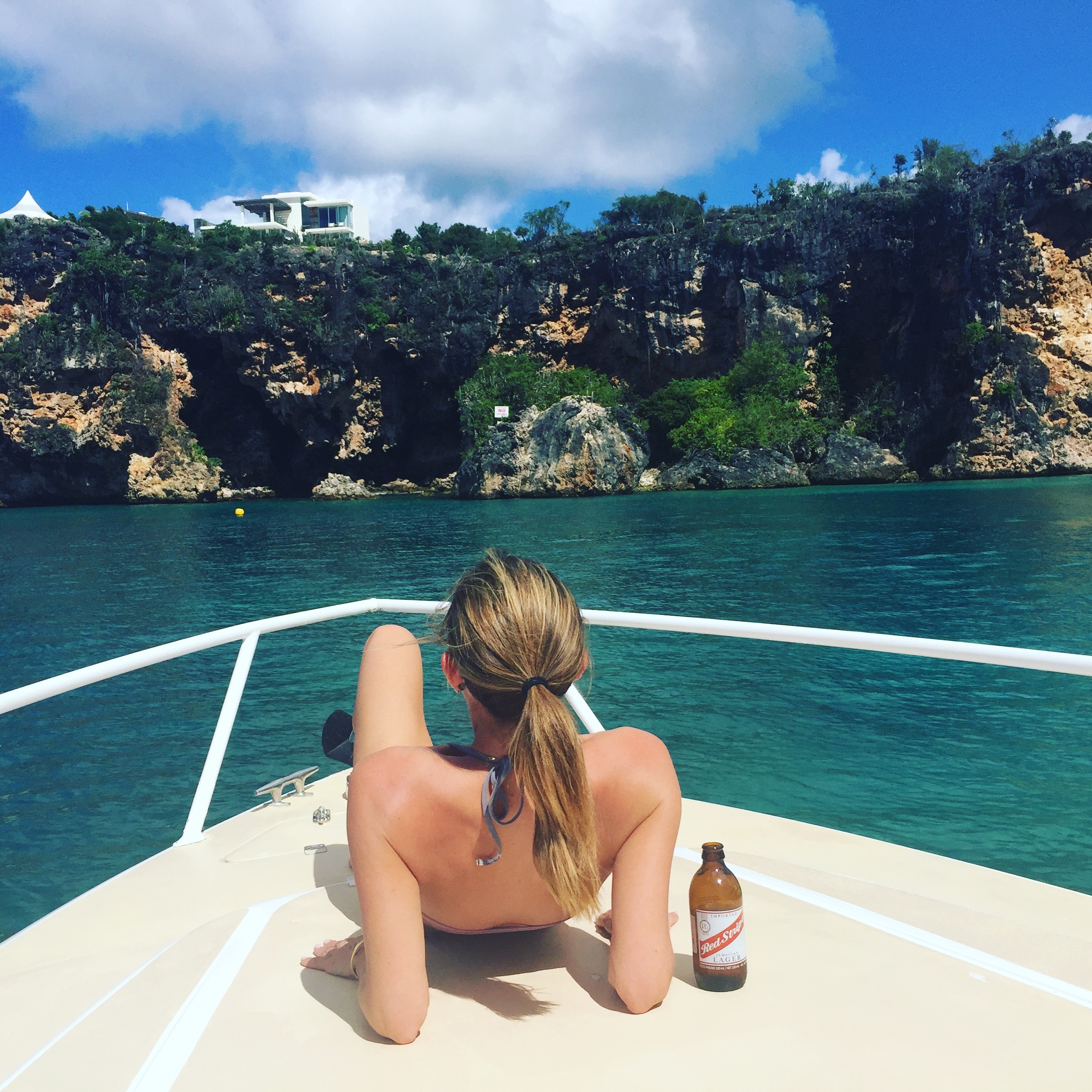 Everyone needs a place in their life to recharge their batteries. Whether it's a road trip to a bread and breakfast or a plane ride to an island, disconnecting is essential. I was invited on a FAM (travel advisors spend a few days together to FAMiliarize themselves with a property) to experience Malliouhana, the newly renovated Auberge resort in Anguilla. I decided to combine work with pleasure and have Greg join me after the FAM. I wanted to check out the new Four Seasons (formerly the Viceroy) and head over to St. Barth's to celebrate our 15 year anniversary. Between the insane election, the out of control school year, and pre-holiday madness, the trip came at a perfect time. (I also think the key to getting through this whirlwind of a year married is a vacation WITHOUT kids).
I broke the article down into two parts – First Part: ANGUILLA, Second Part: ST. BARTHS. I didn't want it to feel like information overload and because the islands are so different, they each deserved their own article.
So let's begin with Anguilla- Pronounced….. (please press play)
Back in the day, like 8 years ago, when Anguilla was a "hidden" gem, you could fly into St. Maarten, take a private boat that they would beach in front of your hotel (i.e Cap Juluca, Cuisinart). A handsome, large local man would would carry you and your luggage off the boat and whisk you straight to reception. There was no such thing really as immigration. One of the crew members would collect your passports and check you through immigration without anyone having to leave the boat. As people got wind of this magnificent island and the Travel Section of many newspapers began to write about Anguilla, the private boat that took you direct to your hotel disappeared. Immigration became a formality. BUT the people, the beaches, the feeling of "it all just slips away" still remains. There are no billboards, casinos, or cruise ships. It is the ultimate island of barefoot luxury. It is the reason why so many people (myself included) return there to refuel every year . I think the thing that makes Anguilla unique is the people. The locals make you feel as though you are part of their family and welcome you with open arms into their culture. 15,000 people live on Anguilla year around (to put that into perspective my town, Livingston, has 27,391 people). It's a small, intimate island and if you are a huge fan of food and music, this is your place!
I tell ALL my clients first and foremost before stepping foot on Anguilla – you MUST MUST MUST read A Trip to the Beach (this was written by the owner of Blanchard's – Melinda & Bob). It will make your trip even better, I PROMISE.
Here is a little recap of my visit a few weeks ago with lots of tidbits worth noting.
I arrived to Anguilla late in the afternoon after a three and 1/2  hour flight from New York to St. Maarten and a twenty-minute ferry ride to Anguilla. If you are planning to travel to Anguilla, you need at least FOUR nights. Do not think you can get away with three nights. You will miss too much especially with the travel time. Five nights is really ideal. When you get to the dock from the airport (I will have it set up that you are taken from the airport to the dock), make sure to tip the porter!
I HIGHLY suggest the shared ferry which is $85/pp. The shared ferry leaves directly from the airport dock in St. Maarten. It is way more pleasant to go this route and a huge time saver. If you choose the public ferry, you will have to take a 30 min taxi ride to get the public ferry.  Although it is less money, I urge you to do the shared ferry.
Plus you get free cocktails. The rum punch is STRONG! The local Caribe beer is super refreshing after a long flight (always my choice).
Once in Anguilla, you must go through Immigration and then you can hop in a taxi to hotel. (I include your transfers).  As I pulled up to Malliouhana, the entrance immediately reminded me of the shops in Beverly Hills.
That was until I stepped inside and I was blown away by the view of the crystal blue ocean. The lobby is adorned with antique diving helmets, mirrored lattice ceramic tile, and a beautiful palette of pale turquoise, corals and whites. Magnificent! The open aired lobby immediately made New York feel like a distant memory.
Malliouhana is set on a cliff overlooking Turtle Cove and mile-long Meads Bay. Meads Bay is the same beach as Blanchard's and the Four Seasons. The hotel is made up of 44 Ocean View rooms and suites. After a long day of travel, it was such a nice surprise to have a delicious welcome amenity waiting in my room.
The room was stunning and spacious with a spectacular ocean view balcony!
There is a ton of space for all your clothing and a very swanky bathroom. It sort of reminded me a of a chic version of Lily Pulitzer.
Since we arrived late in the afternoon, we all met for drinks at the Sunset Bar and had dinner at The Restaurant at Malliouhana. FAM's are a funny thing. I haven't been on many so you never know what the vibe will be like. I only knew Lori, another travel advisor, that I met on my first FAM to Body Holiday. After a few drinks, I knew this was going to be a kick ass group.
The Sunset Bar is the perfect place to enjoy a cocktail before dinner. I hear the "heirloom" martini, with vodka, gin, heirloom tomato, lime, and basil is fantastic. I am a wine girl so unless I have a Moscow Mule in my hands, it is usually a glass of Sauvignon Blanc.
Dinner was served at a picturesque table at Malliouhana.
We had a delicious tasting menu….the Bucatini Pasta & Littleneck Clams were my fave.
After a six course meal and several glasses of wine, we were ready to call it a night.
The following morning started with Beach Fit. A crazy workout of running, jumping in tires, lunges, pushups, sit-ups and a host of other exercises  that I would not suggest doing hung over. But I would recommend it! I also took a yoga class (not the same day) on the pretty terrace that overlooked the ocean. Great class!
Breakfast at Malliouhana is a beautiful buffet of fresh fruit, little mason jars of granola and dried fruit, Greek yogurt, cheeses and meat, croissants and muffins (included). You also have the option to order off the menu eggs, pancakes, (not included). The GREEN JUICE is a must!
Besides chilling on one of the nicest beaches in the Caribbean,
we took a boat over to Sandy Island before heading to Scilly Cay. You can spend a few hours or the day on Sandy Island where you may swim, snorkel, eat and relax! It is a small island with beautiful views, "magazine cover" blue waters, and great food. You can also rent it out for a sick party!
Scilly Cay is a MUST!!!!!!!!! Scilly Cay is ONLY open Wednesday's and Sunday's 11am-5pm. Mark my words, this will be one of your favorite parts of your trip so plan accordingly.
Besides the live music and the incredible rum punch (be careful), the crayfish is, hands down, the BEST you will ever eat, anywhere.
(this was my lunch – photo credit – ME)
The first time Greg and I went to Scilly Cay (several years ago), we DROVE to the dock (there is a small boat that takes you over to Scilly Cay from the dock). We had no clue how powerful the rum punch would be, like when you drink too much tequila powerful. My point being – please TAKE A TAXI to the dock. DO NOT attempt to drive, just don't.
Part of the reason I consistently return to Anguilla is the food. There are so many places to visit in the Caribbean but I imagine there are a few islands that come close to the caliber of restaurants in Anguilla (except maybe St. Barths, see Part 2).  The food in Anguilla is out of this world. Like holy shit good. If you are a foodie and you haven't been to Anguilla yet, this must be your next trip.
With so many restaurants to choose from, here are my top suggestions:
Blanchard's
Always my first choice. You cannot go to this island without a meal at Blanchard's.  I actually went twice this time around! First with the ladies and second with Greg to celebrate our fifteen year. Blanchard's is not only located in the most magnificent setting, the food is A+ and the wine choices are endless!
 I am a creature of habit when I eat, I can't help it. I ordered the crayfish again.
If you decide to dine at Blanchard's (it would be a huge mistake not to), order the cracked coconut for dessert. It is the best dessert on the menu! It's a coconut crusted dark chocolate shell (in the shape of a coconut) filled with coconut ice cream and a little pool of Bailey's. AMAZING!
Blanchard's also has a beach shack. If you are going to leave the hotel one day for lunch, this is where you should go. It's also the only place you can order the cornbread because the main restaurant does not serve it (you know, the Thanksgiving cornbread I make every year).
I ordered the Kale Caesar with Grilled Mahi Mahi (YUM)
These are my other must dine spots:
Picante – the only and best Mexican food on the island. Owners are from Cali….visited Anguilla, had a craving for Mexican food (there wasn't any), moved to Anguilla and the rest is history).
Sunset Lounge (at The Four Seasons)
 Also one of my favorite spots for dinner on Anguilla is B&D's BBQ. It's very different from the other dining spots on the island. Instead of ocean views, live music or white linen table cloths, you will find incredible local food under a tent at the owner's home. It's pretty great. You pull over on the side of the road and walk up to the tent. Stand in line (IT'S WORTH THE WAIT), the line moves quick. Place your order. You have a choice of chicken, fish, or ribs (the ribs are RIDIC)  with a side of peas and rice, fries and their famous Johnny cakes.
A trip to Anguilla is never complete without a trip to Bankie Banx's Dune Preserve on the spectacular Rendezvous Bay (next to Cusinart). I could write about how incredible the Dune Preserve is but until you actually spend time there you will come to understand what makes this place so special (think tree house that extends into the ocean with awesome music and people).  It's a beach bar built with treasures from the sea, serves delicious food and drinks and plays incredible reggae tunes. You just never know who may make a guest appearance!
There's a reason CNN has voted it the #1 beach bar in the world! I was super bummed I didn't have a chance to go to the Dune this trip but I know I will be back.  If I ever happen to go missing, you will most likely find me there.
After an amazing stay at Malliouhana, I literally moved down the beach to the The Four Seasons, formerly The Viceroy. In my opinion, if you are considering bringing your kids to Anguilla, The Four Seasons is the only game in town. If you stayed at the Viceroy before it became the Four Seasons,  the rooms and decor haven't changed much. However, the service is exactly what you would expect from The Four Seasons – STELLAR and the food is delicious.
The Four Seasons Anguilla has a South Beach, hip vibe.
The breakfast (included when you book with me) is out of this world (there is also an omelet station, an entire table of breads, etc not pictured)
There are tons of activities for kids including The Kids Club, soccer, basketball, a rock climbing wall, bikes etc.
Anguilla is not a place I personally would bring my kids. Maybe in five years. For now it's my escape to disconnect and re-energize where I know I will find the bluest waters, the nicest people, the best food and amazing live music.
After five days of relaxation, it was time to start the party in St. Barth's
continued HERE.
XX
p.s – The #1 question I receive when clients call me to inquire about Anguilla is – Where should I stay? This is why I like to have a phone consultation to understand your needs and preferences. Sometimes people think they want a hotel because "so and so" said they have to stay there but 9 times out of 10 it doesn't truly fit your requirements. If you are interested in traveling to Anguilla – let's talk. Please don't hesitate to contact me HERE.