Lulu's Holiday Gift Guide 2016 – The Adult Version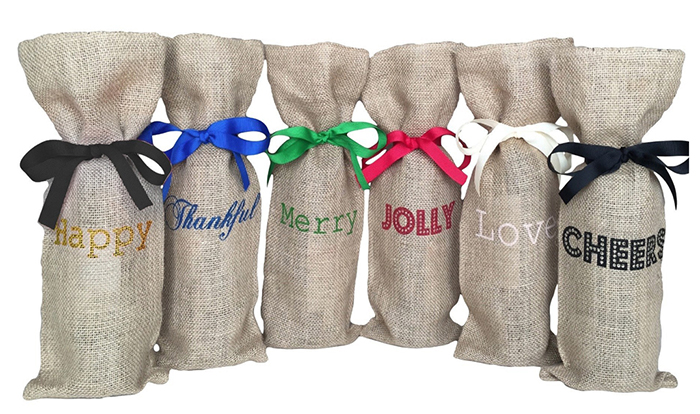 The holiday's are quickly approaching and I am sure everyone is in gift mode! We all need that perfect gift for that perfect someone. I have listed over 50 gifts to help you find something! This guide is filled with everything for him and her! If you missed the kids and tweens guide from Cyber Monday, you can find it HERE. As always, my gift to you on anything you purchase in the LULU STORE  is 10% off if you spend $100-250 (code HOLIDAY10 and 15% off $250+ code HOLIDAY15). I marked which items are available in Lulu Store (there are a lot!). Also I added a tab in the store to find all the gift guide items!
Happy Shopping!
TONAL CLUTCH
First of all everyone needs a black clutch, second of all its super cute, AND third of all its $25 and YOU would never know it!! GREAT GIFT! Also comes in burgundy, green, silver and stone.
Tonal Clutch  – $25


WINE SOCKS
JOG DOG BOOTS
RABBIT FUR INFINITY SCARF
MINK FINGERLESS GLOVES
SIMPLY ELEGANT!! These luxury mink gloves are a show stopper!
Mink Fingerless Gloves  $125
(available in lulustore)
RABBIT DRAPED COAT
This rabbit fur draped coat is the perfect addition to any look.  Throw it on with jeans or black leather pants and you will rock the night!
Rabbit Draped Coat – $450 (available in array of colors!)
(available in lulustore)
SHIMMER & SHINE GIFT SET
Perfect gift set for the winter! Buff away dryness, deeply hydrate and highlight supple and smooth skin. Add a hint of shimmer and beautiful bronze from head to toe. This set features special travel-friendly sizes and is packaged inside a limited edition red gift box.
Shimmer & Shine Gift Set – $68
COSMETIC BAGS
Perfect stocking stuffer or Secret Santa gift!
Printed Zippered Pouches -$13 each or set of 3 for $38
(available in lulustore)
Totes
My FAVORITE FAVORITE Travel bag!!!! Complete with zipper pocket and cell phone holder. Also comes with a detachable strap.
Woven Weekender Bag $250
(available in lulustore)
TRAVEL ORGANIZING BAGS
BEACH CRUISER
I have been dying for one of these for years….The perfect beach bike!
Women's 26-Inch Beach Cruiser – $369.99
Just add a basket and you have the ultimate beach cruiser!
WOVEN BIKE BASKET
Activewear
LEGGINGS!
LIFEFORME YOGA MAT
I have tried 30 yoga mats but this one has stolen my heart. You don't need a yogitowel for sliding. There is a navigational tool for your Yoga asana practice. The combination of intelligent markers gives you as much, or as little, guidance as you need. It is sturdy, doesn't smell and I have not had to replace it since I bought it many many months ago. It ROCKS!
Lifeforme Yoga Mat – $140
UNDER ARMOUR GYM TOTE
This bag is perfect for the gym. It even comes with a laundry bag & adjustable crossbody strap!
Under Armour Gym Bag – $49.99
Hair Banglez
The perfect solution for the hairband on the wrist – a chic bracelet! The hairband wraps around the bracelet so you can wear it up or down all day.
Metal Hair Banglez $24
Sporty Hair Banglez $8
(available in lulustore)
I am in them midst of writing an article about the downfall of men after marriage but in the mean time here are some products to try and get them back on track
MENS UGG SLIPPERS
Ugg still make my favorite men's slippers. This year I am LOVING this supple suede pair.
Ugg Cooke Slippers – $99.95
SUEDE STAN SMITH'S
Adidas was smart to do a suede version of Stan Smith's. These grey kicks will go with anything while keeping him looking sharp!
Suede Stan Smith's – $84.95
KASTRUP BACKPACK
Throw out their fugly briefcases and bring your man into 2016! Here is their new backpack that is ready for the train or a city bike ride with sophistication to spare. This chic backpack has an an internal laptop pocket, keychain and zippered privacy pocket make for easy storage; a bias-cut front pocket and sleek leather base brings hands-free living to a whole new level. He will have this for years!
Kastrup Backpack – $495
TUMI TRAVEL SATCHEL
He will travel in style with this sleek, minimalist satchel designed for maximum utility!
Tumi Travel Satchel – $395
MACKAGE DOWN JACKET
Super chic hooded down jacket that will keep him warm as temperatures approach freezing. The water-repellent DWR coating will keep him dry, while ribbed inset cuffs help contain the warmth inside!
Mackage Down Jacket – $520
ARCADY LEATHER BOMBER
The Member's Only Jacket may be out but the leather bomber is in! The Arcady men's line out of LA is sick. Love this bomber.
Arcady Leather Bomber – $1700
SWEAT TAILOR
CUFFLINKS
I love giving cufflinks as gifts especially when they attributed to something he is passionate about.
Sterling Silver Cyclist Cufflinks $220
Sterling Silver Golf Cufflinks $220
Sterling Silver Baseball Cufflinks $220
Knicks Cufflinks $60 (many teams available!)
(all available in lulustore)
Speaking of good basics, a good friend of mine told me that every year after New Years, he throws all of his socks and underwear out and starts fresh. It's a great idea if you think about the fact that you wear socks & underwear every single day! A nice way of telling him to replace his underwear and socks would be to buy him new ones!
MACK WALDEN UNDERWEAR
All I am going to say is one thing:  This isn't just underwear.  Mack Weldon's underwear took over 10,000 hours to design. And that's not all. They lay out the fabric for 18 hours before cutting into it. That means it will fit – and shrinking and breathing all happens naturally.  Plus it's naturally moisture wicking and adept at controlling odors. The end result? The most comfortable pair of underwear he has ever worn. Ever. $24 for one pair, yes, but he will thank you! Think about what we spend on bras!
Mark Weldon Briefs – $24
Mark Weldon Trunks – $22
BOMBAS SOCKS
Best socks around. Can't say enough, once you own them, you will never go back! He, She, Kids….BEST SOCKS!
Bombas Socks – starting at $12
REVERSIBLE SPORTS SCARF
As a Giants Fan, I had to show pride but the scarf comes in a huge variety of sports teams!
Giants Scarf – $18.99
CLARISONIC MEN'S FACIAL CLEANSING BRUSH
Because it'll look like years have been taken off his face, plus he'll basically be able to get the best shave ever after using this!
Clarisonic Facial Cleansing Brush – $219
DOLLAR SHAVE CLUB
BOSE WIRELESS EARBUDS
The best wireless earbuds on the market. Hands down. These sport headphones feature a built-in heart rate sensor and StayHear+ Pulse tips to give you the information and stability you need to take your workout to the next level without wires in the way!
Bose Wireless Earbuds – $199.00
UMORO PROTEIN BOTTLE
Protein Shaker Bottle and Water Bottle in one! For anybody that loves protein shakes and is always on the run, this is for them. It stores your supplement for you, for your after work workout and it does not leak!
Umoro Shaker Bottle $24.95
THE ULTIMATE MASSAGER
This machine is like having your private masseuse! Works on neck, lower back, legs and even feet! I read about this and ran out to buy it. It WORKS!
Cordless Shiatsu Massager – $99.95
MESH NETWORKING
With all the Mesh Networking (aka as full house wifi) systems on the market, how do you know which one to choose? Well, I did a ton of research between Luma, Eero, Orbi and now Google onHub. Basically it came down to Eero and Google. The only negative with Google onHub is that it tracks certain data "to improve services." Truthfully, I think we are all being tracked but that little line is in their privacy policy – fyi.
Eero Home Networking System – $461.83
Google onHub – $460.00
Nomad Plus Charger
Everyone needs a backup battery solution! The NomadPlus fits perfectly with your existing Apple® wall plug, allowing you to charge up your phone with a cable as normal. While it's plugged in, it also charges up the internal 1800mAh backup battery. Just unplug it and take it with you for a battery boost on the go.
Nomad Plus $38 (lulustore)
APPLE WATCH STAND
This is the ideal stand for the Apple Watch. It's designed to give your watch an elevated charging experience, whether at your desk or by your bedside. Love how minimal yet functional it is!
Apple Watch Stand $40 (lulustore)
Charging Cables
No matter what you buy this holiday season, these charging cables are a NECESSITY! The Universal cable comes with integrated multi-tip charging options to charge any mobile device.  Attached are two tips, an MFi Certified Lightning tip and a USB Type C tip enabling you to charge all iPhone, Android and other USB powered devices. The battery cable combines a durable, nylon wrapped, MFi Certified Lightning Cable with a high capacity 2350 mAh portable battery.  The Battery Cable knows your priorities: it charges your phone first before charging its internal battery. A sleek charge status light indicates its state of charge and remaining power.
They both have braided ballistic nylon for abrasion and tear resistance, reinforced RF shielding for fast data sync, 2x thick protective PVC jacket, extra thick wire gauge and a robust kevlar core. They've got it all!  Their durable cables were engineered to inherit the latest charging and material technology. And after all that, they made them tangle-resistant, too.
Universal Cable $35
Battery Cable $39
(both available in lulustore)
Water Resistant Bluetooth Speaker
The ultimate shower, biking, beach, WHATEVER water resistant bluetooth speaker. Attach it to ANYTHING! It bends or stands or hangs!
Water Resistant Bluetooth Speaker $30
(lulustore)
AMAZON FIRE TV STICK
The latest fire stick is here! Connect it to your TVs HDMI port and watch over 250,000 shows from Netflix, Hulu, Amazon, HBO GO, and more. Plus, enjoy Alexa voice control and over 7,000 apps and games.
Amazon Fire TV Stick – $39.99
LUCENT HEATED GLOVES
I LOVE the heated glove concept, as nothing ruins great skiing more than cold fingers and toes. Truth is many heated gloves don't work well, with short battery life and uneven warmth distribution. The latest pair comes from Outdoor Research, a very high-regarded supplier of garments and gear for serious climbers, alpinists and explorers. The Lucent glove ALTI Heat system keeps your hands warm up to 8 hours on the lowest setting, and on top of that, these insulated heavy duty gloves would keep you warm even without the added heat! They are also uni-sex!
Lucent Heated Gloves – $350
VIVA TEQUILLA
Tequila Lover's will rejoice with this gift!
Viva Tequila – $69.95
BLOODIES
Bloody Mary Fans will ADORE these glasses! Comes with a set of two pint glasses printed in gold with a custom printed carrier—complete with a delicious Bloody Mary recipe—ready for gifting.
Bloody Mary Glasses $38 (lulustore)
HIS & HERS / HERS & HERS / HIS & HIS GLASSES
These 8 ounce low ball glasses and decanter set are a great holiday gift for a couple (perfect wedding gift as well).
Set of 2 Glasses $44
Ours Decanter Set $108
(both available in lulustore)
GALAXY MIXING GLASS AND 2 COUPE SET
Bring in the new year with this mixing glass and coupes set. The hand engraving is in a classic star pattern evocative of the best vintage glasses.
Galaxy Mixing Glass Set $98 (lulustore)
PINEAPPLE COCKTAIL SHAKER
SHAKEN COCKTAIL SET
The essential set that includes all necessities for shaking up cocktails at your home bar. Included:
Jigger
Hawthorne Strainer
Cocktail Shaker
Everyday Ice Cube Tray
The Shaken Cocktail Set $70 (*lulustore)
BAGGY WINE COAT
For those who drink wine out of a box – here is a casual way to drink it more stylish! Simply take the wine bag out of the box, place it in the Baggy Wine Coat and close the flexible top. There is room for an ice pack too, if you prefer to have your wine chilled. A rubber bottom makes sure the Baggy Wine Coat does not tip over – neither on the dinner table, nor on the lawn. If you want to take your wine with you, just grab the handle and go! A handy and aesthetic solution for all bag-in-box wines!
BAGGY WINE COAT – $35.00
WINE BAGS
BLACK AND WHITES!
DEAN & DELUCA's has the BEST black and whites. They are a soft, cake-like texture with a delicious buttery flavor. Cookies are coated in rich chocolate and vanilla icing-perfectly sized for snacking. They are shipped frozen. KOSHER.
18 Dean & Deluca black and white cookies – $35
ELENI'S PATTERNED DREIDELS TIN
Happy Hanukkah! 12 Gorgeous sugar cookies made with pure butter and whole eggs, and flavored with vanilla. Finished with royal icing and decorated with patterns inspired by Mediterranean textiles and ceramics. NUT FREE. KOSHER. Great Hanukkah party gift!
Eleni's Patterned Dreidel Tin – $95
Sweets, chocolates, nuts.. can't decide? Then don't! Indulge in all three.
CANDY TRIO – $135
CLASSIC JAM GIFT CRATE
This is a great gift under $30! Huge fan of Stonewall Kitchen and this classic jam collection has mass appeal.  It features their famous Wild Maine Blueberry Jam (12.5 oz.), luscious Strawberry Jam (12.5 oz.), and their delectable Black Raspberry Jam (12.5 oz.). Attractively presented in a custom wooden crate and tied up with their exclusive Stonewall Kitchen ribbon, this gift makes quite a first impression.
Jam Gift Crate – $24.95
ACRYLIC MEZUZAH
Finally a elegant and sophisticated modern mezuzah! Available in a variety of 14 vibrant colors, each handcrafted mezuzah is made out of acrylic that ensures the mezuzah scroll housed inside is always visible.
Acrylic Mezuzahs $85-$95 (*lulustore)
POM POM THROW
This geometric pom pom throw will add texture, style and comfort to any room!
Geometric Throw – $150 (*lulustore)
ELEPHANT BOOK ENDS
These book ends will bring style to any office, library or book shelf!
Elephant Book Ends $40 (*lulustore)
ARTISAN CANDLES
Candles always make a nice gift and these in particular  are hand-poured in small batches (7 candles at a time) to ensure the highest quality pours.  They are made with simple ingredients: domestically grown soy wax, fine fragrance oils, essential oils,  and cotton wicks,  and then slowly poured into a reusable glass tumbler. Each candle is hand poured, packaged and shipped in the US. Candles are available in 11 scents : Toasted Fig, Fire, Winter Bloom, Black Tea Currant, White Grapefruit, Violet Musk, Moroccan Mint, Spiked Cider, Cedar, Smoke & Vanilla, Salted Orange, and Harvest Pumpkin.
Artisan Candles – $36
HAPPY SHOPPING AND HAPPY HOLIDAYS!!!!!
Don't forget my gift to you on anything you purchase in the LULU STORE  is 10% off if you spend $100-250 and  15% off $250+.
(code "

HOLIDAY10

"  and  15% off $250+ "code

HOLIDAY15

")
XX

This popup will close in:

Don't Miss a Post! Get Lulu and Lattes in your inbox!