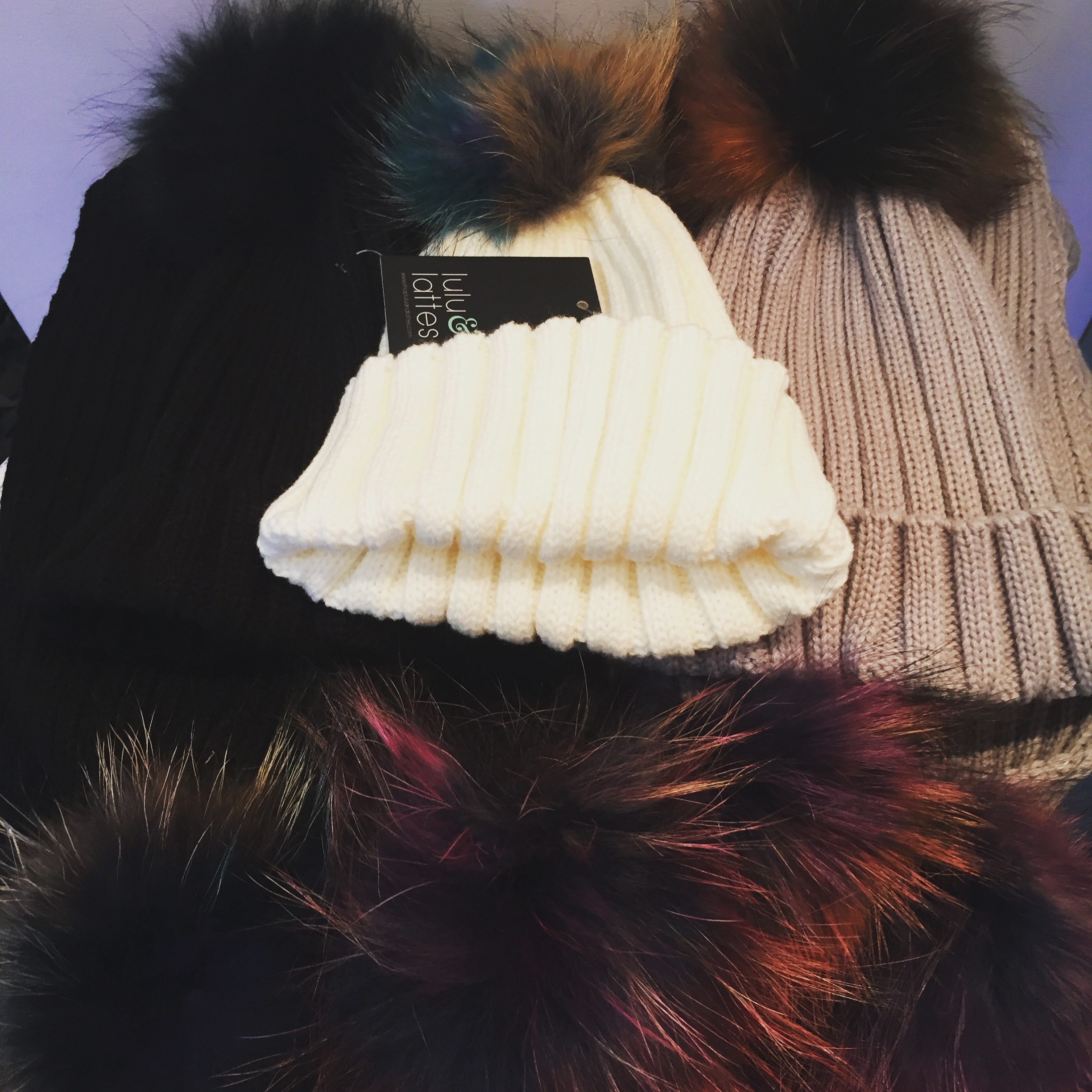 Love the new goodies in the store so I had to post! The weather is turning and figured this is a great time to stock up on fun cold weather gear plus these make amazing holiday gifts! Although this is not my official holiday gift guide (that is a biggie), here's a sneak peek at a few things you can buy now.
If you want to see the coats and accessories in person, I will be doing three trunk shows THIS week – two in NJ and one in WESTCHESTER (deets at end of this article)
Everyone needs a hat in the cold and these are super cute! The best part is the fur pom snaps off so you can actually wash the hat!
Choose rainbow pom or monotone pom all available on shopluluandlattes!
Rainbow Fur Pom Hat – $45
The matching scarves are super comfy and you can wrap them around as many times as needed!
Matching Rainbow Fur Pom Scarf – $85
Monotone Fur Pom Hat – $40
---
---
I added these gorgeous scarves to the mix because they are truly beautiful and we all need something special on a night out when it's freezing! These fur scarves make absolutely amazing gifts under $200.
You can do a multi version :
Blue/Grey Rabbit Infinity Scarf – $185
Rose/Multi Infinity Scarf – $185
Black/Grey/White Infinity Scarf – $185
or a solid version (these are available in a slew of colors):
Solid Rabbit Fur Scarf – $185
Matching Mink Fingerless Gloves!
Mink Fingerless Gloves – $125
My favorite piece though is the Rabbit Coat. Throw on with a pair of jeans, leather pants, or a dress! It is so transitional and a must-have for your closet!
Grey (pictured here) but available in so many colors! – $450
That's a wrap! If you want to see everything in person, this week I will be:
Tuesday November 1st: 
LASH HOUSE BEAUTY  BOUTIQUE in LIVINGSTON NJ – Back for round 2 since it was such a success!!!
10-2pm
Thursday, November 3rd WESTCHESTER:
 LOLA in White Plains
396 MAMARONECK AVE. • WHITE PLAINS, NY 10605
11-4:30pm
or email me for a private appt: [email protected]
XX