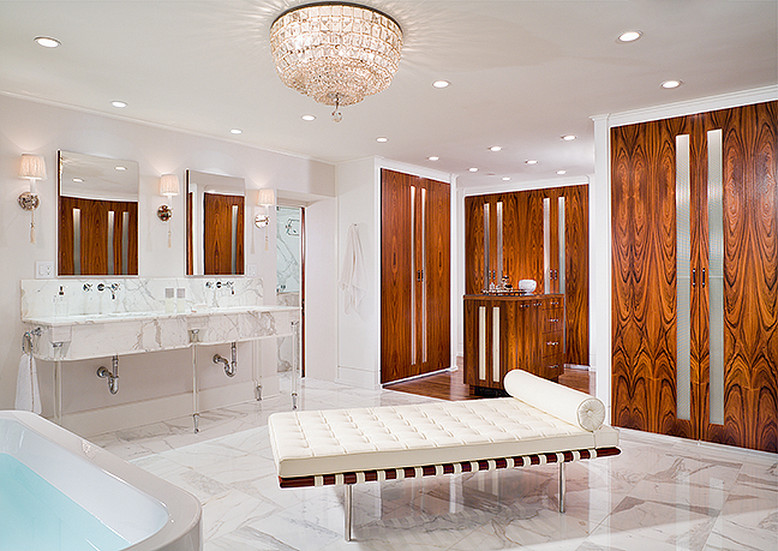 If you live in Livingston NJ or the surrounding area, you may have noticed the new store, R. Home, that has opened next to Starbucks in Livingston. I wasn't really sure what the deal was so I popped in there because I wanted to inquire about my dining room that will be probably be done when I am eighty. I had no idea that R. Home is one of the first interior design stores of its kind to open in New Jersey. The store is a showcase of multiple home design vendors that is open to the trade and public. They offer interior design, architectural services PLUS professional paint and contracting, audio-visual installations, furniture, art, cabinetry, plumbing fixtures, appliances, tile, carpet and other flooring, as well as hardware, fabric and wall coverings. It is a ONE STOP SHOP!
I  wound up talking to Tracey Butler, owner and founder of R.Home. I love hearing people's stories about how they started in one career which led them twenty years later to either a similar or completely different career doing what they love. Tracey had a great story to tell!
Tracey received her business degree from The University of Pennsylvania and dove into the fashion world of New York City landing a dream job as the Women's Sportwear & Couture Buyer for Bergdorf Goodman. Spending 7 years at Bergdorf's, Tracey worked with American fashion icons such as Marc Jacobs, Ralph Lauren, Calvin Klein and Michael Kors where she developed an unbelievable sense of fashion and trend forecasting. Everyone in the industry got word of Tracey's reputation as an amazing fashion forecaster and she was soon recruited by retail competitor Henri Bendel. (on a side note – my favorite part of Henri Bendel was when they used to have Open Call Day (maybe they still do this?) where emerging designers would line up down the street of 55th street and have a shot to present their line of accessories, clothing, etc to Bendel's  buyers for 5 minutes. If you showed up at 5am to stand in line, you were always the first to be seen. Brilliant. I am actually opening this on my blog where new and emerging designers submit NEW Accessories (including but not limited to jewelry, handbags & small leather goods, belts, cold weather accessories, hats, & hair accessories) clothing and GIFTS.  I will write an article to show off your new line if I LOVE and will help you sell!)  Anyway I am so sorry to go off track but I haven't thought about that in a while). Back to Tracey-
Tracey spent 3 years at Bendel's working as European Sportswear Buyer with renowned designers such as Karl Lagerfeld, Claude Montana and Jean Paul Gaultier. During this time she got married and had children. Anyone who lives in the 'burbs and commutes to the city everyday knows how hard it is to create your professional dream and also be a mom. Working in the fashion industry is certainly not easy as I can attest. Flying to Paris and leaving your children home is not ideal. Tracey decided it was time to make a career change.
Her love of fabrics, design, color and all things beautiful led her to Interior Design.  Tracey went back to school to The New York School of Interior Design and was selected to apprentice for coveted interior designer Jeffrey Bilhuber. It was in Jeffrey's studio where she worked alongside Thom Filicia (Queer Eye For The Straight Guy) that Tracey fine tuned her skills and developed a unique style all her own. "Serene, calm and sophisticated without being fussy" are words she used to describe her design projects. Here are a few of my favorite projects Tracey has done:
Tracey's close relationships with several local vendors from carpet to furniture to paint to everything in between brought the birth of R. Home.
When you walk into R.Home you will see a full library of fabrics, wallpapers, rugs, antiques, home accessories and more. Tracey's unique talent lies in her ability to mix modern & antique, urban & suburban, luxury & thrifty, all to achieve the perfect room for each of her clients. She is extremely talented and what I love most is that no home looks the same! I can't wait to see how my dining room turns out!
R. Home  17 W. Mt. Pleasant Avenue Livingston, NJ 07039, [email protected],  201.709.9169