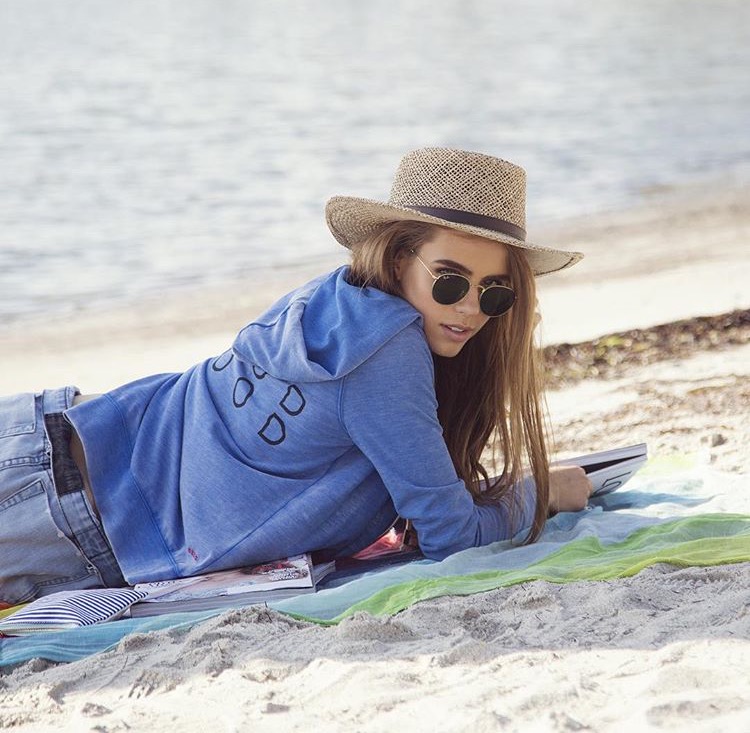 Summer is all about COMFORT! Nothing makes me happier than being able to throw on clothes that are uber soft and comfy yet adorable! I found Peace, Love, World when I did my yoga guide in the fall and after living in their pants all winter long, I knew you would love their summer collection!!! So new to the store and really to the world is this super selection of the chicest, softest lounge wear around!
Part of why I love this collection besides that it is really the softest clothing ever and it lasts forever, is the fine detail in each piece. This first short sleeve pullover has an awesome size zipper with a little leather "love" patch. Great, right?
Short Sleeve Zip Pullover – $98
If you love V necks, you will live in either of these!
Stars Oversized Tee $88
Super Soft V Neck – $68
There are my Target white Tanks and then there are my dressier white tanks that I wish I had 50 of! This is the ONLY  WHITE TANK you need all summer.  Probably the softest tank ever. Also comes in a gorgeous blue color
Super Soft Racerback Tank – $55
I love these shorts so much so I had to show them in both colors. These will definitely be my go to shorts all summer long. Perfect to throw on to run around, over a bathing suit, to get a blowout, long car ride, WHATEVER!
Super Soft Shorts – $88
These are the perfect pullovers on a cool summer morning! The pictures do not do any justice, wait until you feel them!
Striped Lips Pullover – $98
I had a white comfy top like this last year and for the life of me I can't find it anywhere! Actually like this one better, it's so much softer and I love the saying on the back!! Need this stat.
Comfy Top – $98
Can't ask for a better shirt on Sunday morning and the zipper detail on the size makes all the difference.
I Love Sunday's Cozy Top – $128
This adorable oversized destination tote has ample interior storage, plus two handles with a longer length that's suitable for both hand carrying and slinging over the shoulder. Great to throw towels in for the beach!
Destination Tote – $39
This super-soft destination tank has an incredible fit and feel. Love this color blue!
Destination Tank  – $55
The one thing I can promise, once you wear any of this clothing one time, you will never want to take it off!
XX
P.S all orders over $100 qualify for FREE SHIPPING!! WOOHOO

This popup will close in:

Don't Miss a Post! Get Lulu and Lattes in your inbox!