LULU'S GRADUATION & COLLEGE GIFTS 2016!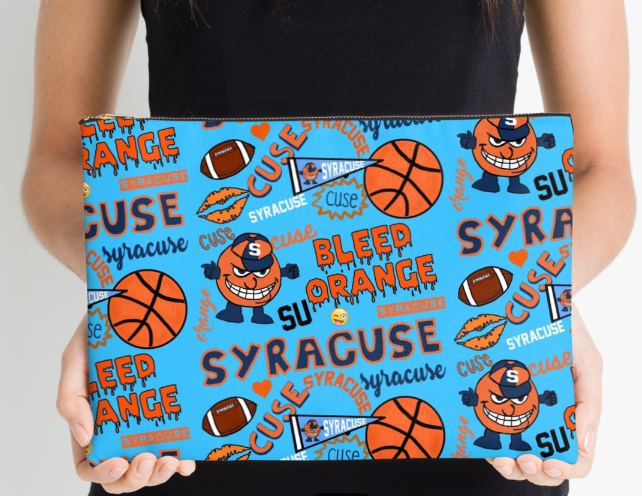 The college acceptance letters are rolling in or are already in hand. Want to give the perfect gift? Here are a few ideas that I am sure will send them into college mode! From custom clothing and accessories, sweets and the #1 book every freshman entering college MUST have, I got you covered!

College Apparel has changed dramatically since I was a freshman at SU! Now you can personalize and create a one-of-a-kind-masterpiece! These tees are adorable! No two shirts are exactly the same which makes them so unique.  (use code LULU10for 10% off)
Tailgate Tees By Gabby
Braided Back Tank  $58
Lace Up Sweatshirt $82
I LOVE these acid wash tanks from Tee 2 You . You can customize with school name and colors!
Tee 2 You custom tanks $68
Could you ask for a sneaker with more team spirit??
Skicks College Sneakers  low tops $59.99, high tops $69.99 (use code LULU for 10% off)
Custom sneakers have taken the world by storm and the most talented Carly can customize them in any school/design.
KicksbyCarly  $130-150 
Carly also designs adorable custom college sweatshirts for those cold tailgating days!
Sweatshirts $45
 LULU20 for 20% off
All girls need a Trucker Hat and these, by far, are the only ones a girl wants. Love these from Tee 2 You!
Custom College Trucker Hats  $28
The perfect hair bands for TAILGATING!!!
Wrist Words custom hair tie sets $12-$18
These beanies are perfect for those late nights walking home from class or the bars :).
Flashlight Beanie Hats $28
Collegiate hand warmers keeps hands nice and toasty on even the coldest of days!  Rechargeable via AC adapter or USB with each full charge lasting approximately 5-6 hours.
College Hand Warmers – $40-$50 (depending on school, no idea why)
Available in:
Alabama Crimson Tide
Auburn Tigers
Clemson Carolina Tigers
Florida Gators
Florida State Seminoles
Georgia Bulldogs
Iowa Hawkeyes
Kansas Jayhawks
Kentucky Wildcats
Louisiana State Tigers
Miami Hurricanes
Missouri Tigers
Nebraska Cornhuskers
Ohio State Buckeyes
Oklahoma State Cowboys
Penn State Lions
South Carolina Gamecocks
Tennessee Volunteers
Utah Utes
Wisconsin Badgers
College students must have slides for bumming around, showering, studying, walking to the bathroom in the middle of the night, etc. They will love these iSlides customized with their school name!
iSlide – starting at $49.99  (use code LULUANDLATTES for 10% off)
College is about comfort and these are some of the most comfortable college-esq clothes around!
This super soft, vintage cutoff hoodies can be customized with any college name in ANY 2 colors!
Likewear $49.95
I could live in joggers all day and night. These joggers can also be made in any color, glitter or matte.
Likewear $40.95
How cute are these pajama bottoms? I want them for myself! Available in a ton of colleges.
Simply Hip Fuzzy PJ Bottoms $40 (use code shiplulu for free shipping)
You can never have enough joggers especially when they are monogrammed!
Simply Hip Comfy Monogram Joggers $45 (use code shiplulu for free shipping)
My FAVORITE pouches can be customized with any school in ANY color!!! Pick your favorite design, choose your college and DONE!  LOVE!!!!!!!!
Custom College Pouches $35-$38
Who doesn't love the gift of jewelry? Hipster Chicks has made jewelry shopping for college students easy! Both the 5 strand custom elastic beaded stacking bracelet set and the double brushed silver metal disc necklace with college name and graduation year make an incredible graduation gift! They even come in a clear plastic box ready to give as a gift!
Hipster Chicks Bracelets  $25
Hipster Chicks Necklace $30
(mention Lulu and Lattes and get a 10% discount!)
A coffee mug is a MUST in college!!!!! Sweet Spot Shoppe has a ton to choose from in every color combo for any college. Not only do they customize mugs but phone cases, stationary, pens, selfie sticks, phone chargers and  much more!  10% off with mention of lulu through 5/18/16
Sweet Spot Shoppe
15.95 tumbler
17.99 tall travel mug
19.99 stainless travel mug
Cornhole is such a fun game and one students can bring with them to college!!! The perfect mindless activity after hours of studying.
Collegiate Cornhole – $229.99 (available in numerous schools)
Hall of Scoops has super soft custom college pillows that will spice up any dorm room bed. Available in tons of college designs.
Custom College Flannel Pillows  $36 (use code LULUCOLLEGE for 10% off)
These custom college fleece blankets are super soft and a dorm room essential!
Flannel Blankets with College Logo –  $64  (Available in most colleges)
The Pieced Palette's designs gorgeous graduation pillows that have the student's high school logo/colors on one side and the college's logo/colors on the other side. For an additional $10, the student's name may be printed on the high school side.
Custom Graduation Pillows  $50 (mention luluandlattes and receive 10% off your order of 5 pillows or more)
Additional combinations available: high school/middle school, middle school/elementary school, college/graduate school
As seen in the camp fave guide, Flygrip is the best way to hold your phone and multi-task! Great for selfies, making videos and more! They can be customized with any college.
FlyGrip (use code Lulu for free shipping)
Students can hook up with their iphone with this speaker and blast their tunes via bluetooth! Speaker also has a built-in microphone for hands-free speaker phone calling , video chat, Google Talk , Skype or FaceTime. The built-in lithium-ion battery supplies 10+ hours of audio playback.
Collegiate Speaker – $49.99 (available in many colleges)
I love these flameless candles from Hall of Scoops so much, I thought they make an awesome college gift! They can be customized for any school and also be personalized.
Flameless LED College Candles  $28
Chocolates always make a great gift especially when they are chocolate covered oreos! Sweet Ali creates custom chocolate covered oreos and chocolate platters with any college design.
Sweet Ali Custom Chocolate Platters and gifts 3 oreos – $9.95, platters start at $45 (mention lulu and receive 15% off your first order!)
For graduates with a sweet tooth, Candy Rox has adorable custom candy jars and baskets!
Candy Rox $20(small mason jar) $38 (large mason jar)
Lots of college gifts can be customized with all your favorites treats!
One of the most useful college gifts I ever received was this handy dandy tool set. Everything you need to hang pictures, school projects, and more!
Pink Set – $19.60 ($.50 donated to breast cancer research)
also available in red
As a student studying for exams,  this Collegiate Series Calculator helps show off your college or university.  They can leave it on their desktop or throw it in their backpack to use in the library or study hall.
Collegiate Calcuator – $7.99 and up (available in several colleges and universities)
EVERY FRESHMAN needs this book! They will thank you a million times. It contains 1,000 pieces of real-life advice from hundreds of students who survived their freshman year at more than 100 colleges across the country. This book is a WEALTH of knowledge!!!
How to survive your freshman year $11.69
CONGRATS TO ALL THE GRADUATES!
XX

This popup will close in:

Don't Miss a Post! Get Lulu and Lattes in your inbox!