THE RESORT AT PAWS UP – WHAT A FEST!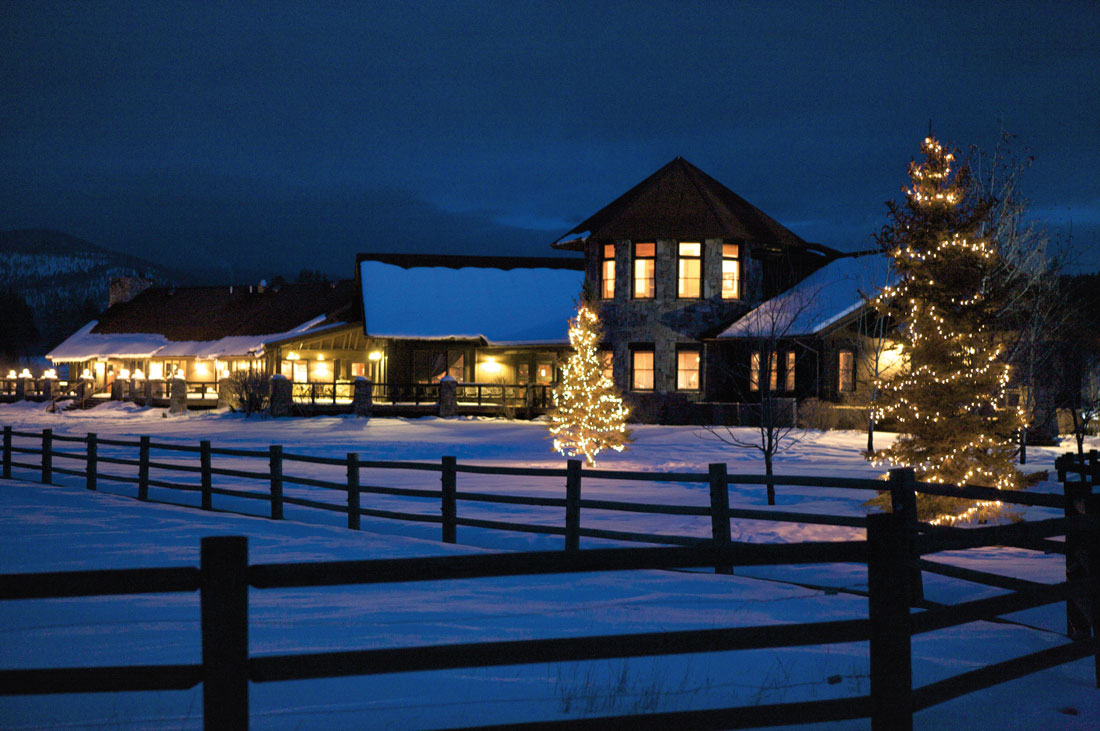 Last weekend I went on adventure to Montana. I was invited to attend the first annual Food and Wine Festival (Winterfest) at The Resort at Paws Up. If you haven't heard about Paws Up, this may just be the place you want to spend some time in the winter but ESPECIALLY in the summer. I am dying to go back after the kids get out of camp.  Paws Up delivers an incredible "glamping" opportunity in the U.S.  I will walk you through both the winter experience and the summer experience but we first need to discuss the food and wine festival (aka Winterfest) which was INSANE!! I arrived on a Thursday evening, hours before Storm Jonas touched down on the east coast. I met up with some other peeps who were headed to Paws Up at the airport and we were transported to the incredible resort.
We walked into the lobby and were greeted with a huge Charcuterie plate and wine. I checked in and was shuttled to my new home for the next few days. The resort is on 37,000 acres of endless forests intersected by 10 miles of the Blackfoot River nestled under the biggest sky you've ever seen. It is GORGEOUS!!!!!
In the winter months the Luxury Homes are available. In the summer months both the luxury homes and the luxury camping tents are available.
I stayed, with two other girls, in the Wilderness Estates which are a collection of luxury ranch homes. I mean UBER NICE!!! It has every amenity you could dream of…
3 Master suites, 2 on the bottom floor and the third is an upstairs loft. It is the PERFECT house for 2 couples and kids. I would put the kids in the upstairs loft because there is a game room outside of the loft. The kids can play up there.
The slate bathroom floors are heated (I highly suggest you invest in this at home if you are ever redoing a bathroom). There is nothing better than stepping out from the shower onto a warm floor when it is 20 degrees outside. Well maybe there is but this is up there!
The ranch includes a cook's kitchen, a super cozy living room with a spectacular fireplace, a laundry room and a guest bathroom.
If you are looking to disconnect, there is a six-person hot tub on the grand private deck. If you are looking to connect, high-speed wireless Internet access, surround-sound entertainment systems and a 42″ flat screen TVs are at your fingertips. Speaking of fingertips, Paws Up has this incredible app that I think EVERY SINGLE hotel & resort should provide. You download it free in the app store. Whether you need the concierge or transportation, you simply send a text message through the app, they respond in seconds and you will have what you need. I live by texting so this was super impressive to me.
Paws Up also provides each home with a smart car. Please note it was 20 degrees and icy when we were ready to leave for dinner. I told the girls I would warm up the car before we drove over to dinner. (It's not a far drive, like maybe 4 minutes, but it's definitely not walkable in the winter). I got in the car and started laughing. What was I thinking? Was I really going to drive to a 5 course dinner that was paired with 5 wines, with two girls I JUST met after reading the little card they leave in the car that says " Be careful on the roads. If you are stuck on a hill, do not stop or press the brakes." Um, no. I walked back into the house and basically told them that was the worst idea, we need to get a ride. The car never left the driveway the entire weekend (great thing to have though!)
We were greeted with a really yummy glass of prosecco  (there is a big difference, as I learned last weekend, between shit prosecco and the real deal) in The Tank. The Tank is a full-service bar that has a vast assortment of the finest drink selections. It was my favorite place to unwind after a day of adventure – in front of their fireplace with a nice big glass of wine!  After cocktails, we were led into a gorgeous room, called the POMP, where all of the tasting dinners were held. The Pomp is also open to the public for a refined rustic ranch dinner.
The menu for the first night was created by Paws Up Executive Chef, Ben Jones.
I would say he is more a culinary artist than a chef as you will see in some of the courses he designed below. Truth be told I almost died when I saw Elk because I am not so much a game eater. But everyone said it tasted like one of the best steaks they ever ate. I chickened out. Greg still isn't talking to me about that. But the dinner was incredible.
Talk about one of the best meals EVER! After many hours of traveling, a huge meal and 5 glasses of wine, I was exhausted. We headed back to our home and passed out!
The following morning, after a hearty breakfast,  I went clay shooting. This was my first time but definitely not my last! Justin, who runs the entire fishing program, is the bomb!
He worked with me for an hour until I FINALLY shot a clay. I think if the gun was lighter I would have shot more but it was super heavy to hold (for me). It was so much fun though and the heat lamps helped a ton.
Lunch was served in the Saddle Club on this magnificent long table.
The Saddle Club is the largest private equestrian center in Montana. It features a 23,000-square-foot riding arena, seating for 150 spectators, a VIP skybox suite with full bar, 52 stalls and more than 100 miles of glorious riding trails.
This is a spectacular place to have a corporate function, major birthday or a wedding!!! (contact me for more info…I have all the deets, pricing and special rates HERE …my travel email address).
I mean this salad with grilled scallops says it all. The food was just out of this world.
After lunch I had a Savory & Sweet Cooking Demonstration with Chef Megan & Colby Garrelts, chef-owners of rye (Leawood, KS), and Bluestem, a 2015 James Beard Semifinalist for Outstanding Restaurant, in Kansas City. Here I learned how to make crab cappelletti and a ridiculous meyer lemon dessert.
If you are wondering if I gained 30 pounds last weekend, I did. But just wait I'm not done eating…
Dinner Friday night was hosted by Hosea Rosenberg (winner of season 5 Top Chef who owns Blackberry foods and Blackberry Market in Boulder, CO) and Brooke Williamson (Top Chef runner-up and the youngest female chef to be invited to cook at the James Beard House).
This was our menu:
Saturday morning, my roommate, Amanda, and I went on an amazing adventure – Dogsledding.
Since the Blackfoot Valley is home to some of the best dogsled racing in the entire United States, I knew I couldn't miss out. SO WORTH IT!!!! The dogsledding at Paws Up is made up of Iditarod champion Alaskan Huskies that take you through the wilds of Montana; all at the foot of the Garnet Mountains–one of the most spectacular ranges in the Rockies. In fact, four-time IDITAROD (the biggest, most popular dogsledding race in the world) champion Doug Swingley lives and trains there as well as dozens of his best local competition. We learned a ton from Doug about dogsledding during our ride but the adventure itself was worth its weight in gold. This is a MUST DO!!!
After lunch, I ventured to the spa for a massage called " The Magic Muscle Reliever."  After all the yoga that I have been doing, I needed this massage terribly. The Magic Muscle Reliever is a deep tissue/trigger point massage to soothe your aching muscles. The massage therapist used a LUSH Wiccy Massage Bar made with peppermint and cinnamon oils that makes your skin warm and tingly. This promotes circulation and relieves the tension in the muscles. I have to buy one of these bars for home! The spa had so many amazing options I wasn't sure which one to go with but I definitely left the spa extremely relaxed. I was a very happy camper.
p.s. the spa in the summer looks like this:
Our last dinner was hosted by Chef Megan & Colby Garrelts, the chefs whose cooking demonstration I attended.
Final menu: I did not know until after that Squab was pigeon. Ugh. (lol).
I should point out that The MASTER Sommelier, Chuck Furuya, introduced each wine before they were poured at the table. Chuck's knowledge of wine is unsurpassed. In 1988 he became only the tenth person in the United States to pass the rigorous Master Sommelier examination. Chuck was excited about each wine that was paired with our dinner which should tell you how ridiculous the wines were!
All in all this gourmet weekend was one for the books! It was an unforgettable experience and I am so excited they are making this an annual event. Although I probably ate enough for a year in three days, it was entirely worth it.
There are a ton of winter activities such as
Cross-Country Skiing
Downhill Skiing
Dogsledding
Equestrian Excursions
Ice Skating
Sleigh Rides
Snow Tubing
Snowboarding
Snowmobiling
Snowshoeing
Sporting Clays
Triathlon
The summer at Paws Up is like camp for both adults and children!! You can reside in one of these luxury tents from late May to September. Each safari-like tent features fine linens, The Last Best Bed®, chic rustic furnishings, a private master bathroom, cooling fans, heat, a skilled camp chef and a highly attentive camping butler at your beck and call. The tents are available in both one and two bedrooms. Paws Up does offer nanny service and will provide pack-n-play if need be.  (please email me for more details HERE )
Summer Activities include:
ATV Tours
Equestrian Lessons
Fly-Fishing
Geocaching
Grizzlyman Fitness Trail
Horseback Riding
Hot Air Ballooning
Kids Activities (see below)
Lake Excursions
Mountain Biking
Ranch Activities
Rappelling
River Adventures
Sporting Clays
Wagon Team Driving
Wilderness Workshops
KIDS ACTIVITIES:
The Paws Up Kids Corps of Discovery is an immersion program that replaces screen time with serene time and idle time with the time of your child's life. Age-appropriate itineraries are available for toddlers, teens and in-betweens. Kids Corps of Discovery is held seven days a week. Full-day and half-day sessions are available for children of all ages.
Food at Paws Up is all-inclusive as well as beverages with meals (soft drinks, water, beer/wine). Rates also include: round-trip transportation service from/to Missoula International Airport; all on-property transportation  high-speed WIFI internet access; and a vast menu of recreational activities. Additional guided excursions and adventures, as well as spa services, are available at a-la-carte rates.
Paws Up is a MUST! Whether you are looking to experience Winterfest 2017, Glamping, a family vacation, a luxury romantic getaway or even planning a wedding, Paws Up should be on your list. I know when I left there all I was thinking about was how do I get back during the summer. It's a very very special place. It's home to first-class adventure on a grand scale.
Please email me for more information as well as booking and packages. Clients will receive a $300 activity credit, a bottle of wine upon arrival, early check in/late check out and an upgrade subject to availability. contact me at : [email protected]
XX