THE GREENWICH HOTEL – VALENTINE'S DAY GETAWAY ( PART TWO)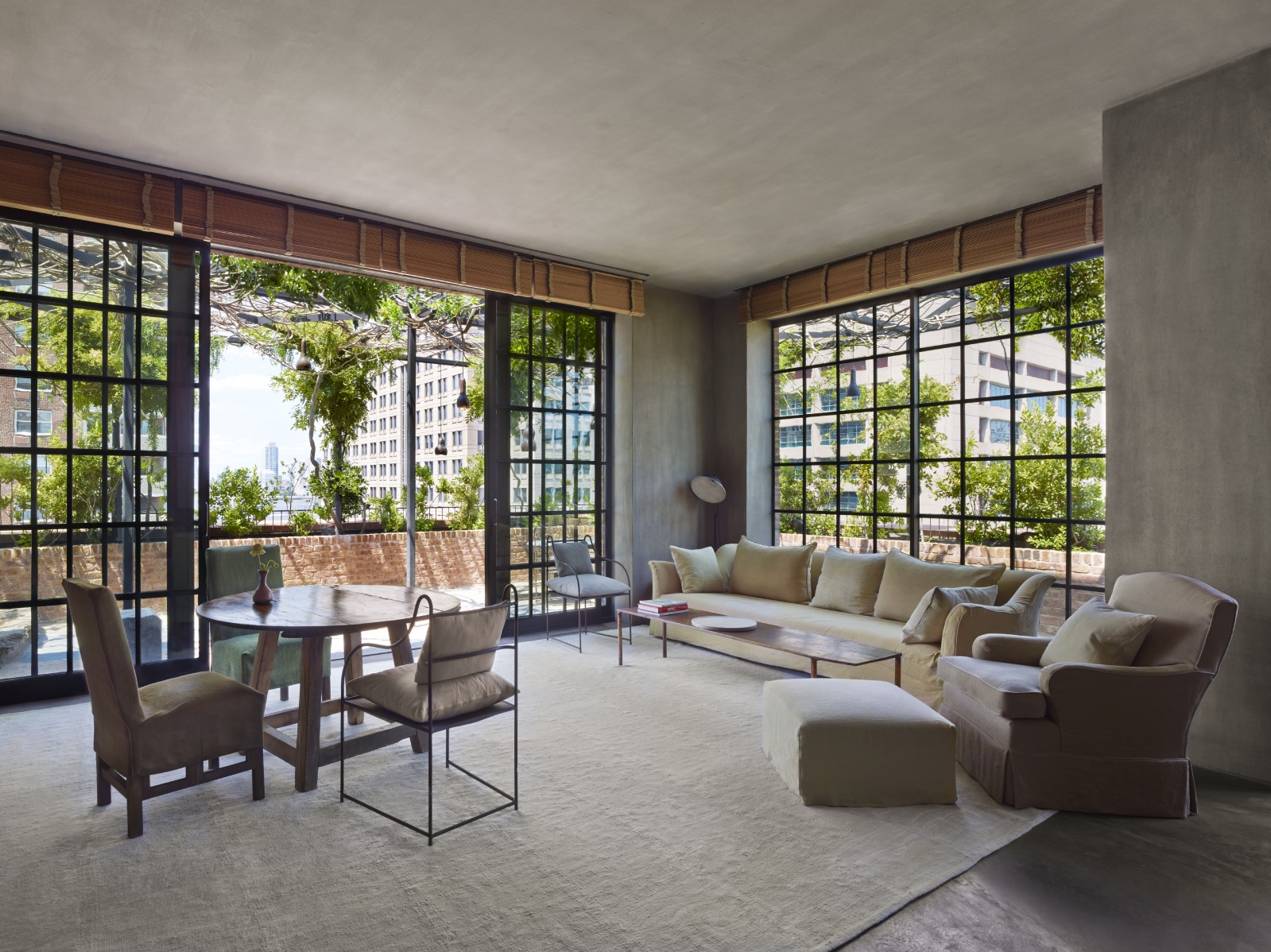 Sometimes in life things don't always go as planned. Originally I was going to feature two New York City Hotels and a Spa in Connecticut as Part Two of my Valentine's Day Getaways but after such an incredible visit at The Greenwich Hotel in NYC, I felt it deserved its own spotlight. I will be writing about the other two after I visit shortly.
THE GREENWICH HOTEL
New York City
If you are looking for a special hotel in downtown Manhattan, there seriously is no other hotel that comes close to The Greenwich Hotel. I am sure most of you have heard about The Greenwich Hotel by now, may have even stayed there but all I can say is The Greenwich Hotel is a true gem! If you are looking for glitz and glamour, this is not it. The Greenwich Hotel is an oasis of calm in a busy city. When you first walk in, it seems like any other Manhattan boutiquey hotel – small entrance way and quaint lobby.
But once you step off the lobby into the drawing room, you have now entered another world. The drawing room (library) is warm with rich leather and beautiful upholstered couches set around a gorgeous burning fireplace.

Books line the mahogany shelves and silver screen actors and actresses are usually found sipping coffee, reading a book, or conducting business in this sanctuary. It just so happens, last week, while I was sitting in the drawing room at the Greenwich Hotel, I saw two people you very well may know.  They serve coffee, tea, cocktails and food from their famous restaurant, Locanda Verde. You must order their homemade hot chocolate if you visit, they even make their own marshmallows!
The drawing rooms leads into a spectacular courtyard that is the perfect place to sit during the warmer months.
The Greenwich Hotel is made up of 88 rooms and suites. Each room and suite are unique – no two are alike. Almost every room has its own working fireplace! All the beds are Duxiana from Sweden. Furnishings draw from a wide range of cultural influences, from hand-loomed, Tibetan silk rugs to English leather settees. And the bathroom, oh the bathrooms! Each bathroom is designed in hand lain Moroccan tile or Italian Carrara marble that is out of this world!
Here are a few of my faves:


Besides the magnificent fireplaces and beautiful bathrooms, the rooms all feature high-definition flat screen TVs, iPod docking stations, and complimentary wireless internet. DVD players, laptop computers, faxes, and pre-loaded iPods are available upon request at no additional charge. Oh, and the candy baskets! Nothing annoys me more than paying top dollar to stay at a beautiful hotel and they charge you for the candy in the room. The Greenwich Hotel treats everyone like they are a guest in their home. The candy is all complimentary! HUGE PLUS!
Let's take a peek at a few of their magnificent rooms:
I saved the best for last: THE TRIBECA PENTHOUSE!  The TriBeCa Penthouse was created by Belgian designer Axel Vervoordt and Japanese architect Tatsuro Miki, in close collaboration with the hotel's partners Ira Drukier and Robert De Niro. The 6,800 sq ft suite was inspired by the TriBeCa neighborhood's industrial past fused with the ancient Japanese aesthetic of Wabi . Maybe for a MAJOR special occasion? Bucket list worthy!
While I was at the Greenwich Hotel last week, I indulged and made a reservation at the Shibu Spa. I haven't mentioned it before but when Robert De Niro and Ira Drukier (iconic hotelier) were in talks of building the hotel, they enlisted master craftsman (considered "living national treasures" in Japan) to dismantle a 250-year-old barn in Japan and rebuild it BY HAND, using wooden pegs, as the focal point of the spa. De Niro and Drukier flew in ten craftsmen from Japan (who did not speak a lick of English) and worked everyday from 6am and finished in just six weeks! They did not use ONE NAIL!!!! Crazy, right?!
When you step off the elevator into the spa, you check in and are guided to a changing room where you are asked to change into a Japanese robe and flip-flops. You are then led into a relaxation lounge with a beautiful ancient bamboo ceiling, lantern-lit pool, low-to-the-ground sofas, and authentic-from-Japan dark barn beams. There you can relax in an underground world I personally never knew existed until last week.
The "lifeguard" (yes the guy in the lifeguard shirt who works at the pool) walks around and offers fresh juices while you wait for your treatment. I just had a hot chocolate so there was no room for any juice in my life at that point although I did want to try one.
Yukari, my massage therapist, came out to greet me and walk me back for my "Healing Birch" massage. The healing birch reduces inflammation, stimulates circulation and targets area of repetitive contraction.  Yukari began the treatment with the sound of a bell and a light massage on my back. She placed herbal heating pads on my back, worked my back deeper and placed me in heaven for 60 minutes. I could have stayed for 90 minutes or ever!
Here is their menu of treatments: MASSAGES. The Shibu Spa also offers Japanese baths, yoga, and skin treatments. I would love to go back for a Japanese bath!
After my massage, I showered in their rain shower, dressed and had a glass of wine in the drawing room. I met my husband at the hotel restaurant –  Locanda Verde which happens to be one of my favorite restaurants in the city.
A glass of wine and the ricotta toast is enough to make me happy.
The menu is flawless and with so many great things to choose from; it's best to go with someone who loves to share!  We were in a pasta mood after a few glasses of wine so we ordered the potato ravioli with melted leeks & kaluga caviar. Ridiculous!
We also ordered the pasta with spicy lamb sausage, tomato passata & ricotta salata. I NEVER eat lamb but once this pasta was brought to the table, I had to take a bite. It was PHENOMENAL!

We finished off with the Skate Wing Piccata served with crushed potatoes & roasted artichokes. Another winner!
Too full for dessert, we called it a night! FYI – The room service at The Greenwich Hotel is served from Locanda Verde. That is reason in itself to stay there!
I hope you have a chance to visit.  If you are interested staying at The Greenwich Hotel, please email me for rates and all the specials I can do for you (such as early check in, upgrades, spa credits, etc!)
XX