VALENTINE'S DAY GETAWAYS – PART ONE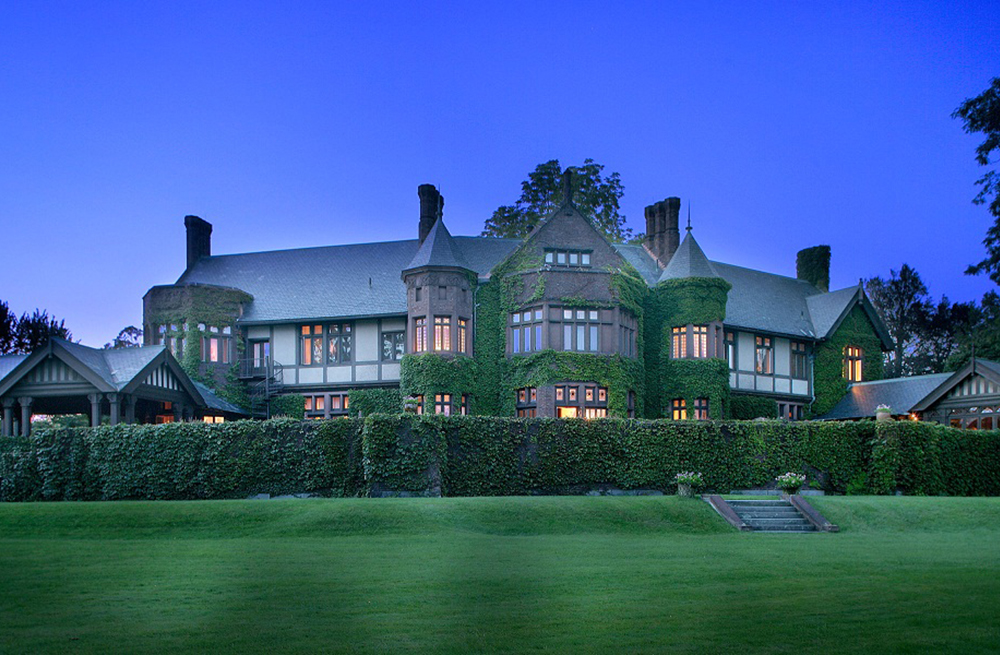 Although Valentine's Day is my least favorite holiday of the year, I would take any excuse to get away. I will say, I think we focus so much of our attention on our kids, sometimes we forget about our marriage and what we all need is a few days away from the kids to decompress,  reconnect and spend some good quality one on one time. Valentine's Day happens to be the perfect weekend to do so.  I have put together a bucket list of six incredible hotel/spas I have been dying to venture to that are all accessible by car if you are in the tri-state area. If not, well maybe hop on a plane :).
I have divided this article into two parts because I really wanted to focus on the details of these spectacular getaways and not overload you with too much to digest.  Part One, below, are three outrageous places located in Virginia, The Berkshires, and Connecticut. Part Two, publishing next week, are three more exquisite places in Connecticut and New York City.
---
SALAMANDER
Middleburg, Virginia
If you have not heard of Salamander Resort & Spa, put this place on your list! Located just 35 minutes from the DC airport. It's worth the 4-5 hour drive. You could fly the one hour but I find by the time you get to the airport, board, land, grab your bags and rent a car, you could have arrived by car in a more timely fashion.
Although the Salamander is a beautiful place to visit in the summer to golf and take part in their famous Equestrian program, it is an amazing escape in the winter as well. Salamander Hotel is set in the heart of Virginia's wine country. There are over 20 wineries within a half hour's drive from the resort including Boxwood Winery – just minutes away where you can experience Virginia wine tasting and tours. You can build your own hot cocoa and cozy up to one of their 80 fireplaces! You can curl up with a book in their beautiful library.
The Salamander has a gorgeous spa and I recommend signing up for the  Winter Warming Signature Treatment. It starts with a sensory skin brushing and detoxifying body mask while indulging in a three step scalp experience followed by a replenishing Hot Stone massaging using a blend of juniper, lime, rosemary and sage that brings warmth and improves circulation. Definitely a treat!
The spa has a ton of other treatments and massage options.
After a rejuvenating treatment stay warm & relaxed at the heated Infinity pool.
The wellness center at Salamander Resort & Spa was named  Best New Travel Wellness Property by SpaFinder in 2014. They offer a  huge array of activities on site including Circuit Training, Kettle Bell, TRX 101 Aqua Zumba, Aqua Yoga, Boot Camp, Zumba, Pilates, Cardio Tennis, Hit the Trail Bike Ride, Nature Hike, Fitness Walk, Stress Burner Yoga, Flow Yoga, Happy Hour Yoga (love it) , Kick-N-Krunch, Reflection and Breathing, Sunset Bike Ride, TRX Tennis, Yoga in the Stable and Yoga on Horseback. YES YOGA ON HORSEBACK!
Salamander Resort & Spa is well known for their  finest locally sourced cuisines. There is a  variety of  dining choices including finest cut of local steak or an internationally inspired dish with ingredients from their own culinary garden. What's more, you can top off an evening with a specialty cocktail in the Living Room.
During Valentine's Day weekend, Salamander Resort & Spa  is offering a Romantic Wine Dinners and a Truffle & Champagne class in their cooking studio:
Romantic Wine Dinner
Febraury 12 & 13 | 7pm | $180 | Cooking Studio
Enjoy a romantic 4 course dinner paired with wines by Salamanders Wine Director- Michael Foote. This dinner is designed to educate, inspire and ignite a romantic fire.
Truffles & Champagne
February 13 | 2pm – 4pm| $75 per person  | Cooking Studio
Begin your romantic weekend with your special someone by learning how to make this delicious delicacy with our award-winning pastry chef Jason Reaves.  He will demonstrate (and you'll practice) his techniques for the perfect truffle.  Enjoy your exquisite chocolate truffles with a paired glass of champagne.
You could even bring your cocktail outside and warm up by their bonfire:
There are numerous gift shops, boutiques and restaurants in Middleburg. You can enjoy a short ride into town in a horse drawn carriage! You can even see the Virginia scenery from horseback:
If you do not want to leave the pooch at home, The Salamander Resort & Spa is one of only a few dog friendly hotels in Virginia. In-room dog amenities include a comfy bed, food and water bowls, organic treats, a special toy and waste bags.
All guestrooms feature either Grand Lawn or scenic views of the rolling Virginia countryside, an executive desk, a separate seating and dining area, a 40-inch television, a mini-bar and refrigerator, in-room safe, wireless internet, and a beautiful bathroom.
If you want to reserve Salamander Resort & Spa for a spring/summer getaway – you can certainly enjoy the horses, pool and bring the kids for a fun filled adventure!
For further details on the Salamander Resort & Spa including, pricing, room availability, special amenities, etc. – please email me so I can assure you get the Lulu and Latte's Royal Treatment! If you prepay your stay, you will receive 10% off.
---
 BLANTYRE
Lenox, Massachussets
Located just two hours from Boston and three from NYC, there is a magnificent Berkshires mansion where ivy fills leaded-glass windows and you feel as though you have walked into the world of Downtown Abbey. Along with the Vanderbilts and the Carnegies, one lesser-known businessman named Robert Paterson built his summer house in the Berkshires, naming it Blantyre after his mother's home in Scotland. Ann Fitzpatrick Brown, owner of Blantyre, restored Paterson's 'summer cottage' flawlessly.
Blantyre, named one of the top 100 Hotels in the world by Conde Nast Traveler, is a private sanctuary nestled on 100 acres of where you can escape from the everyday craziness and walk into a world of elegance with top notch accommodations. There are 8 rooms in the main house, 5 cottages and 11 rooms in the Carriage House.
At Blantyre you can do as much or less as you want including time at The Potting Shed Spa where you can rejuvinate your mind and body.
The Spa invites you to relax and read one of the many books that line the shelves. The Spa feels very homey with its cozy seating areas, aromatic Agraria Potpourri made with bitter orange, cinnamon, and roses lightly perfuming the air, and braided rugs in front of the state-of-the-art equipment in the fitness area. The Spa offers massages, facials, body treatments, hands and feet treatments, as well as treatments designed especially for men.
Blantyre has their very own skating rink! The ice rink is surrounded by glowing lights and music. You can enjoy one of Blantyre's  SEVEN Hot chocolates! Check the menu here: YUMMY HOT CHOCOLATE. I hear the Milk Chocolate is the fave!
Cross-Country Ski and/or Snow Shoe Blantyre's trails around the perimeter of their 117 acres of lawns and woodlands.
Or Hike the trails if the snow hasn't arrived.
The dining experience at Blantyre is spectacular! Late every afternoon, the Main House undergoes an incredible transformation when they prepare for an eye-opening dining experience to come that evening. Linens are brought out, tables are set with sterling silver, fine china, crystal and fresh flowers. Candles are lit and music fills the air.
Under the direction of Chef Arnaud Cotar, the kitchen is alive with activity as the finest ingredients are used to create a memorable dining experience.  And with 17,500 bottles of wine, you can't go wrong with the perfect pairing. Wine, by the way, can also be served in-suite by a cozy fire.
If your evening plans include a Friday or Saturday performance at Tanglewood or Jacob's Pillow, you can postpone dessert. Upon your return, coffee, an assortment of cheeses and a beautifully prepared dessert buffet is served in the Music Room.
Blantyre is a romantic, relaxing getaway and escape one never has to leave!
Blantyre is offering a Valentine's Weekend Getaway package
Rate starts at $625 a night.
For further details on the Blantyre  including, pricing, room availability, special amenities, etc. – please email me so I can assure you get the Lulu and Latte's Royal Treatment!
---
WINVIAN FARM
Litchfield Hills, Connecticut
Winvian Farm is an absolutely extraordinary New England luxury retreat designed to recharge your body. Winvian Farm is set on one hundred and thirteen acres in the Litchfield hills of Connecticut. You enter this breathtaking estate via  a winding driveway. You stop at a white picket gate, announce your presence and you are electronically granted access to an oasis.What makes Winvian so unique, is the 18 individually designed resort cottages built by 15 different architects spread out on the property. Here are just a few of the 18 cottages:
WOODLAND COTTAGE
CAMPING COTTAGE
HELICOPTER

LOG CABIN
TREEHOUSE
Bikes wait by every cottage door for roaming the grounds. You can also walk the winding paths and visit Winvian Farm's incredible organic gardens. Almost everything served in Winvian Farm's restaurant is grown their our private estate in three greenhouses, and three acres of organic gardens. Winvian's menus consist of honey from their apiary, a henhouse, root cellar, and  their luscious fruit trees. The wine selection is enormous consisting of wines from 13 countries and 37 regions which are biodynamic, sustainable and organic. At a Five Star, Farm to Table Restaurant, whose chef, Chris Eddy, trained with Alain Ducasse and Daniel Boulud,  it is no surprise almost all when you hear a meal at Winvian is like a meal you have never had!
You can get lost at the Spa at Winvian for a few hours or a few days! From private yoga, Ashiatsu (a therapist walks all over your back for the deepest of deep-tissue massages), Swedish and hot stone massage to restorative facials and body scrubs, Winvian has it all! After your treatment you can  bask in the sun lit lounge, relax in the sauna, sip organic tea or enjoy a cheese plate with champagne by the circular stone fireplace.
There are a ton of Winter Activities at Winvian including:
Skiing & Snowboarding
Two local mountains, Mohawk Mountain and Ski Sundown, are  just a short distance from Winvian Farm. They offer plenty of options for both beginners or the more experienced.
Snow Shoeing
Take along a guide or venture out with your compass as you experience one of the best workouts around while enjoying the beautiful scenery of Litchfield Hills.
Cooking Class
The Kitchen at Winvian Farm Boasts top chefs from around the world. Chef Chris EddyB offers a savory or pasta cooking class wherein he shares with you his techniques. Savory, Pasta, or Pastry Class $150 per person (18+)
Horseback Riding
Ride on horseback and see the sprawling Litchfield Hills the way it was seen a hundred years ago.
S'mores Roast
Share stories, keep warm and roast marshmallows by a roaring fire. The roasting kit is provided and bonfire lit for you by their Guest Assistants. Bon fire & s'mores $35 per two guests
Hiking the Litchfield Hills
Take a hike to the top of nearby Mt. Tom Tower or enjoy a leisurely walk through the neighboring White Memorial Foundation, home to over 35 miles of hiking paths and trails. Choose a river walk, spectacular views of the Litchfield Hills or bring a gourmet boxed lunch with you while and search for a quiet field during an all day adventure!
Tea Tasting
Want a day to sit back, relax and enjoy the aromas and smooth flavors of organic teas? You can take a scenic drive through the village of the Northwest Hills to Harney & Sons tea room just over the border in Millerton, NY. Take your pick from dozens of different flavors.
Weekdays: 2 Pre-Selected flavors available for tasting plus 1 free choice per person.
Weekends: 2-4 Pre-Selected flavors available for tasting plus 1 free choice per person
Winvian is the perfect escape to treat someone you love to an unforgettable experience. You will understand why it was named 100 best hotels and resorts in the world, selected by Condé Nast Traveler readers in the annual Reader's Choice Awards.
For further details on the Winvian- including, pricing, room availability, special amenities, etc. – please email me so I can assure you get the Lulu and Latte's Royal Treatment!
Hope you enjoyed a peek into some fabulous weekend getaways! Stay Tuned for Part 2…..
XX