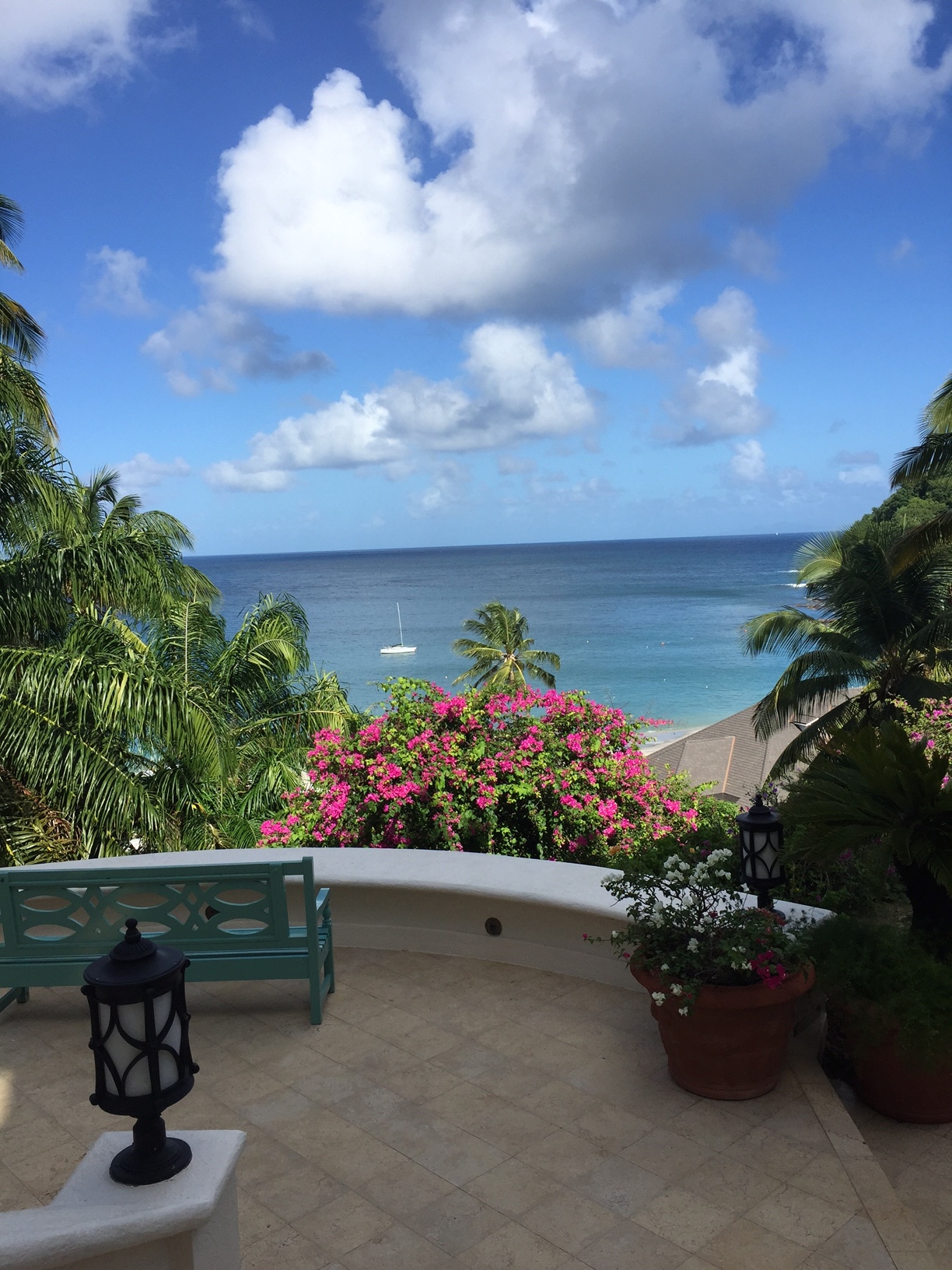 It's part of a Travel Advisors job to go out and explore cities, countries, beaches, deserts, retreats, spas, etc. so they can come back and educate you with an experienced mind of the ins and outs of any place you are thinking of venturing to.
Part of my agreement with SmartFlyer was that I wanted to explore and uncover places you may not have heard about. Yes, of course, I can help you with a hotel reservation in Hawaii or a girls trip to Miami but I wanted to focus my travel blogs on the little gems around the world.
This past week I was lucky enough to join a few luxury travel advisors at the BodyHoliday. The BodyHoliday is an all-inclusive resort set on white beaches of St. Lucia.. The resort includes a full-service spa with 1 spa treatment per guest per day included (2-night minimum stay required). The activities are endless (detailed below). You can choose to take one class or eight. If you don't feel like working out and would rather hang on the beach all day, you may. If you want to fit in 10 classes and one treatment, go to town!  The resort is  made up of 155 rooms that purposely have no TV so you can "disconnect" but Wireless Internet access is complimentary in rooms and public areas.
I flew Jet Blue out of JFK direct to St. Lucia. United Airlines out of Newark is the only other airport in New York/NJ that flies direct. However, there are many cities that fly direct such as Philly, Atlanta, Charlotte, London and Toronto.
Upon landing, I was directed straight away to the BodyHoliday desk where they took my luggage and escorted me across to the helicopter.
You have the option of a private shuttle to the hotel which is about 90 minutes or taking a helicopter which is about 20 minutes! (your luggage is driven to the property).  I was extremely nervous about taking the helicopter because flying is not my strong suit and this was my FIRST time in a helicopter.
One look at the helicopter and I was in a slight panic. I threw on a headset, fastened my seatbelt and up we went. The take off was actually quite better than an airplane because it's just an upward motion instead of a runway take off. Before I knew it we were flying over the lush mountains and back on the ground. It was incredible to view St. Lucia from the air. The pilot informed us of a ton of St. Lucia history. He even showed us where the marijuana is secretly grown in the mountains. (Too bad we couldn't make a pit stop).
Ten minutes after we landed, I arrived by car at the BodyHoliday. I was greeted with a cold, refreshing towel and sparkling cucumber water.
Quickly thereafter, I was escorted to my room. The BodyHoliday just underwent a 25 million dollar renovation and if choosing a room, the Grand Luxury Ocean Front is the way to go.
I was starving when I got there so went to the "deli".
The deli is unlike your local rueben deli.  You know when you go on vacation and it's so hard to find healthy choices? You want to eat right but you are stuck between pizza, caesar salad and a turkey club. Well, you don't have to worry at the BodyHoliday. They have a ton of healthy choices and an extensive juice menu. Unlike Canyon Ranch, you can have cocktails at night and there is no limitation on calories (unless you choose to do so).
I ordered the roasted vegetable salad with grilled chicken. Because it was ridiculously good and I am a total creature of habit, I ate it for lunch every single day of my stay. If you love pesto, you will love this salad.
If you are craving something sweet after you eat, the BodyHoliday has a slew of healthy dessert options you can grab all day. Most of the cookies are gluten-free, dairy-free, or a mix. Of course I ate the fattening chocolate chip cookies but the big winner amongst the crowd were the gluten-free peanut butter cookies (recipe posted at the bottom).
My 4pm pick me up everyday was this espresso smoothie that was basically espresso, honey and soy milk. It gave you the effect of red bull without the sugar!
There are five restaurants on the property. All of them are included, however I would definitely recommend making a reservation at Tao before you arrive at the BodyHoliday. Tao was named by Condé Nast Traveler Magazine as one of the "60 Hottest Tables" in the world.  One night we opted for the wine pairing dinner at Cariblue that was $85/person. This was a 7 course tasting paired with 7 wines. Extremely reasonable and the food was INCREDIBLE!!! I do not eat duck so they happily changed that course to a yummy fish. I wouldn't miss this dinner, it was outstanding. I now also have a new favorite Sauvignon Blanc – The Tindall from New Zealand – AMAZING!
Each day a new schedule is posted (plus you are given a hardcopy in a book when you check in) of all the activities for the day.
On Monday I started off the day with Spin (this studio is in a TREEHOUSE!)
and Hamsa yoga with Makesh. Makesh is amazing — gentle, deeply and authentically knowledgeable. I wanted to take Makesh home with me. Yoga is a must-do at the BodyHoliday for beginners and/or experts.
After yoga I went up to the Wellness Center for my Bolus Bag Massage at the Ayurvedic Center. There are a million treatments at the Wellness Center spa but the Ayurvedic Center focuses on the ancient Indian philosophy of health and wellbeing (right up my alley!). Ayurveda is a holistic system that guides us to live a healthier and more balanced lifestyle. All their therapies begin with a foot bath. It was soothing and quick. I actually thought this would be a great place for a pedicure!
The Bolus Bag massage is normally an entire body massage but I asked for them to concentrate on my neck and back because that was bothering me the most. The lovely massuses used oils along with warm muslin bags that contained organic herbal powders which are supposed to help relieve muscle tension and stimulate circulation  You will definitely need a shower after this massage but it was fantastic.
The other treatment I had at the Ayurvedic Center was Ear Candling. I have been dying to do this for a long time but I always had the impression it would hurt. Ear Candling is useful to relieve pressure in the head and sinuses.  Basically they light (with a match) the end of a cotton tube and place the other end into your ear. As the tube burns, the smoke draws out the wax into the tube. It didn't hurt at all and I was both nauseous and excited at the end when she showed me how much wax she drew out of my ears.  They say ear candling can be done with the change of seasons, or once or twice a year. I highly recommend it! I know LashHouse does it in my neck of the woods. I am going to check it out and report back.
The Wellness Center also has a program called BodyScience. BodyScience is a specialized service that analyzes your body to help you live longer and live better. Body science determines foods types that are good and bad for the body and removes toxins that are bad for the body by performing a series of home-base tests, DNA samples and filling out an extensive questionnaire before you arrive to the BodyHoliday.
Once you arrive, you will have a consultation with the Ayurvedic doctor that assesses your heart rate, completes an analysis of body fat and a 3D heart mapping that provides information about your state of health and wellness. After your results are in, you can begin a meal plan at the resort that fits your body's needs. You are also prescribed a regimen of Ayurvedic diet treatments plus a program of yoga & meditation. You are taught how to incorporate this program into your daily life upon your departure. I didn't do it because, truth be told, the program starts at $3,000 but its only my list! When I think about a person who gets very ill and spends thousands of dollars on hospital bills and doctors, $3,000 doesn't seem like much if I could learn today how to avoid illness that may be lurking in my body. I am a firm believer that everyone should be combining Eastern & Western wellness in their life.  I have been practicing yoga for eight weeks straight (4 days a week) now and I feel like a new person. I would LOVE to know what foods trigger issues in my body.
BodyScience with DNA testing is available exclusively at The BodyHoliday.  You can contact me for further information.
Besides yoga and spin, Anna Hemmings (Olympian Kayaker) was at the Body Holiday for the week running killer beach boot camps and Kayaking classes.  This was the group of us after an hour of relay races on the beach.
Here is another example of the Wednesday schedule. Box Fit was an awesome calorie burning class. I only took 2 classes and chilled on the beach Wednesday.
The sunset was really beautiful and wine tasting on the beach was the perfect way to end the trip.
Five days of working out, eating well, relaxing and bonding with an amazing bunch of travel advisors made for a super fun week! For an all-inclusive resort, although there were a few minor kinks they are working through, it was a GREAT getaway!
If you are looking for more information  – please contact me or Kahan Travel  201- 493-7200 for all the deets! We are happy to give you the run down!
Here is the Gluten Free Peanut Butter Cookie recipe that everyone was loving…..
1 1/2 cups of peanut butter
1 cup of sugar
1 egg
Directions:
Preheat oven to 350 degrees
Combine the ingredients in a mixer
Drop teaspoons of mixture on a cookie sheet and bake for 8 minutes
Note: You can also roll the mixture into a log and cool it in the fridge. Then you can cut uniform slices and put them on a cookie sheet. 
ENJOY!!!!
XX
A  peak into how I began this new venture: Travel in Luxury