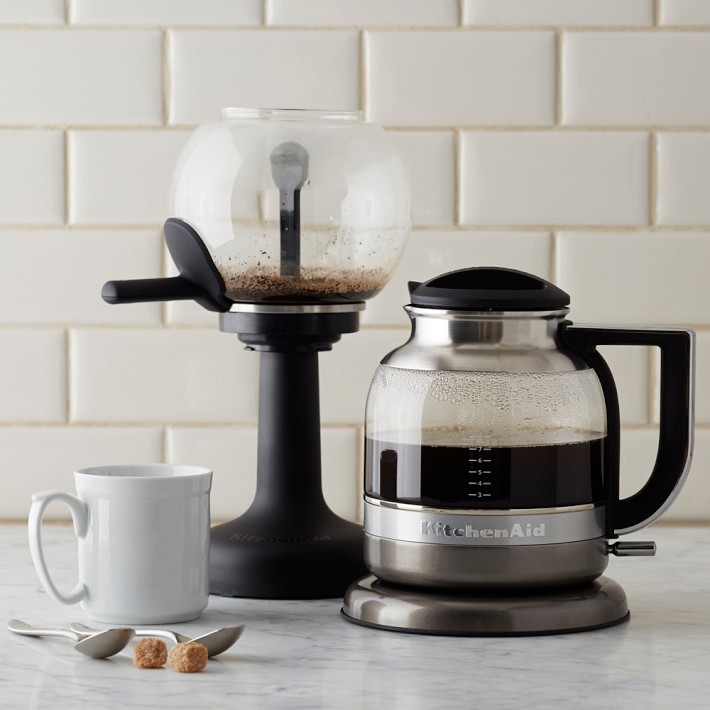 It seems crazy I have gone this long without ever discussing "coffee" with you. Considering my blog is called Lulu and Lattes (lattes, as in I have one everyday), I felt it was time to discuss my new favorite coffee machine, the KitchenAid Siphon Brewer. I will tell you straight off the bat, this is not a K-cup, get your coffee in five seconds machine. This is a well-crafted machine that makes an incredible cup of coffee if you can spare a few extra minutes. The type of cup you sit down with the Times and savor or one to surprise your guests with at your Thanksgiving feast.
Siphon Brewing is really old school. It was invented in the 1840s by a French housewife and Scottish marine engineer. It's been refined many times, but a few principles hold true: It produces a delicate, tea-like cup of coffee and is one of the coolest brew methods around. Maybe you have heard it called a vacpot, vacuum brewed coffee, siphon vacuum coffee, or another name. There is a top chamber and a bottom carafe. The top chamber includes a siphon tube that is inserted into the bottom carafe. This allows water in the bottom chamber to rise upward when pushed by water vapor pressure The coffee's aroma stays trapped inside the coffee brewer rather than escaping into the air, resulting in clean and vibrant tasting coffee that drip coffee brewers can't produce.
I love the new KitchenAid model because its electric and operates with a flip of a switch. The top chamber, where the action happens, looks like a Paris Metro lamp. The filter system has a removable filter which makes it easier to clean. The KitchenAid Siphon brewer also makes a full pot of coffee—eight cups, to be exact—unlike the smaller siphon machines that you find on the market today.
I thought it would be fun if we made a cup:
First you fill the bottom with filtered water and measure the ground coffee (there is a chart included that specs out how much water and coffee grams – for example: 2 cups = 10oz of water and 18.5 grams of coffee) and add it to the top brewer. When choosing a coffee for the siphon, it is best to use a medium grind. I LOVE Toby's Estate in Brooklyn. (Greg brings it home from the city).
Turn on the brewer and you can watch the Siphon in action:
Pour…
and Enjoy!!
So simple and crazy good, It's worth the extra time to prepare yourself a siphon brewed cup of coffee. I can't wait to serve this on Thanksgiving!!!
This post was sponsored by Single Edition Media on behalf of KitchenAid
You can also find KitchenAid updates and product discounts on:
Facebook: KitchenAid
Instagram: KitchenAidUSA
Twitter: KitchenAidUSA
Pinterest: KitchenAidUSA