LULU'S HOLIDAY TRUNK SHOW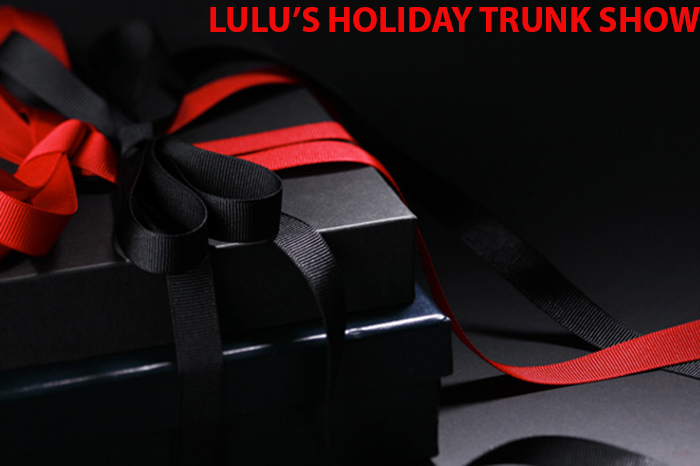 It's almost the holidays!!! Looking for holiday gifts, teacher gifts or just a place to find some great finds!? I know the place…Mi Casa!
---
CORY VINES INCREDIBLE WORKOUT GEAR
There was such a huge response last year to the line I brought in from LA, I am bringing CORY VINES back this year with amazing women AND mens styles!!!!
Lane Ice Print Leggings $49
Loving this sweater!! Perfect before or after a workout. Neighborhood Spirit Sweater $70
Men's Path Half Zip $58
---
Obsessed with this Free Spirit Bag $265
ZIPPERED CLUTCH
CHANGE PURSE
These Jennifer Haley zippered leather clutches ($98)  and coin wallets ($48) are amazing holiday gifts! 
---
Who wouldn't want one of these shirts for a gift??
Rainbow Girl Pullover $72
Python Girl Pullover $72
Camo Hoodie $120
Camo Sweatpants $99
---
Could you imagine telling your husband there is a pant he could wear that feels like sweatpants but are so chic he could wear them out on a Saturday night? Greg lives in these and so will your man! The pant that blends comfort and casual nature of traditional sweatpants, with the look, feel and fit of a tailored pant. Come see for yourself….
Super Soft 5 Pocket Jean ($108) stop by to receive 20% off!!! 
---
Bling it up is known for their HUGE assortment of incredible jewelry at unreal prices. They have a gifts for any budget!!
Leather Wrap Bracelet $64
---
Beautycounter is offering an incredible selection of gifts sets this holiday season! I have listed  just a few that are the PERFECT teacher gifts, office gifts, or ANY GIFT. All gift sets come wrapped in a gorgeous red box!!!
You can SHOP NOW  or see them in person at my house!!!
---
WHERE: LULU AND LATTES
WHEN:  FRIDAY, NOVEMBER 13th (9:30am-2pm) 
SEE YOU THERE!!!
If you don't know where I live – private message me  or email me at [email protected]  for address. For obvious reasons I do not like to post my address to the world.
Please like this article if you think you will be stopping by so I have an estimate of how many people to expect! I would GREATLY appreciate it! THIS WILL BE THE LAST TRUNK SHOW AT MY CASA!!! We are moving to a bigger and better location with a lot more vendors! More on that soon….
XX