Lulu's Fab Fall Yoga & Activewear Guide 2015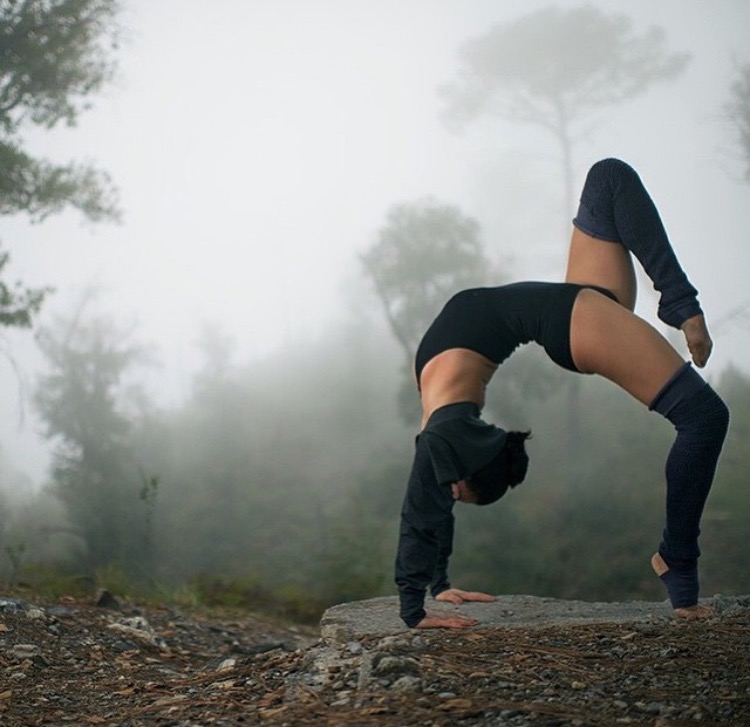 Three years ago when I set out to embark on the blogging journey, there were seriously like  four yoga pant brands and Lululemon was IT. Now when I walk into Bloomingdale's, I cannot get over the Activewear Section:
Workout Clothing has exploded!!! Everyone and their mother has an activewear line, even Carrie Underwood (great tops I might add).
I set out to find the best activewear/yoga lines this fall and I had no idea this guide was going to be as big as it is. After combing through over 60 activewear lines, you will find my favorites below.  Some of the activewear lines are giving my readers a special discount and some have partnered with me to do a giveaway. Next week on Insta and Facebook I will be running my biggest giveaway to date. Each day I will feature a new line and you will have the chance to win something fabulous!!! All winners will be announced Monday October 12th. But if you don't follow me on Insta and Facebook you will miss out. 
Bliss Activewear has an incredible fall shipment of workout clothes this season! I loved so many items in their chic boutique it was hard to choose but the Alo Goddess Leggings are to die for. They have the ultimate performance fabric that slims inner and outer thighs and seriously lifts your booty. Who doesn't want that? They also have new waistband engineering that flattens the tummy!
Alo Goddess Leggings $99
The matching Petal Bra has a mesh overlay, pretty seaming, an adorable back strap and offers light support.
Alo Petal Bra $58
Onzie's Sun Ray Bra top is bursting with awesomeness. The top features thick straps and provides fuller coverage for maximum support and comfort.
Onzie Sun Ray Bra $65
Pair the Sun Ray Bra top with Onzie's Twilight Capri's for the perfect little outfit.
Onzie Twilight Capri $56
Bliss Activewear is offering a 10% in store discount to my readers for the entire month of October.  Please mention the guide upon checkout.  
Speaking of Onzie, I bought these Jewel Leggings last week, took 3 hot yoga classes in them and I have to tell you, they are incredible. They don't fall down, you are not dying of sweat in them and they feel super nice.
Graphic Jewel Leggings $74
Onzie's Elastic Slate Bra completes the chic leggings. It does run on the smaller side.
Elastic Slate Bra $42
Onzie is offering a 10% discount to my readers. Please use the code LULULATTES10 during checkout! 
Last summer in Margate I was leaving a Zumba class and the studio was hosting a trunk show for a new line called Zayze. I wound up buying a few pairs of pants and ever since have become hooked on their prints! I just recently purchased the tiger print and I have had so many compliments I knew I had to include them in this guide.
Their pants are made of a 310 gramsand Supplex which is composed of 89% Polyamide and 11% Spandex. Due to its special construction Supplex is highly breathable, lightweight, and comfortable, which keeps the body cool in extreme activities. It resists abrasions and tears, and maintains its original bright colors over time. It fits like a second skin. They are amazing in cold weather!
Pictured above are the awesome Shadow Skull Leggings and the Fierce leggings where you can channel your inner Tiger….ROAR!
Shadow Skull Leggings $89
Fierce Leggings $89
Zayze is offering a 10% discount to my readers. Please use the code LULATTE10  during checkout! 
Zara Terez is not just for your daughters. Their prints are wild, exciting and so much fun to wear! I can never own enough Zara Terez leggings. Loving my boom box pair that I shared on Insta this summer!
Boom Box Capri's $75
Audio Level Capri's $75
Irridescent Crow Capri's $75
Subway Capri's $75
Zara Terez is offering my readers 10% off.  Please use the code LULU10. Zara also partnered with me to do an amazing giveaway next week to win a free pair of their hot leggings. If you don't follow me on Instagram  and Facebook, you better now or you are going to miss out on this incredible giveaway! 
Liquido Active is one of my favorite hot yoga brands because not only are the leggings beautiful and unique, they are perfect for power and hot yoga. The leggings are made for high performance recovery and provide moisture wicking. The shortened length on the yoga leggings make it easy to breathe and sweat through long workouts. Liquido introduces limited edition prints 6 times a year to constantly keep your workouts fresh and fashion forward!
My two favorite styles this season from Liquido are:
Tights & Sass (love the name) is a hot new line that was born while the founder, Marni Turner, was working out. She felt that you should always look and feel glamorous no matter what you are doing, and to be comfortable while doing it! She took that concept and  creates edgy designs for pants that are a multi-functional (like you can go out in them after you workout) and fashion-forward.
Her rouched pants are killer and look fab on!  (they do run a little big so size down)
Chocolate Croc Rouched Pants $250
Grey Python Rouched Pants $250
Tights & Sass is offering a 15% discount to my readers. Please use the code LATTES during checkout! 
Click to check out the entire line of Tights & Sass!
If you are looking for that great pair of yoga pants that don't slip down during a forward fold, you found the right place. PLYO (Peace Love Yoga Outfits) has one of the best fitting pants I have worn to date. I love the tummy suck in factor, IT WORKS! The best part all of their pants are $55!!
I am loving their new fall prints and their long sleeve yoga heart sweatshirt
Long Sleeve Yoga Heart Sweatshirt $45
PLYO is offering a 20% discount to my readers. Please use the code luluandlattes during checkout! 
Click to check out the entire line of PLYO!
Wow! When I came across Poprageous I could not get over their prints, they are OUTRAGEOUS! This line is definitely for the adventurous, unique, wild at heart and especially for those who are fearless with their fashion.  Poprageous celebrates "women who are owners, meaning whatever cray, weird, and outrageous sh*t we do, we're going to own it and let it take us to amazing places. So here's to you, your nylon, and all the exciting adventures coming your way."
There are so many prints to choose from I was at a loss as to which to feature so you need to check out the entire line – poprageous.  But here are few of the standouts!
Camilla D'Errico: Disassembled Tear Leggings $80
Mermaid Leggings $70
Comic Jean Leggings $80
Magritte False Mirror Leggings $80
Fall Butterfly Leggings $80
SPLITS 59 exudes style and sex. Hmm, not sex but more like sexy.  I came across this line on Instagram and was taken back by how polished and luxurious it looked. It feels as beautiful as it looks!  Splits59 is made up of quick-dry sport performance fabric that provides the ultimate in fit and comfort and their inventive layering pieces are a gorgeous Supima cotton that create a sleek look.
Rie + Ryn is the collaboration of a friendship between Carrie (Rie) and Taryn (Ryn). You can wear rie + ryn to a hot yoga class and take it off just when the room heats up or tear it off on the spin bike and throw it back on right before the lights come on. Their line is super cute and I am so excited they will be part of my holiday trunk show I have every November. You must come by and see their collection.
My fall faves are
Rainbow Girl Pullover $72
Python Girl Pullover $72
Camo Hoodie $120
Camo Sweatpants $99
I'm Done $54
 Rie + Ryn partnered with me to do a giveaway next week to win their awesome long sleeve rainbow pullover. Giveaway will be on  Instagram  and Facebook, so make sure to follow me there! 
What do you have when you blend performance, minimal design, and American manufacturing? SQN, of course. SQN sport is based in Sun Valley, Idaho and believe in a healthy and active lifestyle. Their clothing provides staples to your day to day wardrobe as their soft, breathable fabrics are perfect for any activity. SQN is versatile and fashionable; perfect for hiking, the gym, and easily transitions from day to night. They are made for every women. They also have two beautiful stores in Aspen, CO and Sun Valley, ID.
Single Sleeve Poncho $90 (great for throwing over your leggings on a cold day..LOVE THIS!)
Seamless Leggings $59 (perfect for winter runs or even paired with a long sweater for a quick dinner)
SQN Sport is offering my readers 10% off.  Please use the code LULULATTE at checkout.
Be Love is a beautiful line I came across during a quest for companies who give back. Be Love creates inspiring clothing and takes part of their profit from sales and uses it to fund service projects that impact youth. Their projects are focused on youth education, art, nonviolence and community empowerment. Currently they have partnered with a local organization in Los Angeles, Alexandria House (a transitional home for homeless women & children coming from domestic violence experiences) to help fund and support a transformative project that has a measurable & achievable goal. Their project is an after school program for the youth in the inner-city Los Angeles community. Be Love is bringing talented teachers (musicians, yoga instructors, photographers, videographers, and writers) to provide inspiring 'Art-Shop' workshops for the kids in and around Alexandria House.
Be Love has a specific funding goal of $25,000 that they will reach by donating $5 from every shirt purchased from the Be Love website store to the Alexandria House youth after-school program. A great cause!
Loving the:
Feather's Festival Tank $48
Warrior Mala $188
Be Love is offering my readers 25% off.  Please use the code LULUANDLATTES. Be Love also partnered with me to do an amazing giveaway next week to where the winner can choose ANYTHING off their site. Giveaway will be on  Instagram  and Facebook, so make sure to follow me there! 
If you love yoga inspired jewelry the way I do, you will LOVE Blooming Lotus! Each piece is handmade and all of the mala's are hand knotted. On top of their gorgeous jewerly, 5% of ALL sales to go to Support the Kid for Cancer.
Recycled Sari Tassel Mala $98
Ganesha Silk Wrap $28
Intuition Stack $98 (Sodalite, Lapis Lazuli, and Agate)
Protection Stack $108 (The Hamsa and Evil Eye are ancient symbols and still very popular today across many cultures. They bring protection from negativity and bad energy and are believed to bring luck and good fortune.)
Blooming Lotus is offering my readers 20% off.  Please use the code LULUANDLATTES-20.  Blooming Lotus also partnered with me to do an amazing giveaway next week to where the winner can choose a Mala ($108 value) off their site. Giveaway will be on  Instagram  and Facebook, so make sure to follow me there! 
If you practice yoga, I am sure you have heard of Manduka. They are the premier resource of yoga mats and towels. I LOVE the Manduka PRO Limited Edition (pictured above) because it is denser and thicker  which provides ultimate cushioning. I have this fear of falling on my head in crow pose but when I am on this mat, I am much more confident as I know it won't hurt like it would if I was on a regular mat.  Plus its not slippery!
Manduka Metallic Pro Limited Edition $128
The Road Tripper $158  (perfect yoga bag to store your mat, towels, clothes or any of your yoga needs!)
The Hand Towel $16  (how many times have you been in yoga and just needed to wipe your hands quickly? This quick drying, super absorbent towel is the answer!)
Manduka's Yogitoes towels have patented silicone dot Skidless technology that grips your mat and prevents slipping no matter how much you move or sweat. My favorite new styles are:
Yogitoes Cloudbreak $68
Yogitoes The One $68
Have you been in hot yoga and watched people continuously try to straighten their towel because it bunches up on their mat? Well, this is why NamaSTAY Yoga Towel was born.  NamaSTAY Yoga Towels are innovative towels that have sleeves to hug yoga mats, so it always stays flat. Brilliant!
I freaked when I saw these yoga mats by Vagabond-goods . They are yoga mats with an artists touch that are just exquisite!! I am obsessed with their new bohemian collection where the patterns were influenced by travel and beach bum living. Born in Venice, Ca (obviously), Vagabond-goods authentic designs enhance the place you come to practice. Their unique designs are stylish, playful and will show your love of art. Vagabond mats are extra thick 1/4″ light weight and latex free. 72″x 24," non-slip and easy to care for.  Simply use soap and water, rub down with a soft cloth and air dry prior to use.
Freebird Yoga Mat $84
Lolita Yoga Mat $84
There is nothing worse than sweat dripping down your face during a hot yoga class or intense workout. Emily Jordan designed beautiful headbands to solve this problem but also keep you looking your best. Emily's 100% performance pique headbands come in an assortment of gorgeous prints all named after people who are near and dear to her.

Namaste Haley Headband $28 (both colors featured)
Emily Jordan partnered with me to do an amazing giveaway next week to win a free headband. Giveaway will be on  Instagram  and Facebook, so make sure to follow me there! 
---
Hope you loved this guide as much as I loved putting it together!! Don't forget to tune in next week for all the giveaways (one each day) on social media.  I thought this video was the perfect ender….enjoy!
See you on the mat! 
XX
Looking for the latest and greatest in town- don't forget to check out my Hot List! Coming soon to a town by you. 

This popup will close in:

Don't Miss a Post! Get Lulu and Lattes in your inbox!