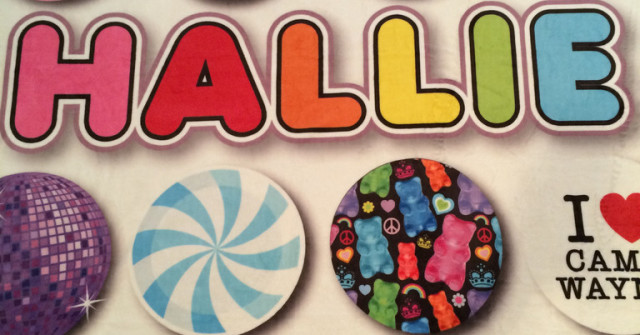 Less than two weeks until the camp trunks leave and I have yet to break them out of the closet. AH! I started to write a list of things I need to pick up and figured why not put together a guide of last minute camp items.  Instead of doing the basics like the duffles, I wanted to focus on all the new stuff of 2015 that you may not have seen.
I traveled around to my favorite camp spots – Bee Bee Designs, Camprageous, Camp Stuff 4 Less, Gold Coast Kids and Gotham -and gathered a gallery of all sorts of fun camp supplies and clothing. Some stores are offering my readers a discount on your purchases. Woohoo! The codes are listed at the end of this article.  Don't forget them! 
PILLOWS
Starbucks lover? $30 Bee Bee Designs
Sports Throw Pillows. Pick your team! $24-28 Camp Stuff 4 Less
Camp Name Bandana Throw Pillow. Comes in 4 color ways. $34 Camprageous
Iscream Scented Dessert Pillows actually smell like cupcakes, cookies, donuts, and gum! I hear all the girls LOVE these! $28-54 Camp Stuff 4 Less.
Etch A Sketch Write on Pillow. Bunkmates can leave your kids notes! $24 Bee Bee Designs
---
BLANKETS
Cozy Camp Blanket $60 Gold Coast Kids
Airbrushed Comforter $91 Bee Bee Designs
Cozy Camp Blanket $130 Camprageous
---
BUNK JUNK
Emoji Laundry Bag $18 Bee Bee Designs
Camp Love Towel $20 Camp Stuff 4 Less
CLING IT Camp Stickers! Add them to all your favorite camp items. $7-25 Camp Stuff 4 Less
---
STATIONARY
Custom Clipboard $24 Camprageous
Custom Camp Notecards (all designs) $16 Bee Bee Designs
Fill in Stationery $16 Bee Bee Designs
---
STORAGE
Custom Camp Storage $26 BeeBee Designs
---
ACCESSORIES
LOVE these camp tattoos! $12 Gotham 
Camp Spa Facial Set $32.95 Gotham
JEWELRY
5 Strand Custom Camp Bracelets $25 Camprageous

LED Watch $9.95 (comes in tons of prints dogs, sprinkles, cupcakes, etc) Gotham
If camp allows tech, these are hottest gadgets that adheres to your phone or tablet and comes with a 2nd adhesive patch just in case you get a new case and want to switch your FlyGrip with it.  Use it to get a great selfie angle, hold it comfortably in your hand, kick out the stand either vertically or horizontally for FaceTime, to watch a movie or as a clock on your nightstand. Ideal for all phone sizes and tablets up to 10 inches. Made of a strong plastic composite. $20 Camprageous
Personalized BPA Free Aluminum25 oz Sports Bottles. How great are these?? $21 Camprageous
---
FLIP FLOPS
Personalized Camp Flip Flops $38.50 Camprageous
---
SOCKS
Amazing camp knee high socks! $16 Gold Coast Kids
Camp Initial Elite Socks $17 Bee Bee Designs
---
SUNGLASSES
Let's face it, sunglasses for kids are pretty ugly. At least they were until Babiators came on the scene. Yes, kids for tots. They recently launched an Aces line that are perfect for our active kids. They're made of a durable rubber that has some bend and give.  Babiators also protects kids eyes as their lens provide 100% UVA and UVB protection from the sun's harmful rays. $20-$45. Babiators is offering my readers 30% OFF!!!! (code on bottom of article)
---
CLOTHING
Zip Code Fringe Tank $42 Camprageous
I am obsessed with Lauren Moshi. How cute is this shirt & sweatshirt? I want the white tee for me!  $96/$146 (junior sizes) Gold Coast Kids
If I had a daughter, she would own this Butter tank! LOVE! $34.95 Gold Coast Kids
Adorable tank by Likewear $30 Bee Bee Designs
Cozy Macaroon Fuzzy Lounge Shorts $20.95 Gotham
Super cute custom camp flannel pj pants $58 Camprageous
Camp Performance Dunk Tee $32 Bee Bee Design
---
 BAGS
So in love with this print I had to add the bag! $60 Gold Coast Kids
Zara Terez Donut Duffle, Dance, Bus, Sleepover or whatever you want to throw in there bag! $65 Camp Stuff 4 Less
Super cute Toiletry ($40) & Emoji Duffles $(60) Gold Coast Kids
---
SAFE NECESSITIES
Ever since I started selling Beautycounter, I have been like a lunatic with the products my family uses daily. These are my MUST HAVES for their trunk this summer.
It was impossible to find "safe" bug spray until recently. I was so excited when I found Greenerways Organic Bug Spray. This is a definite in their trunks. 2 oz$5.25/4 oz $7.00 Bug Spray
---
Can't say enough about the sunscreen. The Beautycounter sunscreen stick that launched last week sold out in two days. (I am taking names so I can notify you as soon as it comes back in…email me [email protected] if want to be notified). Anyhoo instead of the icky toxic spray sunscreen we all use (me included) this is an incredibly safe alternative. $26 Beautycounter
---
HAPPY SHOPPING!!!!
Personalized Camp "Band-hanna's $15
Personalized Camp Arm Sleeve $18
Personalized Cling it Boards $16
CAMP STUFF 4 LESS
Store Guide:
Babiators
(online only)


CODE FOR 30% OFF is "LuluandLattes30OFF" only valid June 10-17th
Bee Bee Designs
175 S Livingston Ave, Livingston, NJ 07039 (973) 535-0602


4823 St. Elmo Avenue, Bethesda, MD 20814 (301) 657-0200




All orders placed ONLINE ONLY will receive a free gift in their order. Enter "Lulu and Lattes" in the comment section to receive your free gift. Valid June 10th -17th. (does not apply to orders placed prior to June 10th)
Camp Stuff 4 Less
87 Dorsa Ave, Livingston, NJ 07039 (973) 218-9099


277 Westwood Ave, Westwood NJ  (The Canteen) (201) 383-0144




CODE FOR FREE SHIPPING ON ORDERS OVER $50 "LULU0615" valid until June 15th  or use this link  LULU0615
Camprageous
(online only)


CODE FOR 10% OFF is "LULU" 
Gold Coast Kids
457 North Broadway, Jericho NY (516) 931-3626


STORE/PHONE ORDERS – 10% off mention Lulu and Lattes
Gotham
391 Millburn Avenue, Millburn NJ 07041 (973) 467-9797


STORE/PHONE ORDERS – 10% off mention Lulu and Lattes
Don't Miss a Post! Get Lulu and Lattes in your inbox!