The Many Facets of Jockey Hollow Bar & Kitchen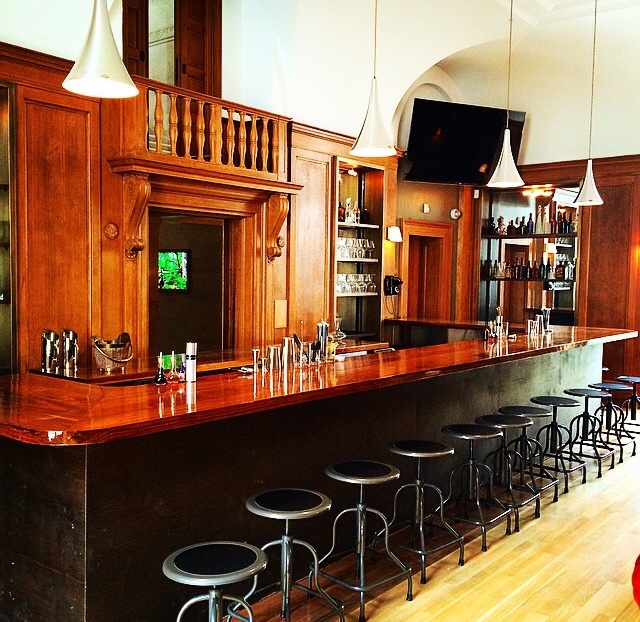 If you have been to Morristown and walked around, I am positive you have walked by the historic Vail Mansion. Personally, I have walked by Vail Mansion numerous times but because it is set back so far from the street I never really paid much attention to it. That is until I heard it was becoming a restaurant. Chris Cannon, a renowned restaurateur of critically acclaimed restaurants Polio, Remi, L'Impero, Convivio, Alto and Marea, had a vision of transforming Vail Mansion into Jockey Hollow Bar & Kitchen. Three years and somewhere around the sum of 5 million dollars, Jockey Hollow Bar & Kitchen was born.
Last night Greg and I and another couple journeyed over to Jockey Hollow for our anticipated reservation I made several weeks back. We decided to go early and have a drink before our 8pm reservation. Pulling up to Vail Mansion is a sight all onto itself. I felt like I was driving up to the mansion in the Great Gatsby .  As I stepped foot into Jockey Hollow I was taken aback by the beauty of the place. Cannon has redesigned the Mansion into a 4 part sector. The first being the Oyster & Wine Bar when you walk in the door on the right hand side. 
Photo credit: ADRIENNE GRUNWALD FOR THE WALL STREET JOURNAL
This is where I was dining that evening as the dining room upstairs was reserved. 
I gave my name to the hostess who took my coat and told her I would be at the bar until the rest of my party arrived. As I headed to the Vail Bar I noticed all the incredible architecture and unique art. For example this crazy sculpture of an astronaut
and this old school telephone
The Vail Bar is reminiscent of an awesome high-end resort out west (i.e Vail, Aspen). Big red leather tufted couches, great vibe, a huge bar that wraps around the room  and two great TV's playing classic new and old movies pretty much sums it up.
The bartender, who I recognized as Christopher James  from the Ryland Inn, handed me an iPad menu. It was very chic and went along with the vibe in the room however I will say it was a little annoying to scroll back and forth through all of the drinks. Jockey Hollow has an extensive list of cocktails and maybe I am just old school in terms of wanting to read one printed page of drinks instead of scrolling back and forth through three pages.  I ordered a Moscow Mule (my fave) and I have to tell you it was quite delicious however it was weak on the liquor. They measure the shots and don't serve freehand. At $14 a drink that is rather unfortunate. 
It was definitely happening in the Vail Bar. Tons of people on a Saturday night. I could have hung out there all night. Especially since I ran into several friends who were dining at Jockey Hollow as well.  At 8:45pm the hostess came to get us for our 8pm reservation. I was famished and ready to eat! My husband and friends are major foodies so I was excited for all the dishes we were about to devour.
We were given the iPad menus again and a nice big wine list. The sommelier walked over and helped us pick an amazing Brunello that was very reasonably priced. The waiter on the other hand seemed to be out to lunch but we will discuss that in a minute. It was a unanimous group vote that we were all anti the iPad menus as cool as they were because nobody could remember what was on any of the pages and it was extremely annoying to flip back. I almost had to take a notepad out to write down what I wanted from each page. Where I have seen it successful in the past is when used for an extensive wine list.
There were several choices of raw bar, apps, cheeses, salumis, and entrees. We went with the following:
Kale Salad which was one of my picks of the night.
Scrambled Egg with Shaved Truffle on Country Bread. It was  just okay. The best scrambled eggs on toast is, by far, at Gato in NYC. Run don't walk.
The bone marrow delivered! This was a hit.
The sardines which I do not have a picture of was my favorite! I would never in a million years order sardines but we did on a whim and they were INCREDIBLE!
My friends at another table ordered the beef tartare and said it was yummy. I am not a fan of raw meat but if you are maybe try it?
As far as the entrees:
I ordered the Branzino and was surprised there was no crispy skin. I prefer my Branzino with skin on the fish. The kale underneath was the best part.
My girlfriend ordered the burger which she liked but wasn't raving about
Her husband ordered the Tagliatelle which again he liked but wasn't screaming from the rooftops.
and Greg ordered the chicken which I was not expecting. He never orders chicken unless the restaurant is known for their signature chicken dish but he got talked into it. I think he wished he hadn't.
I am not a oenophile however I understand good wine and the protocol for pouring it. The sommelier clearly did as well but unfortunately the waiter did not. Before we knew it a very nice bottle of wine was completely poured out into 4 glasses. He either didn't know or was pushing us to order another bottle. If I had to guess, he didn't know. I was not expecting New York service as I know how hard it is to find fifty plus top level servers in NJ but a little wine training can go a long way.
Before dessert we ran upstairs to check out the nicer dining room. The grand staircase that leads to the second floor was simply beautiful.
The dining room was stunning and overlooks south street.  There are two small rooms off  both sides of the dining room that provide more seating. The menu upstairs is traditional paper (not iPad) and consists of an entirely different dining experience with a heavier price tag.
If you stand at the top of the stairs and stare across the staircase you can see the entire open kitchen which was absolutely breathtaking. I would like to have a tasting party in that kitchen!
Below the first floor in the basement is a sort of speak easy called The Rathskellar. I was shocked when I walked in and found communal tables, a cool bar and a German menu that knocked Greg's socks off!
I am not a fan of German food but Greg LOVES it. The  enormous wine cellar was housed in the The Rathskeller. It is the perfect place for a private event or a casual drink on a Friday or Saturday night.
We sat back down for dessert and shared the chocolate torte.
So what are my thoughts?
Overall Jockey Hollow has a lot going for it. It is good but it aspires to be great. I am a firm believer that if you do too many things it is impossible to do any of them amazing. There in lies the conundrum for Jockey Hollow and likely its future success. The individual parts on their own are fun and cool and can be enjoyed but the overall experience for me was lacking. I am sensitive to how new it is and recognize it will take six months to a year before it hits its stride. It is beautiful and an experience worth checking out but do so with eyes wide open. I promise to go back in a few months to hopefully find this restaurant firing on all cylinders. I will be back shortly though to hang in the Vail Bar on a cold winter night.
Jockey Hollow Bar & Kitchen, 110 South Street Morristown, NJ 07960. 973-644-3180