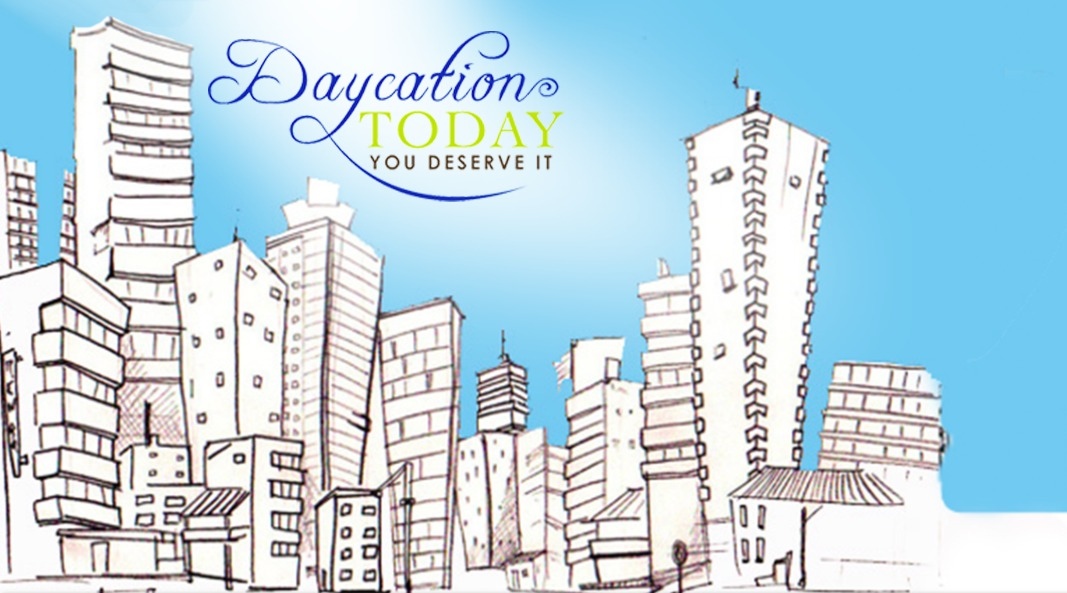 Everybody needs a vacation once and awhile to get away from all of the madness of our hectic life. Sometimes my vacations include me locking myself in the bathroom for 20 minutes with a book. Sometimes my vacations are simply my weekly 30 minute blowouts. These 20, 30, hour minute vacations are necessary for me to be a somewhat sane mother and wife.
Last month I received a phone call from a lovely woman, Debra, whom  I've been working with on some other projects. She invited me on a "Daycation". All I heard was vacation – not "DAYCATION".  I laughed and asked her "Where are we going?"  She replied, "I will send you a list and you can pick what daycation you would like to go on." Wait, what?
Debra explained that she recently started a new company called Daycation. She stated the following "It started when two busy, working women, were desperately trying to carve out time for themselves. Everyday, they did the same old thing and never realized what the nearby towns had to offer. Many times they would want to visit Summit or Morristown, but didn't have a clue as to where to go, what to do, where to eat.
As a result of this need to break free of the same old, same old, they wanted to inject the feeling of being on vacation to women in their daily lives.Through years of hard work and parenting they came to understand that women never truly give themselves a "guilt-free" day. So, as a result, Daycation was born. A service that allows women to have one day in a month to do something fun, exciting, and adventurous for themselves." 
Daycation is a membership only service that allows you to take advantage of all the amazing opportunities that you might not know about right in your own backyard. When you join daycation and become a "daycationer," you'll be able to sign up for spa treatments, fitness classes, cooking lessons, make-up, hair and beauty sessions plus tons of fun, different and exciting activities. Tons of adventure to choose from! 
Activities take place at the latest and greatest, tried and true local businesses in Summit, Millburn, Short Hills, Madison, Montclair, Morristown, Livingston, South Orange, West Orange, New Providence, Berkeley Heights, Westfield, Garwood and other nearby destinations.
I went with the Bobbi Brown Makeover in Montclair! Montclair happens to be one of my favorite towns in the area but for some reason I can't seem to get there as often as I would like. I thought it would be fun to go with a friend for the day and share the experience. So I invited my great friend, Sondra, picked her up at 9:30am and off we went.  I had never been to the Bobbi Brown studio in Montclair. I must say it is pretty awesome. Definitely a great place to have a girls night out or A DAYCATION! Anyway, we walked in and there were several makeup chairs set up in the back.
There were about 8 makeup artists set up and ready to roll. Susana, my makeup artist, handed me a handheld mirror and told me to follow along as she applied the makeup. Awesome, a makeup lesson and a makeover all at once! You could show me 300 times how to apply my makeup but I can never seem to get the eyes down. EVER. As you know there are BAD makeup artists (the ones that make you look like Dracula) and there are GREAT ones. Susana was great! I loved that she made me look natural yet transformed:
Isn't it amazing how much makeup makes a difference. Greg always says he prefers me without it but I know he is smoking crack (and lying lol). You and I both know my before picture is DEATH! But I am comfortable enough at this point to show you the real, unfiltered me.
Susana created a sheet of all of the makeup she applied on each part of my face. This piece of paper is priceless. I love that I can refer back to it in case I run out of something or I want to use the same makeup the next time I get my makeup done and I don't have to guess what I used the last time. Here is an example of what it looks like (this is not mine):
Sondra's makeup looked amazing as well. It was such nice way to spend a Thursday morning.  After purchasing new under eye concealer, lip gloss and blush I felt like we had to go somewhere but it was only 11:30am!
Liquid lunch? Done.
Daycation is a fabulous idea and I was thinking what a nice gift to give your spouse/girlfriend for the holidays! So many activities to choose from!
Here is a sneak peek at what is coming in January:
You can sign up now for your January escapes DAYCATION For more info call 973-573-2873.
Daycation is offering a special holiday price of $175.00 for 10 daycations and $100.00 for  5 daycations. The sale runs up until December 24th. Once you become a Daycationtoday member all activities, treatments, services and experiences are included. In other words, there is no additional costs to go on your Daycation. Think of Club Med without the beads.
Why have one gift when you can gift yourself or someone you love a gift of a daycation each month! Again it is a great gift for a husband to buy his wife.  All the services, activities and experiences are included in the membership package. Now this is a gift I would LOVE to receive!
Daycation. 973-573-2873