The Napa Valley Experience!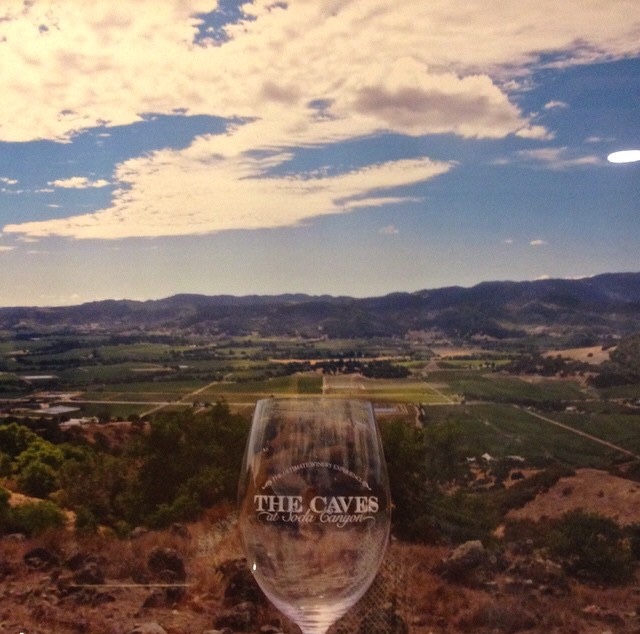 The last time I was in Napa was over 15 years ago. Greg and I were just dating and we went out to San Fran to visit his brother who was in grad school at the time. Greg, Danny and I decided to go to Napa on a whim. We went when there was no such thing as Uber, actually even if there was Uber I am not so sure we would have used it anyway. My only memories were fighting over who was driving and throwing the keys at each other. I don't remember who wound up driving but one of us did.
Fast forward 15 years later. Greg and I were invited to a wedding in Napa. Greg's boss was getting married and there was no shot we were going to miss it. We decided to go Thursday – Sunday so we could have some time at the wineries and a chance to explore Napa. Our great friends, Hallie & Craig, were also invited to the wedding so it was a little mini vacation all wrapped up in one. The only sucky part was flying into San Fran and having to drive 1 1/2 to Napa but in the end it was all worth it.
We got to Napa around 3pm, checked in, decided to go to a wine tasting in town and have a nice dinner. We stayed at this amazing hotel in Yountville called the Villagio Inn and Spa.
Before we left I had envisioned us staying at this bed and breakfast place type. Um, no. The hotel was pretty great but the best part by far was the breakfast!! They served a buffet breakfast every morning with an omelet station, fruit, pastries and bread options, steel-cut oats, mimosas, tea and coffee but the biggest treat they offer at breakfast is their fried chicken and waffles. Yup. Crazy.


There is another hotel close by that is called "Bardessono" that is supposedly the greenest hotel in Napa…very sleek and modern. Maybe worth a peak if you are visiting but I can't imagine the complimentary breakfast is ANYTHING like Villagio's!
If I had one call out about the hotel it is the bathroom. I am not a fan of showering in a bathtub. But that is just me. Probably why Greg thinks I am SO high maintenance.
Anywhoooo, after we checked in we went to Hill Family Estate for a little wine tasting. So glad we stopped here! This quaint little place was part wine tasting and part antique store. Very cool and the wine was delicious. I am not exactly a wine aficionado so I won't be giving you crazy details about the wines I tried. Like I can't tell you the oakiness of this wine or if that particular wine had spice or tartness. No. Go to a wine site for that. I am just reviewing my trip.
I think we were all just excited to be in Napa as we were ready to drink!
I was not so sure how Hill Estate obtained the Voice Chair but I def wanted to take this home with me! Actually I think Hallie wanted it more than me!
After a round of wine tasting, we went back to the hotel to shower and get ready for dinner. We were going to a restaurant called Ad Hoc which I was especially excited for! Every night the menu changes so you never know what they are serving. I love surprises. I was just hoping duck or foie gras were not on the menu. Not a fan. Well it turned out neither of them were! Dinner was Fantastic!!!
We shared the Roasted Beet Salad with red radishes, granny smith apples, arugula, pickled red onion, toasted hazelnuts with a cider vinaigrette. YUM!! It was amazing.
The main entrée was a Grilled Hanger Steak served with twice baked potatoes, Maine lobster glazed haricots verts and ice topped carrots . (in the back of this picture is andouille sausage & peppers – which Greg is still raving about)
For dessert we shared a Pumpkin Pain Perdu (which is a fancy way of saying pumpkin french toast) with candied walnuts and ginger ice cream.  I have to tell you, I do not like ANYTHING pumpkin but this was pretty damn good! (ignore Greg's reflection in the pic)
Let's just say if you ever visit Napa, this is a MUST GO TO DINNER SPOT. It should be the first place you make a reservation.
By the end dinner we were basically falling asleep so we headed back to the hotel and passed out. It was 9pm (but really 12am at home). Greg has this thing that whenever we go somewhere and there is a time difference we can't ever discuss what the time is at home. He thinks we have to adapt the minute we get there. I obviously think that is impossible. I like to stay on New York time because it is much harder for me to adjust when I return. So I pretended to be on Cali time but secretly I was living east coast time.
Greg & Craig created an entire itinerary for our trip which I was psyched about. They did a ton of research and I was happy we were not going to the run of the mill Cakebread, Mondavi, etc wineries.
We woke up the next morning and the next thing I know Greg is telling me I have to come outside. I walk outside literally in pj's to watch this!
Every morning, weather permitting, hot air balloon rides were launched from the hotel parking lot. Crazy. It was amazing to watch. I didn't participate as the thought of dying on this vacation wasn't appealing to me. Instead we had our fab hotel breakfast and then left for our first winery at 9:30am.
Uber hooked us up with a quick ride to Duckhorn Vineyard which was magnificent.
This was their menu selection of the day!
It turned out to be a gorgeous day so we were able to have our wine tasting on their sprawling porch.
I loved how Duckhorn set up the cards under each glass so you knew what you were drinking. My favorite at this winery was the Cab but I wasn't blown away by any of them really. I was more impressed with the actual winery and all of the history that made Duckhorn what it is today. Great way to start the day!
The next stop turned out to be my favorite of all the wineries we visited throughout the trip. Even pulling into Round Pond Estate I knew we were somewhere special!
The tasting took place on their outside terrace which was absolutely breathtaking!
This was their menu for the day!
They even served this delicious snack with our tasting!
After about 6 glasses of wine I was definitely pretty tipsy. Hence the sunglasses are now on for every picture! I still can't get over how beautiful it was in this part of Cali. People wake up to this every day?! Every time I go away I imagine living somewhere new but I guess this why it is called "vacation."
I had to go to the bathroom (go figure after a million glasses of wine) and I saw this table that I am still obsessing over.
How awesome is this? I have no where to put it because my dining room is not big enough but of all the wine I tasted and the stores I visited I only wanted to bring this back home. LOVE!! However we did order some wine and actually ordered their olive oil! It was spectacular and I go through so much olive oil I was excited to have a new one shipped home!
Okay so after all the wine and the tour of Round Pond we were ready for lunch. I was piss drunk (I was) and I was STARVING. Greg & Craig planned for a fancy lunch instead of dinner (which was smart because after all the wine I drank the thought of going to a fancy dinner later was out of the question!)
Uber picked us up and we were off to Auberge du Soleil. Auberge is a must go to even for a drink if you visit Napa. The restaurant has the most spectacular natural setting! It also didn't hurt that the weather was gorgeous! My suggestion would to go during the day so you can see this magnificent view.
I have to be honest, I don't recall a thing I ate. I didn't take any pics except for dessert which was Fromage Blanc Cheesecake with Coastal Huckleberries, Toasted Lemon Meringue and Douglas Fir Streusel. We did NOT pair our dessert with wine.
A zillion calories later we Uber'd back to the hotel and passed out! I did anyway. Several hours later, I woke up, showered and got ready for dinner. The thought of drinking at dinner seemed crazy. There was no way I could do it. 48 hours of drinking I didn't think I could pull it off. We had reservations at this cute little French restaurant in town which got great reviews. The four of sat down, looked at each other and fled. We were so not in the mood for heavy french food. We were all craving PASTA!! So pasta it was….
We boogied over to Redd Wood. Brick oven pizza, pasta, great salads, this was the perfect dinner! 
Spaghetti is seriously one of my favorite dishes in the world and if you happen to visit Redd Wood, definitely try the spaghetti. It is worth it. The pizza is also fab but don't miss the spaghetti!
The pizza was rock solid as well!
After dinner we were supposed to meet everyone for drinks after the family rehearsal dinner which literally a hop, skip and jump from Redd Wood. I did my best to mingle and chat but after drinking all day on top of it being 1am at home, I was ready to crawl into bed.
Since the following day was the wedding we planned to have a chill day so we could party at night. We decided to go to a winery that was only a year old. Nobody really knew about it. It was definitely off the beaten path. The concierge at the Villagio recommended it and we were all so glad they did!!
9:30am the next day, after yet another incredible breakfast,
we were off to The Caves at Soda Canyon. We decided to drive there since we were only going to one Winery and we wanted to stop at Oakville Grocery for lunch(will discuss that soon). So we were literally driving up this cliff that was never ending and so scary (I thought we were for sure going to fall over)
only to pull up to this unusual winery built into a cave. It was the first real tour we had signed up for as all the other outings were simply tastings.
We got the lowdown from when the grapes are removed from the vines, loaded into bins, fermented, and moved into barrels. I sort of knew the process but I always find it fascinating.
The Caves are made up of four families who share the property yet house their own wines for distribution. They set it up pretty brilliantly as you walk through each part of the cave you try a new wine. We tried a white wine that was so out of this world we had to bring it home! My philosophy with a lot of these wineries is that if you can get the wine at home, don't bother. However if you find a wine that knocks your socks off and you are unable to buy it at home, BUY IT! So we did. I just hope it doesn't become one of those wines that sit in my wine fridge and we never open it because it doesn't seem like the right occasion to finally open it. Do you know I still have a bottle of wine from our Napa trip over 15 years ago that is unopened because we just never felt like it was the right time to open it? What are we waiting for? I may die and never drink that bottle of wine because I was saving it. But saving it for what? Do you do this?? (The wine we are sampling in the below pic is the one we brought home).
The most incredible part of this tour was the surprise at the end. You think you are leaving and then the director of the tour told us she was taking us somewhere special….We were not allowed to take any pictures (so I didn't). We were told to walk down the wine cellar to this big door that looked like something out of The Lord of the Rings.
Once you walk through you are literally standing over Napa. It was breathtaking! This is the closest picture I could find but it doesn't do it any justice. Their future plans are to build a restaurant that will overlook this entire setting.
The Caves at Soda Canyon are a gem and you would be silly not to put this in your rotation if you travel to Napa!
After 1.5 hours, many glasses of wine we were all ready for some chow. It is not a trip to Napa unless you visit the famous institution called "Oakville Grocery." It is the oldest operating grocery store in all of California (founded in 1881). This place is a foodies' heaven. The sandwiches are to DIE FOR!
Even the cookies were out of this world!
In the back of the grocery are picnic tables where you can enjoy a bottle of wine and your mouth-watering lunch. Let's just say it was the perfect place to end the day in Napa!
After lunch, we went back to the hotel and  Hallie and I decided to walk around Yountville. It was another GORGEOUS day (boy, did we get lucky with the weather!).  I had a blowout at 4pm so we killed some time and went shopping, got some coffee and went back to chill at the hotel pool.
Apparently Greg and Craig were ahead of us!
4pm rolled around and it was time for my blowout. I always get nervous when someone else blows out my hair because although you may think a blowout is a blowout. It isn't. There is a BIG difference between a great blowout, a good blowout, a mediocre blowout, and a bad blowout. There really is. I walked into this little salon and I just had a bad feeling. Something about the music, the shit on the walls and my hairdressers purple hair threw me off but you can't judge a book by its cover so I put it in the back of my mind and sat down. I am so used to Troy's blowout that when she was brushing my hair straight down and not using a roll brush I started to panic. Normally I wouldn't care but I was going to a wedding and it wasn't just a random wedding. I sort of let it go and was hoping this was just her method. I did show her a picture of what I wanted my hair to look like just in case she was unsure. Let's just say 45 minutes later (normally done in 30) she started teasing it. Yes like comb, hairspray, 1980's teasing. I literally was dying inside and I didn't want to come off bitchy so I very quietly asked her what she was doing. She replied "Oh I am giving you some volume." Ugh. I figured it would be too much to even start with her so I let her do her thing. When she finished and told me my 1980's blowout was $65 I almost passed out. I paid the $65, walked back to the hotel and brushed the entire thing out. Twenty minutes later we were dressed and ready to rock!
The wedding was in walking distance to the hotel in a gorgeous courtyard. Marc & Jaime could not have had a nicer night to get married! I seriously thought we were in a Restoration Hardware Garden Catalog.
Yes, there were Bridesmen! They sure know how to party (obviously too good-looking to be straight)!
An hour later Marc & Jaime were married!
The wedding was perfect from soup to nuts!!! It topped off our visit to Napa!
Thank you for reading my journey to Napa if you made it this far! Hope you enjoyed. It was an incredible vacation. A big thank you to Marc & Jaime for inviting us to your incredible wedding and allowing us to experience Napa again the right way. I can't WAIT TO GO BACK and I am super excited for all of my goodies to arrive!
xx