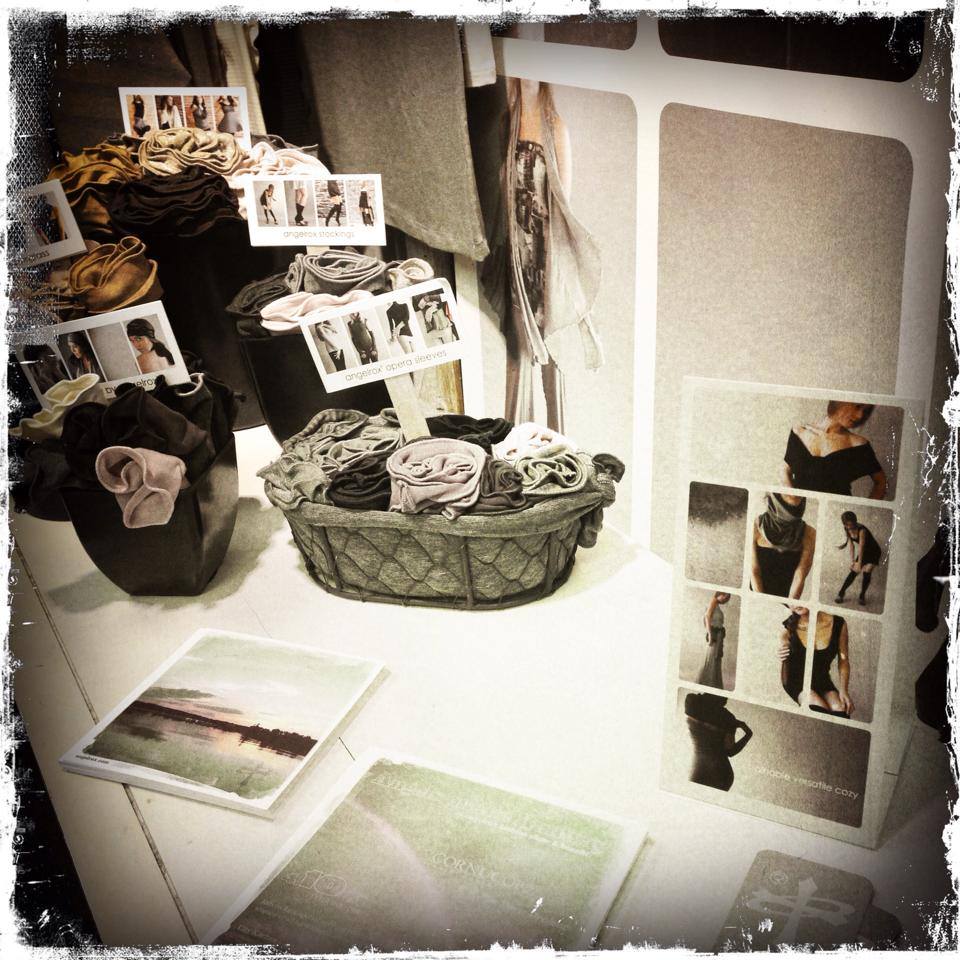 I was at the beach few weeks ago and ran into my friend Randi who was wearing the coolest outfit over her bathing suit.
I asked her where she got her ensemble and she began to tell me about this line called Angelrox that I never heard of before.  Remember a million years ago there was this line called "Multiples or Unit's?" I remember taking a train from Philly into Manhattan because I had to have this line. I used to wear the pants to bed they were so comfortable.
Anyway, Randi was wearing something a little similar but way updated and much more stylish! She told me that the designer and founder, Roxi Suger,  is a Parson's professor who started this extremely versatile line several years ago. Her mission was to have something for everyone…All ages, all sizes, made in America, perfect travel wear! She told me to stop by so I could see the whole line. 
I went by last week and Randi explained that this poncho I loved, aka: THE FLIRT, could be worn in a million ways.
She told me to watch this two-minute video below. I could not believe that a poncho could turn into a skirt, but it does! Crazy. I had to watch the video a few times to remember all the ways you could wear it.
I also pulled this PLAYSUIT which I thought was super cute and the perfect thing to hang-out in instead of my lulu's that have been worn to death. Randi wears it to yoga with the WIFEY TANK.  I also loved the fingerless gloves that are amazing for winter!
I also could not believe what this chic dress (THE WRAP) was before it was twisted and turned and made into this super chic version of a dress:
I bought THE FLIRT in 3 different colors! I thought it was the ideal thing to bring on a plane, the beach, the movies or a cold restaurant (I am always freezing!) I also purchased THE PLAYSUIT for yoga and travel!
If you are looking for the perfect travel wear or simply comfortable chic clothes that do not wrinkle and are very versatile, come see Angelrox this week!
Randi is having a trunk show at her home in Short Hills, NJ this Friday, August 1st 4-8pm. Prices start at $28. The best part is Roxi, the designer and owner of Angelrox is coming to feature the line and show you how every piece works.I will also be there with wine and cheese!!  Everything will be 25% off!!!
Discount code if you cannot make the trunk show this Friday in Short Hills, NJ is "Rsweetangel" at checkout.
Please private message me on Facebook or email me at [email protected] for Randi's address. Subject title "Angelrox."
Can't wait to see you!
xx