July 4th Strawberry Rhubarb Crisp Bars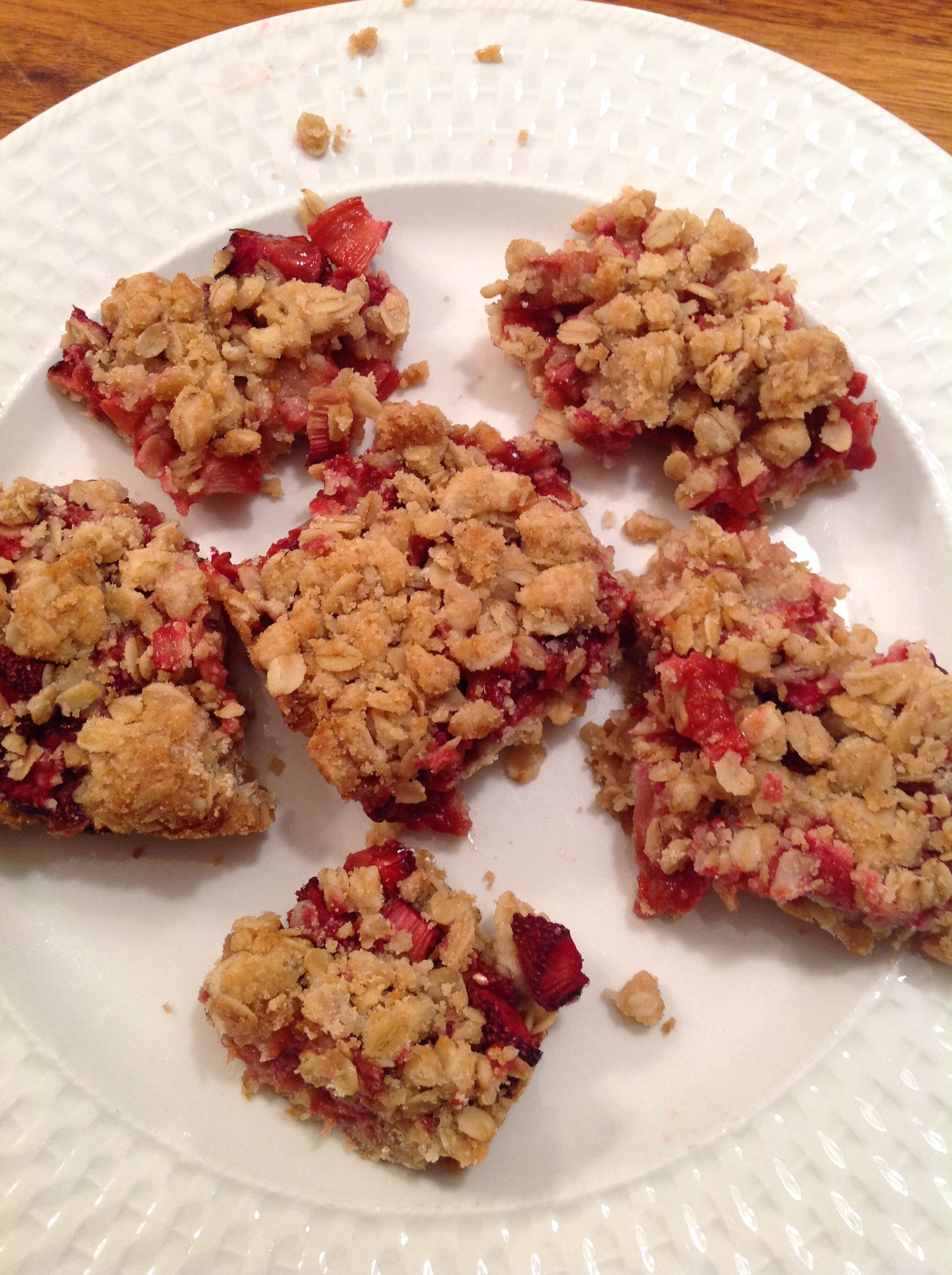 I was trying to figure out what to bring to a July 4th party today. Every year I normally make cake balls which are a crowd pleaser and never a let down. This year I figured since I joined the CSA and received strawberries and rhubarb for the past three weeks I would use them to whip up some delicious dessert.
I scoured the web for something yummy and found these Strawberry Rhubarb Crisp Bars. Let me tell you, they are OUT of this world and the perfect summer treat. After sharing the bars with several friends and hearing how great they were, I decided to post the recipe.
Maybe you want to make these today before your soiree!
Strawberry Rhubarb Crisp Bars
*These were adapted from One Bowl Baking
Ingredients
Yield: About 24-30 bars if baked in a 9×13-inch baking pan. You can also cut the recipe in half and bake in a 8×8 square baking pan for 8 large bars.
2 cup rolled oats
1 1/2 cup plus up to 4 tablespoons gluten free flour (you can use all purpose flour of NON gluten free)
1 cup  light brown sugar
Heaped 1/2 teaspoon table salt
12 tablespoons unsalted butter, melted
2 teaspoon cornstarch (optional, but helps firm up the filling)
2 tablespoon  lemon juice
2 tablespoon granulated sugar, divided
2 cups small-diced rhubarb (from about 1 1/2 medium stalks)
2 cups small-diced strawberries
Powdered sugar, for decoration, if desired
Directions
Heat oven to 375 degrees F. For easy removal, line bottom and two sides of 9 x 13 pan with parchment paper.
Place oats, 1 1/2 cups flour, brown sugar and salt in bottom of baking pan and mix.
Pour melted butter over, and stir until clumps form. If the clumps feel soft or look overly damp, add the remaining 4 tablespoons of flour. Set aside 1 cup of the crumble mixture. Press the rest of the crumb mixture evenly in the bottom of the pan.
Spread half the fruit over the crust.
Sprinkle it evenly with cornstarch, then lemon juice, and 1 tablespoon of granulated sugar. Spread remaining fruit over this, and top with second 1 tablespoon sugar. Scatter the rest of the  crumbs over fruit and bake bars for 40 – 50 minutes (firmer fruits will take longer), until fruit is bubbly and crisp portion is golden and smells amazing.
Slice and serve!
Hope everyone has an amazing 4th!! Share this with any of your friends who are looking for an easy, fan favorite dessert!
xx