California, Here we come….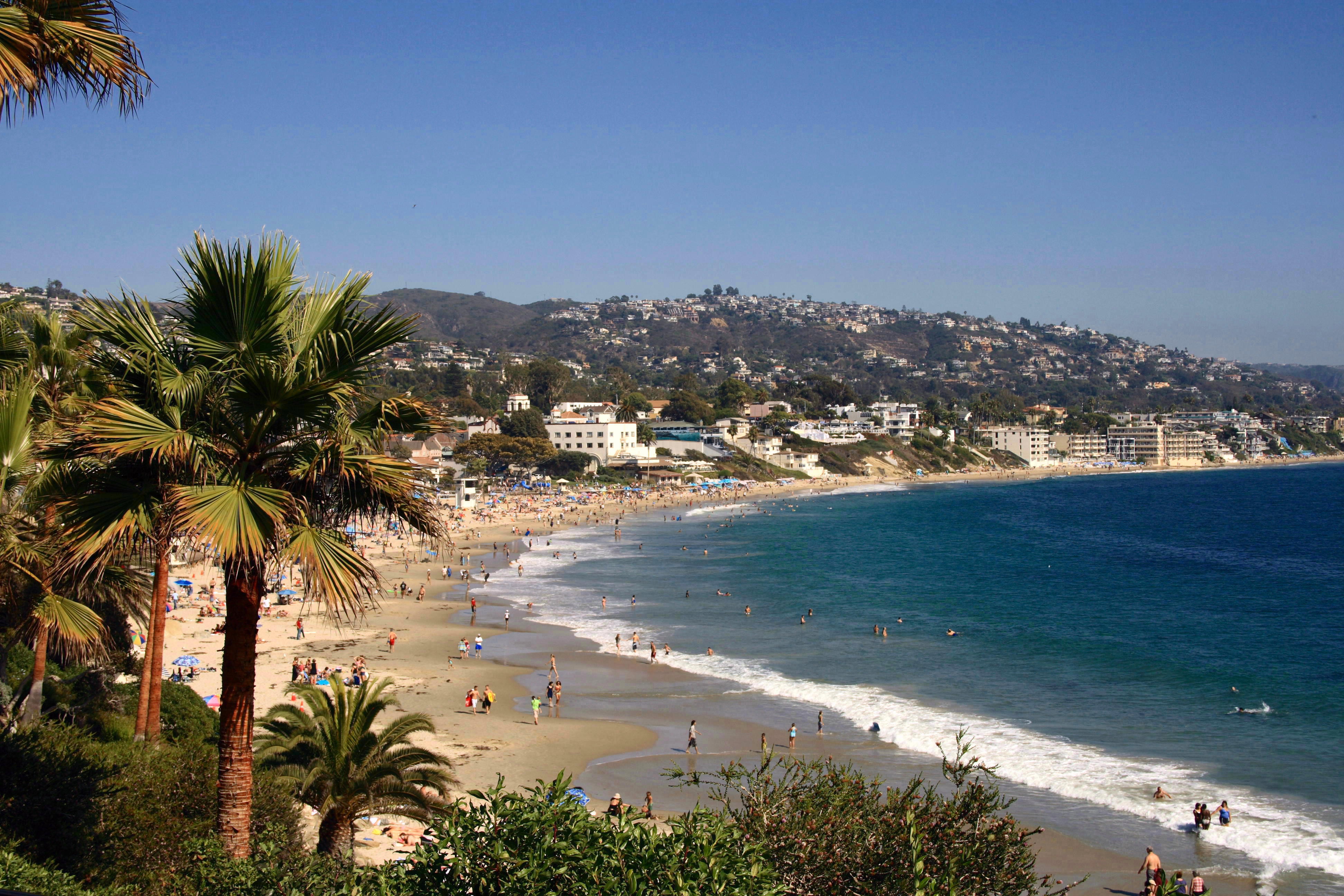 I am the world's worst flier. Worst. Something about having no control and knowing that if god forbid something did happen my chances of survival are slim.Yeah, that about sums it up.
When you become a parent though, you have to somehow hide all that scaredy catness. I can't find a way to do that. My kids laugh at me and hold my hand for moral support. I am not sure how I became the child on the plane but I did. I am a white knuckle flyer. Greg, on the other hand, out cold after 5 minutes of taking off. Anybody that can fall asleep directly after take off without taking any pharmaceuticals has a gift. They have been blessed by the gods who decided I wasn't worth this precious gift.
About 20 minutes into take off, just as I stated, Greg is sleeping, my kids are staring straight ahead into their TV screens and I am across from them on an aisle seat. Behind Greg,  there is a 12-year-old girl ralphing into a barf bag. The flight attendant must have walked by fifteen times with crackers, ginger ale and a slew of other goodies to help this poor girl. All the while Greg is in la la land.
Since I have the aisle seat, which is my favorite seat on the plane, I can go to the bathroom whenever I want.  I decide to go since I need something to distract me from ralphing girl. Wouldn't you know there is a man, probably in his mid 40's,  by the bathroom who is also not feeling well. The other flight attendant is helping him out. Ugh! What is going on with this flight??
I finally get into the bathroom and the woman before me left that paper thing you place on the toilet seat if you decide to sit on it. EW! FOR REAL!?
First of all, you should know I have a phobia of public restrooms. I was the kid who held it in all day and ran into my house straight for the loo.
Second of all, I have never used one of those paper things. I stand.  I am not sitting on someone else's tush Beyond gross and the germ situation is a whole conversation in itself.
Third and last of all, IF and I mean IF you are going to use that paper thing, wouldn't the common courtesy be to flush it. Who leaves that for someone else to take care of? R U D E. ( I didn't, I asked the flight attendant. I couldn't bear to do it – call me whatever you want, some things I will get my hands in, other's I just can't).
I am so grossed out at this point I head back to my seat and start Glitter and Glue. (Have you read this book yet?? It was great!! If you are looking for a quick, easy, book you can't stop reading – download this (or buy it), it was the perfect plane book. Thank you to everyone who recommended it. I loved it!)
I look over at Parker and he does not look okay. You know your kid, you know when something is up. He has that face like "I am not okay". I switch seats with Zach and sure enough Parker def has fever. UGH!! 5 more hours to go…. let's just say it was 5 unpleasant hours of whining and how much time do we have left. I tell Greg I need a cocktail stat and no, I do not care that it is 10am.
5 hours later we land. We rent a car, we drive 2 hours find a taco place and some wine.
Parker seems to be doing a little better but def off.  Laguna is beautiful. I truly understand why The Hills, Laguna Beach, The O.C, were the ideal location to shoot. It is magnificent.
We finally get to the hotel, have an early dinner and crash. At 3am I hear that noise. That familiar noise I heard on the plane except this time it is my kid not the 12-year-old girl. It occurs to me that Parker has the stomach virus. The awful virus that has taken over so many homes this year. It would only be our luck Parker brought it on vacation with us. Poor P.
Parker finally gets back to bed and then I hear Zach walk into our room telling us he can't sleep. "Mom, it is 7am at home."  "Well it is 4am here GO BACK TO SLEEP!" By some miracle Zach falls back to sleep until 6am. I can deal with 6am.
Parker wakes up with a cough. A croupy, yucky cough. When you have a kid with chronic croup, you know the signs. Greg (good idea Greg) called our pediatrician who is a rock star in his own right and he called in a steroid for us quickly. Now that Parker has the stomach virus and croup, we decide to have a very easy day.
On of my favorite breakfast places in Carlsbad, CA is The Naked Cafe. A restaurant that prides itself on clean, natural food. Right up my alley!!
Breakfast was a 10. In Southern California (San Diego, Del Mar, La Jolla, etc) they have something called "May Gray/June Gloom".  Basically this means a marine layer creates a cloudy morning and burns off as the day progresses around 12/1pm. The marine layer came a little early this year but we made do in the morning and was back at the pool by 12:30 the few days we spent in Southern California.
I am not a fan of zoo's. I am all about animal rescue, saving a species and helping animals thrive but something about animals being locked up in a cage doesn't sit well with me. My mother in law loves the Bronx Zoo and I am happy to let her take the kids every year. But I want no part. There does exist a place next to the San Diego Zoo called the Animal Park Safari. Now this place is amazing!! It was created by the same founder of the San Diego Zoo, Harry Wegeforth. It is an expansive wildlife sanctuary that is home to more than 2,600 animals. Over half of the park's 1800 acres have been set aside as protected native species habitat. I seriously felt like I was in Africa!
This guy is 42 years old. Apparently he sits quiet until there is a reason for him to get involved. In back of him is his wife who is nursing their baby. Obviously they are not married but for shits and giggles lets assume they are.
Here are some of the children. My kids loved this pic because the 2-year-old was peeing so I thought I would add it to the mix.
(see the baby nursing, beyond cute, although the momma looks exhausted)
These guys below were shooting the shit.
Next stop was the real African Safari – Lions, Giraffes, Rhinos and Elephants!
As we are walking towards the elephants, I hear my older son, Zach, ask Greg if THAT is the elephant's penis? Greg explains they are blessed creatures.
I had to share all these pictures because it is definitely a must go if you are in the San Diego area.
We headed to Del Mar that night for my favorite dinner we had the whole trip… Jake's Del Mar. Not only was it one of the most beautiful restaurants I have seen but the food was phenomenal, the service was perfect and best of all it was situated right on the beach. Heaven!
EVERYTHING was out of this world!!
Tuna Tartare Tacos (my fave)
Beet & Goat Cheese Salad
We crashed after dinner and headed to LA the next morning to visit my brother and sister-in-law. They moved to LA over Thanksgiving and I was excited to see their new pad, LA and all the hype. Ever since I can remember whenever I met someone they always asked if I was from California. It became a running joke in my head.  At Syracuse it just became easier to tell people I was from LA and not Philly because nobody believed I was from Philly. Weird, I know. So I became the girl from LA who had never really been to California. Maybe it was my fake blond hair?
So after 39 years I finally got to see what LA is all about. We got in early Friday and met up with some friends who were also vacationing from Westchester. My friend's sister lived in LA as well and they were visiting her and her family.
My brother and sister-in-law live 3 minutes from Robertson so we shopped, had lunch and headed back to the house. LA has this amazing outdoor mall called "The Grove". It is basically the Short Hills mall, outside. I LOVED IT! We ate at Umami Burger (also in NYC). Now here is another place that needs to open in Jersey. It should open where the old Margaritas used to be located. They have a turkey burger that is mouth-watering deliciousness. You can either have it served on bread or lettuce. I prefer no bun. But this is what it looks like if you get the whole kit and kaboodle. AMAZING!
Quick stop at Dylan's Candy and back to the house.
Since Saturday was our last day we decided to go full throttle. Jayme (my sister-in-law) and I went early to Barry's Bootcamp. I had to go. Since I have not gotten any takers on opening in Livingston, I will just frequent as many Barry's locations as possible. This Barry's was not like Miami's Barry's. Um, no. This Barry's needs a major facelift…like tear down and start over. But it was a KILLER workout and I wasn't sure if I was going to survive but  Jayme took me to the best juice place after for a pick me up!! If you live in LA or  you are visiting…you must stop and get a juice/smoothie at Liquid Juice Bar! Out of this world!! I am still in awe that there is not a Juice Bar in Livingston. Barry's okay – we have 100 workout places but a Juice Bar?! Come on people…. 

Greg was amazing and had the kids showered and ready to go when Jayme and I returned. We headed to Santa Monica to see the Pier and have lunch. My kids were super excited because they had rides at the pier.
Santa Monica is BEAUTIFUL!!! I told Greg when we come back we have to stay at Shutters, that place is ridic!
A few things about Santa Monica
It is workout heaven – the fact that they have this on the beach is insane to me! You do not need a gym membership in this town! 
My brother was the king of the rings:
I tried to bring my Crossfit skills to LA but something about wearing sandals and no lulu pants wasn't cutting it
The pier was the perfect stop for the kids! First in line for the roller coaster and of course in the first row (these children could not possibly come from me, I HATE rides!)
Blue Plate Taco

– Best quac and chips!! Their tacos don't suck either…place was a 10.
After Santa Monica we took a ride to Brentwood. All I can say is that if we moved to LA, Brentwood would be my first choice. LOVE, LOVE, LOVE! The country mart sort of reminds me of East Hampton. Lots of great shopping and people watching!!
After Brentwood I needed a nap! Between Barry's, Santa Monica, lunch and Brentwood I did not know how I was ever going to make it to the Dodgers game. We headed back to West Hollywood and crashed for a little. Since it was our last day in CA, I wanted to run to the Detox Market and check it out. I was told I must go to this place!
I am so glad I did! As I mentioned in my last post, I found this amazing nail polish line that is not toxic. Forget the not toxic part, the colors are GORGEOUS!!!!! I wanted to buy all of them. I did end up buying this perfect toe color for summer, actually called "summertime".
The nude colors are perfection:
The company is actually from Berlin and only available in CA so far. I called Treat because these polishes need to be available to the east coast! They agreed to let me sell them!! Woohoo!! They will be up on my site soon since I am adding a whole shop section. The colors are endless. If you must have them now and you live local I can order for pick up only until my ecom is up! Message me if you are interested.  You can check out all the colors here.
Off to the Dodgers game and last event of the day!
As a Yankees fan it was hard to cheer for the Dodgers but we made the best of it and the game wound up being pretty great!
We woke up early the next morning (5:30am early) for a flight back to Newark. It was sad to say goodbye but I am pretty stoked I have an awesome place to visit.
My last words about flying
Virgin America is the best airline ever. Their policy is they come to you when you need them. Isn't that how it should be? For example, instead of the flight attendant walking around with food for sale, you just click on the screen in front of you, swipe your card and they come running. Even the free drinks. Your kid wants a ginger ale, order it and it is at your kids seat in seconds. Amazing!
I am saying this as a mother who has raised two babies. After flying home 5 hours on a plane of screaming kids, I have come to the conclusion airlines should set something in place where if you are traveling with a child who is 3 and under, you must sit in five dedicated rows in the back. This only pertains to a one child rule. All the kids can hang out and entertain each other and the rest of us can fly in peace.
Please clean the seat after you go to the bathroom. I do not want to clean up the pee on the seat that someone else left behind. It is GROSS!
If you know you are a snorer, please try to do something about it BEFORE you get on the plane. Buy a nose clip, please!
Please shower before you get on the plane. It is quite obvious you will be sitting next to a stranger. I believe the nice and right thing to do would be to make sure you smell nice before walking out of the hotel, house, apartment, hostel, etc.
The person next to you does not want to talk, I promise. Please do not try to strike up conversation with your neighbor. It is beyond annoying and uncomfortable.
Lastly, on every plane there is always someone who can't seem to do the right thing. For example, this lady who was asked politely to switch an aisle for an aisle seat so one could sit with their family. She glaringly said no. Couldn't believe it.  Who says no for the same seat 2 rows back? Unbelievable!!  This is a shot of her from the back with the bun in her hair. 
Amazing trip, lots of laughs, glasses of wine, tacos, running around and Griswald activities! Can't wait to go back!
xx