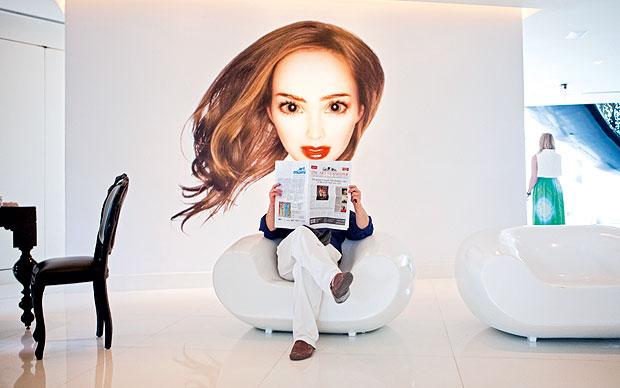 Back from an amazing trip with the girls in Miami.  I won't blog about it because what happens in Miami stays in Miami BUT there are two very important things worth mentioning:
It needs to open in Livingston stat! I know we have 10,000 places to workout in town HOWEVER I am 100% sure this would be a gold mine.  Why?
The entire cardio part is like nothing we have. Sprint Intervals on treadmill, weights, abs. It is BOOTCAMP!
It is the only class that guarantees a 1,000 calorie burn
Music is amazing
The classes fly by!
It is one of those classes you leave and feel like you WORKED OUT!
The Juice Bar. Hands down greatest addition ever. You can order your shake before class and they will have it ready for you when class is over OR you can order after. They offer almond milk, soy milk, almond butter, etc!
Convinced? It is a franchise! Any takers??
Secondly we need to discuss the hotel. Hotels in Miami are tough. Many of them are boutique hotels that have VERY small rooms and a pool that is a nightclub. If I am getting away for 3 days from kids, husband and life, I do not want to spend my day laying out in a nightclub. I am ALL for going out at night and having a great time but my days need to be relaxing. I am not sure how but we all decided on the Mondrian. Take what you want from this but here is the recap:
Number 1: your room comes with this beautiful Asian Princess Leia on the wall (this is me LATE NIGHT, excuse the fat picture)
For the life of me I cannot understand who decided that painting this lady on the wall was a great idea. When you are in bed at night she stares at you. It is the freakiest thing ever!! I actually was so disturbed by it I called to ask what the deal was…this is what I learned:
In hotel parlance, she is a siren. Apparently she appears in every room in order to protect the guests, "almost like an angel figure"—though I like to think of her as a kick-ass superhero.
While I only encountered  two versions during our stay, there are six variations of the "siren" throughout the hotel. The concept is part of hotel designer Marcel Wander's whimsical Mondrian theme—though I'm still glad Marcel drew the line at putting one in the bathroom.
Apparently I am not the only one that took a picture with this kick-ass superhero. They are all over the internet of guests who stayed at the hotel.
Number 2: The drawer situation. There are none. There is not a spot to put your underwear or bra's! I swear. I had to use the "Bible drawer" to stick my undies in. You need to go to a camp store beforehand and get the cardboard drawers that some kids take to camp.
Number 3: The beds. They are made for midget's. It is a good thing I am 5'2 or my feet would be on the floor. Greg could NEVER sleep in that bed. I am not sure how anyone over the height of 5'7 is able to.
Number 4: The sink. You need a visual for this:
Not only is this world's longest sink, it is the worst setup EVER! Where do you put your toiletries? Everyday I would turn on the sink and PRAY my toiletries would not get wet. I have no idea how the designer thought this was a "good idea!"
Number 5: The sun. There is no rooftop pool and the hotel pool is set in the back of the building so the sun doesn't shine until around 11:30am. I guess that is great if you are 24 and you are still sleeping until 12pm but for us 40ish year olds, we are up and out! Luckily we found an awesome pool guy, David, that saved us seats everyday.
So onward and upward. Next year, hopefully we will stay at the W (as long as it is not booked) and pray for some drawers! It was an awesome, much-needed vaca with the girls. I really believe girlfriends no matter what age should have a bonding weekend every year. I know it is tough to plan with Mitzvah's, weddings, vacations, etc BUT if you plan it far enough in advance you have that special weekend to look forward to. At the end of the day despite the weird hotel and no drawers we had an incredible weekend with friends and nothing beats that!
On a side note, coming back from Miami I am trying to figure out where to go from here. It is like getting to your final goal at Weight Watchers, going on a trip, kind of falling off and coming back to jump right back in! Now what? Since I finished on Day 18, I thought I would try to do the last 3 days of the clean cleanse when I got home as a boost. The first day went okay, the second day  not so much. I was fine until I had to bring Zach home from school sick with a cold. A friend told me to buy these Airborne gummy bears that are loaded with Vitamin C…the issue with me buying anything covered in sugar is that I eat them. Sad to say I ate 8 of them. The serving size is 2. I looked at the back of the bottle to see that 2 bears = 25 calories. 4×25 = 100 calories of Vitamin C and sugar..SHIT!
It amazes me that I can have incredible self-control for 18 days and then I can eat a bottle of Airborne gummies. I woke up today mad at myself and I was going to battle through this day hell or high water. I went to 9:30 Ignite teacher yoga class with super yoga man Joey and got my groove on. I am still the WORST in the class by a landslide but I was happy to be there. Again, I know yoga is about no judgment, etc but I can't help who I am and when I am not good at something it makes me psycho. Probably why I am so TYPE A. I am meeting with Pam tomorrow for our final session. Hopefully she will give me lots of tips that I can share about adjusting to the real world and maintaining what I have accomplished in the past 3 weeks.
Until tomorrow!
xx