Did you get the Mitzvah Date?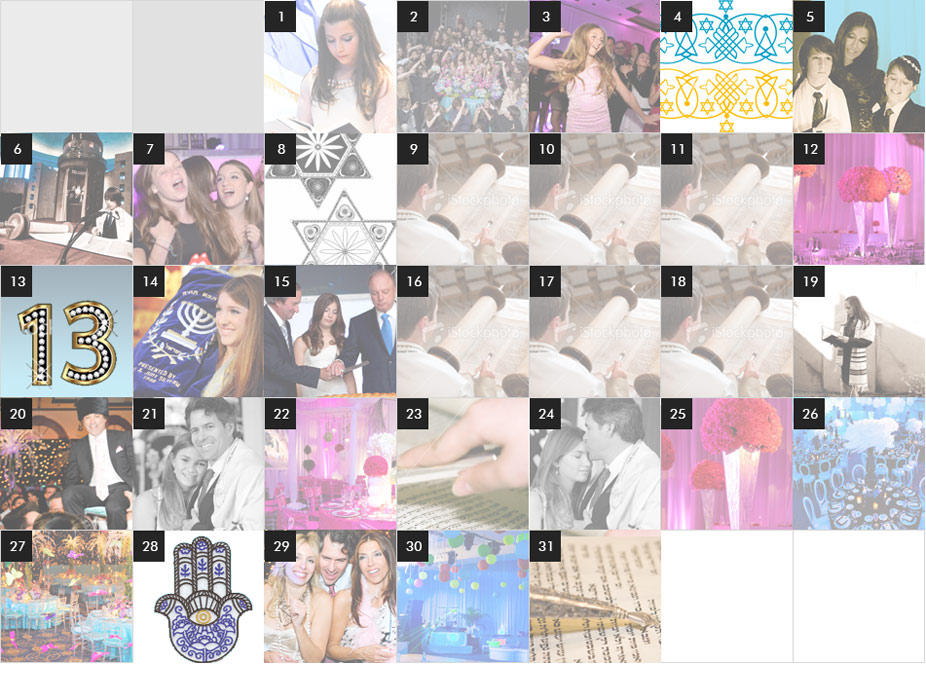 It's starting. Mitzvah date hell. I hear the chatter. I see the faces. What date did you get? Everybody is freaking out. The worst case scenario is that your son/daughter gets the same date as a close friend. Zach got his date last month. Our temple gave us a choice – April or September. I chose September because we are going to Israel in August and it would be weird to have a party before the service. September '17 seems to be a happening month! Who knew? I didn't until I heard about this new website called "SaveMyMitzvahDate.com." Um, GENIUS!
There is a girl, who I don't know, who seems to be the keeper of the dates. Once the last temple in town releases their Bar/Bat Mitzvah date she collaborates, drafts and finalizes a huge email of every Bar/Bat Mitzvah date in the few surrounding towns. I have no idea who she is, how she does it and how we get it! I just know it exists. Well, SaveMyMitzvahDate.com has taken that little idea and made it nationwide!!!!! Basically SaveMyMitzvahDate.com allows you to view their calendar and post your mitzvah date. Searches can be made by school, camp, and zip code radius.  How does it work??
You go to their website SaveMyMitzvahDate.com and :
Once you save your date, you will be able to send out this Save The Date reminder to all of your friends and family:
Why is this so brilliant???
Because if everyone starts putting in their dates on SaveMyMitzvahDate.com, you can check to see if a specific date is taken, whose Bar/Bat Mitzvah will take place on each weekend in any year starting now. You can search by school, camp or zip code!! You can see camp friends Bar/Bat Mitzvah dates, school friends, hebrew school friends, It is endless!! Think of this as THE DATE BOOK OF ALL DATE BOOKS!!!  Plus you can send out an electronic save the date to all of your friends and family members if you so desire. I think family and close friends is ideal. The  random friend situation..I am not sure what is going to happen between now and 6th grade. I am assuming he will still have the same crew of friends but I am not ready to commit. So much can happen between now and then, right? The merge of 6th grade is a huge deal.
SaveMyMitzvahDate.com also has an entire vendor page. You choose your state and within it there are vendors for everything you may need!
Talk about a one stop shop!! SaveMyMitzvahDate.com was just launched a month ago and it has taken off like wild-fire! So get on it. Sign up, put in your kids date so the lady who is collaborating this huge list can get back to her day job. SaveMyMitzvahDate.com has come to the rescue!!
By the way, will the list lady please stand up?!I am so happy to tell you you do not have this mundane job anymore!
SaveMyMitzvahDate.com, also on Facebook, Twitter!