Thanksgiving Corn Bread From Anguilla!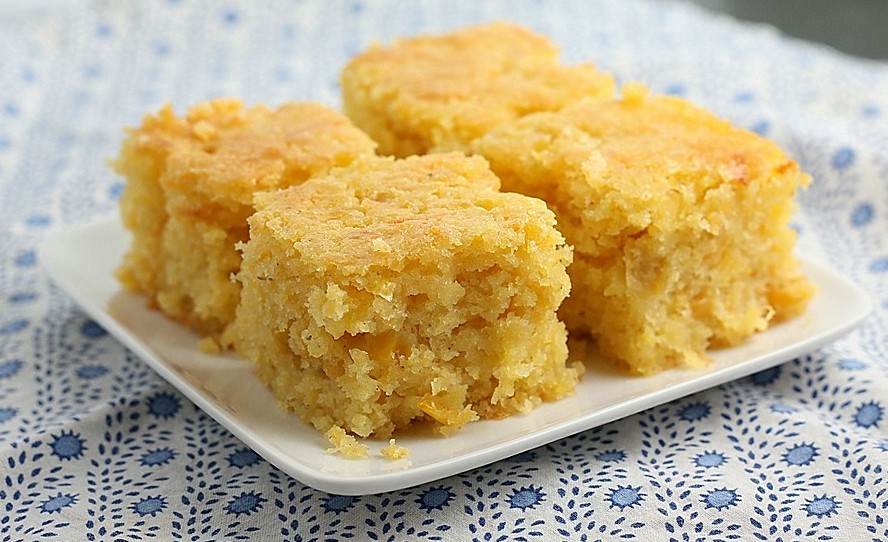 My favorite place on earth is Anguilla (rhymes with vanilla pronounced Ann-gwilla) . If I boarded a plane tomorrow and had the chance to go anywhere I would choose no other place. It is my tiny gem (well not so tiny) but it is a gem and if you haven't been yet, contact me before you depart! I have all the ins and outs!!
Every Thanksgiving I make a very special cornbread. It is a recipe from one of the best restaurants on the island of Anguilla, Blanchard's. Bob and Melinda Blanchard moved from Vermont in 1989 after running many successful businesses. They sold nearly everything they had and moved to the small Caribbean island of Anguilla. They opened the most incredible restaurant and wrote a book to tell about it! If you are planning a trip to Anguilla, you MUST read their book before you go visit and obviously you must make a reservation at their restaurant: A Trip to the Beach
Around this time of year, they make the BEST CORN BREAD EVER!!!!!!!!!! It is to die for. I could eat the entire bread basket and leave! I figured, why not share the recipe this Thanksgiving and bring a little Anguilla to your homes. Try not to eat it all before the Turkey! It is EXTREMELY moist and has the perfect amount of sweetness. I promise this will be the best corn bread you ever made and all of your guests will ask for the recipe. Pinky swear!
(picture courtesy of firstlookthencook)
SERVES 8
INGREDIENTS
1 cup of all-purpose flour
1 cup cornmeal (such as Arrowhead Mills)
2 tablespoons baking powder
1 teaspoon salt
1/2 pound (2 sticks) unsalted butter, at room temperature
3/4 cup sugar
4 eggs
1 1/2 cups canned cream-style corn
1/2 cup canned crushed pineapple, drained
1 cup shredded Monterey Jack or mild white Cheddar Cheese
PREPARATION
Preheat the oven to 325 degrees.
Butter and flour a 9″ square baking dish.
Whisk together the flour, cornmeal, baking powder, salt and set aside.
In a mixer, cream the butter and sugar.
Add the eggs one at a time, beating well after each addition.  (The mixture may appear curdled at some point, and that's OK.)  Add the corn, pineapple, cheese, and mix to blend.
On low speed, add the dry ingredients and mix until blended.
Bake until a tester is clean and the cornbread is golden brown on top, about 1 hour and 10 minutes.
Serve warm.
To freeze, make sure the cornbread is at room temperature, then double wrap it with plastic wrap.  If you are looking to make a double batch, you must use a larger pan than 9×13.
xx