Do you want to "Escape" to Montclair?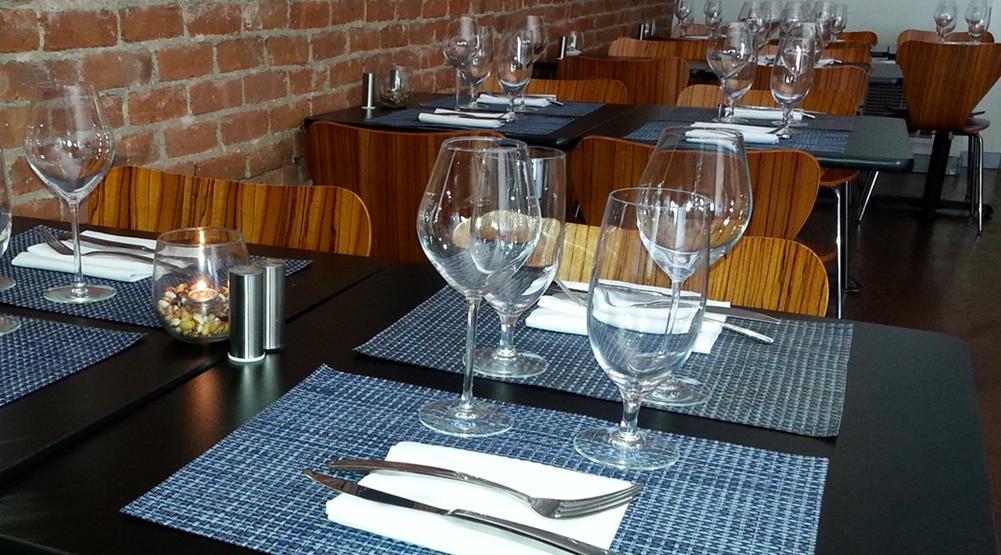 I am a big fan of farm-to-table dining. There is something special about a chef who works with nearby farms to design their menu around the freshest seasonal ingredients. When I heard about Escape in Montclair, I knew I had to try it. It only opened 5 months ago and the direction of their farm-to-table is "southern fine cuisine".
These are the nearby farms they sourced their ingredients from last nights menu:
They brought us this yummy bread basket to start:
The basket was filled with corn bread Madeleines and little biscuits. The corn bread Madeleines were delicious! They are made fresh twice a day!!
Next up is a peek at the menu: So many creative choices, what to pick??
Greg and I went with friends which made it the perfect way to taste many of the dishes at once. My girlfriend and I both started with the Lobster, Corn Crispy Dumplings:
If I went back, I would order this again. It was amazing. I am not sure why there the word "dumpling" is in the description but don't let it sway you. It is more like a lobster and corn salad. It was YUM!
Greg had the Arugula and Fig Salad with Candied Nuts:
He said the only thing he thought was odd about the salad was that there was no dressing BUT he said it was very good and the figs were delicious.
My girlfriends husband ordered the Sweet Corn, Bacon and Potato Soup. I secretly wanted this but thought I would save my calories for dessert, lol.
Again, two thumbs up on the soup!!
For our entrees we both ordered the Chicken with Burgundy Truffles (we heard the chicken dish was a must try) and the Halibut with Pea Shoots.
Let's discuss the chicken first:
If you want Thanksgiving dinner, this is for you! The chicken was very good, the bleu cheese grits were very sweet but there were no signs of truffles. I LOVE TRUFFLES. If you are going place truffles in your dish, you should KNOW they are in there. Unfortunately there were no taste of truffles to be found. They were very, very minimal.
The Halibut, on the other hand, OUT OF THE PARK!!!
We all loved it! The fish was cooked perfectly. The chard, tomatoes and pea shoots were an excellent balance with the halibut. I would DEFINITELY order this again!!!
Although we were all full, we had to order dessert. How do you pass up dessert anyway?
My favorite dessert in the world is Key Lime Pie but it has to be THAT good, like Joe's Stone Crab Key Lime Pie (HEAVEN!)
When I saw it was on the menu, although it was a "tart", it was a no brainer, we also ordered the carrot cake with caramel.
This is the Key Lime Tart, it was very tasty but if I am going to be fair…..
The carrot cake was the winner!
Order this if you go!! It ended the meal on a high note.
Overall, I thought the food was delicious. Everything was paired perfectly and balanced evenly except for the missing truffles. I would give this restaurant 4/5 stars.
The chef and owner is Bryan Gregg. Gregg's resume includes the Executive Chef at the Ho-Ho-Kus Inn and Michael Anthony's in Jersey City where it brought him national recognition from the 2013 Best Chefs America.
Rumor is Chef Gregg is putting together a "monthly dinner series with fellow farm-to-table chefs who will come to Escape to cook with Chef Gregg". Sounds amazing to me!!!
I can't wait to go back!
FYI – Escape is BYO!!
They do offer a vegetarian menu if you are so inclined.
Escape, 345 Bloomfield Ave., Montclair. (973) 744-0712.
Hours: 11:30 a.m. to 9 p.m. Mondays through Thursdays, 11:30 a.m. to 10 p.m. Fridays and Saturdays. BYO.