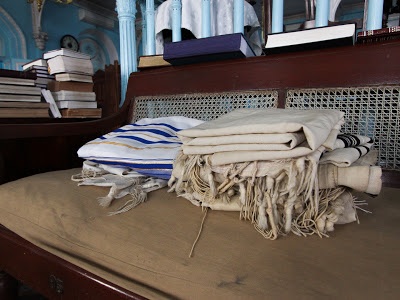 I am not going to lie, the thing I look forward to most during any high holiday service is the sermon.  95% of the reason we chose the temple we belong to is the rabbi. There is something about a rabbi who really gets it.  It is not that he is just familiar with our town or what is going on in it but you may find him at our local Flywheel class or summer kick off party. Some people are turned off by that. They feel it is odd and weird to hang out with "the rabbi". I get it. I mean I would definitely feel weird smoking a joint in front of him but I love that he is young,  passionate and "in the know". It's basically why I belong.
Today's sermon, I believe, was in response to the New York Times article from yesterday about a new look at Bar Mitzvah's.  Did you read it? Read it. Our rabbi says that our temple is going through a "change". Where as he knows he cannot compete with Sunday soccer games and dance classes, he wants the temple to be an activity or "special" that is not in place of but in addition to all of our children's other activities as well as a place for all of us to be more involved. His stats say that in the 1950's enrollment in synagogues was 79%, today enrollment is 49%. It is a significant drop but a number I am sure any of us are  not surprised by. I grew up reform. My parents went to temple Rosh Hashana, Yom Kippur and Passover. My grandparents went every Friday night. My great grand-parents basically lived there. You can see in the three short generations how much it has changed and how much we all have progressed. I left synagogue after my Bat Mitzvah. I remember saying in my speech "I will be continuing my studies after my Bat Mitzvah". I never did and I knew it when I said it. I agree with the Times Article that temple has become a place for our children to become Bar/Bat Mitzvah'd and then a place we leave (many of us anyway). It is an assembly line. The rabbi asked an important question today. Why? Why are we here? Why do we spend all this money to come two times a year and not again until next year. Why? We complain that temple is so expensive yet we shell out the cash for the two days and repeat and repeat. Our country club and gym memberships cost more than temple. Why do we do it?
Well rabbi, I am going to answer you. Last year my father-in-law was very ill.  A close friend of his had Rosh Hashana services in his home. It was absolutely beautiful. It was tight-knit, warm, and refreshing. A woman spoke who I just met only a few hours before and she brought me to tears. Her sermon was breathtaking. She wasn't a writer or a teacher or a philosopher. She was a normal person who told one of the most incredible sermons I have ever heard. I wish I had it to share. We all had lunch after and as we were leaving, my father-in-law's friend, who ran the service, turned to me and said "see you don't have to pay to go to temple, you can come here".
I thought about that. A lot. It was true. I could have Zach home schooled in Hebrew. He is having his Bar Mitzvah in Israel anyway so what would be the difference? This is what would be the difference. The feeling. I can't put my finger on it but there is something about sitting in synagogue that feels right. I am not sure if any of my friends would agree with me or not because we never talk about "temple" (I belong to the other one, lol) but even having a service  in the person's house last year could not replace a service at shul. I am not religious, I do not have Shabbat every Friday night. You may think that makes me a bad Jew or not a Jew at all but I am Jewish. I was born Jewish and I was raised Jewish. My children are being raised Jewish and the synagogue is helping with that in more ways than you think. Although they may complain they have to go, I know that I chose a temple that will foster their beliefs and help them understand what it means to be Jewish. Not through sitting in Hebrew school but through the activities, mitzvahs and charitable events they encourage and teach when they come. Hebrew school is not what it used to be, I see it when I pick up Zach from Hebrew School. He is engaged and he is learning. Does this mean I will start to go more than twice a year? Hard to say. I may come to see a great speaker or support a charity but I can't see myself coming every Friday night. I would love to see the temple move towards a more liberal movement where our children can design their own mitzvah programs and be part of tzedakah projects. I do believe this will help the parents become more  involved. But I am not so sure it will push me to come more after my boys have their Bar Mitzvah's. I may always be a two or three-time a year member but it doesn't make me less Jewish and it doesn't make me uninterested. If you offer the class on Kabbalah, I may come. I am a believer. But if you offer the Yoga class, I probably will stick to PowerFlow.
Do you agree? Do you think if your temple started offering Yoga, Kabbalah and Scotch Tasting would you start to go more? Or do you think you will always be the 2 – 3 time a year member?