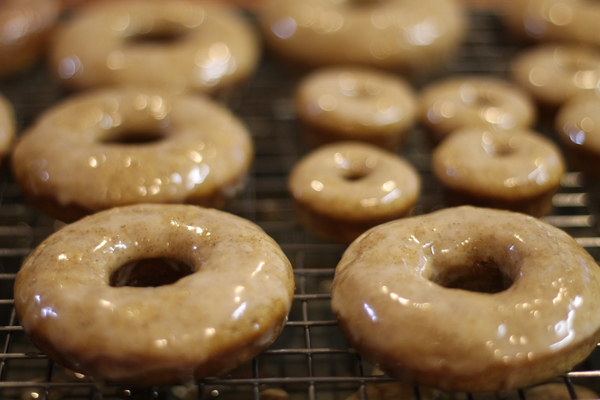 The holidays are upon us and I feel like if I eat one more fattening thing I may explode. I live for the end of the summer and vacationing but it always becomes an eating fest. Every single year, after eating terribly for 7-10 days, I come home and say  "Okay, it is time to go on a major diet"! This year, though, Rosh Hashana falls two days after Labor Day which means there is no reason to even start a diet until Monday the 9th. I found this recipe that I thought I would share because it is a little less fattening and really delicious. "Apple Cider Donuts"! Even the name sounds amazing. What makes them less fattening is the fact that they are baked, NOT FRIED!
If you want to try them, give it a shot! YOU MUST HAVE A DOUGHNUT PAN THOUGH in order to make them otherwise you can turn them into cupcakes. I used a mini doughnut pan.
I didn't have a chance to take pictures as I was making them so I used various pictures from the Tasty Kitchen. The recipe is originally from The Cupcake Project however I changed the topping!
Picture Credit: Tasty Kitchen
YIELDS: 36 mini doughnuts
Ingredients
2 C all-purpose flour
1 1/2 t baking powder
1 1/2 t baking soda
1/2 t salt
2 t ground cinnamon
1/2 t grated nutmeg
1 large egg, lightly beaten
2/3 C packed brown sugar
1/2 C apple butter
1/3 C pure maple syrup
1/3 C apple cider
1/3 C plain yogurt
3 tbsp hazelnut oil, plus extra for coating the pan (If hazelnut oil is not available, you can substitute with macadamia nut oil or vegetable oil.)
approximately 3 tbsp sugar for baking pans
FOR THE TOPPING:
2 Tablespoons Apple Cider
1-¼ cup Powdered Sugar
¼ teaspoons Allspice
¼ cups Sugar
1 Tablespoon Cinnamon
Instructions
In a mixing bowl, whisk together flour, baking powder, baking soda, salt, cinnamon and nutmeg; set aside
2.   In another bowl, whisk together egg, brown sugar, apple butter, maple syrup, cider, yogurt and hazelnut oil
3.   Add dry ingredients to the wet ingredients and stir just until moistened.
4.  Brush cavities of a doughnut pan with hazelnut oil and sprinkle with sugar. If you are making cupcakes, fill cupcake tin with cupcake liners.
5.  For doughnuts, fill each cavity about halfway. For cupcakes, fill cupcake liners about 3/4 full.
6.   Bake at 375 F for 10 to 15 minutes (doughnuts) or 20 minutes (cupcakes) or until the tops spring back when touched lightly.
7.   Remove from oven and let cool for at least 10 minutes before removing them from the pan. Place them on a wire rack.
8.  To make the glaze, whisk together the apple cider, powdered sugar and allspice until completely smooth.
9.  Dunk the doughnuts into the glaze…AMAZING!!
10.  And then immediately into the Cinnamon Sugar
11.  set on a wire rack set over a sheet pan or paper towels so the glaze has a place to drip and repeat with the rest.
Enjoy them!!! I wish everyone a Happy  New Year! I hope you love them as much as I do! We can discuss our diet on Monday! xx