These are not your mom's Rice Krispie treats!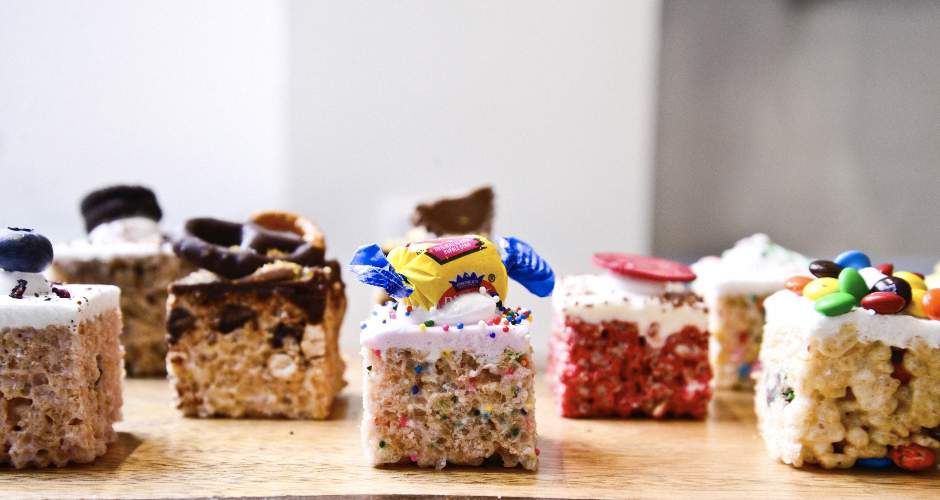 Cupcakes, Donuts, Cookies, Oh MY! As if there is not enough desserts in the world to choose from, Treat House has introduced something pretty fab. Rice Krispie Treats have been around since I was in diapers. We see them at the bake sales, kids parties and playdates but I do not think anybody  has seen a Rice Krispie treat like this before! While Baked Melissa has come up with the perfect bite size cupcake, Treat House has whipped up the perfect size Rice Krispie treat:
Inspired by the Russell's families two children, Daniel & Eli Russell, and with the help of an incredible Pastry Chef, Wendy Israel, Treat House was born. You can read about the story here, I would rather focus on the treats!
The little store was opened about a month ago on the Upper West Side in Manhattan. I have to tell you, these are not your mother's Rice Krispie Treats…the flavors are out of this world!!
Let's get down to business. Snap, Crackle and Pop would not be happy campers to see what I am about to show you!! Ready for the flavors…..
This is Birthday Cake! How perfect are these for a kids birthday party! I always think even the regular size cupcakes are too big (thank God for minis) but these are the best one bite treat around AND they taste like birthday cake! They are flavored with vanilla marshmallow and rainbow sprinkles, garnished with a white chocolate candle.
Next up, Chocolate Pretzel!  This amazing treat is mixed with salty pretzel pieces, dark chocolate and caramel. They top them with chocolate ganache, a hand dipped pretzel, and sugar crystals.
For all you Mint Chocolate Chip Lovers (that's me!) Here is Chocolate Mint!  Green Mint treat topped with rich chocolate ganache, mint marshmallow and a peppermint candy. This is amazing after eating sushi or something spicy!
One bite of this S'mores treat and you will be reminiscing about camp fires and James Taylor songs. This incredible S'mores treat is made up of graham crackers and chocolate which is topped with toasted mini marshmallows. It is garnished with a mini graham & chocolate sandwich. YUM!
Are you a fan of Double Bubble? Here is Pink Bubble Gum! This treat has spot on bubble gum flavor with a little crunch of candy dots. It is topped with a piece of real gum (wrapper included) and bubblegum flavored marshmallow. Treat on a treat!
Reece's Peanut Butter Cup lover? Treat House has created something for you! Chocolate and Peanut Butter! This treat has rich chocolate and smooth peanut butter. It is topped with chocolate ganache and a peanut butter cup. I think this is my favorite!!
Other flavors include Blueberry Pie, Lemon Zest, Caramel Sea Salt, Cappuccino, Red Velvet, M&M's, Dark Chocolate Chili, Almond Cranberry and Chocolate Raspberry.
Pricing:
A few things about Treat House which you can see above:
1) Incredible that they donate 10 cents to the Food Bank of NYC for each treat purchased (have to love a company that gives to charity!)
2)All their treats that are Kosher, Gluten-Free, Nut-Free, and Dairy-Free (unless specified). There are so many kids and adults with food allergies these days, a company that can cater to these needs, I must say, sets them apart. Especially a dessert company!
3) Pricing seems reasonable and fair for the effort it goes into to creating all these amazing flavors!
4) The best news for last…. You do not have to live, work, play in Manhattan to taste these amazing treats. Treat House will start shipping Nationwide in September! WOOHOO!!
I did want to add they also have two other amazing items:
Ice Cream Bars! Vanilla Ice Cream placed between two crispy treats, coated in chocolate… seriously to die for!
Treat Pops 
BIG FAN!! I can already foresee the next camp Visiting Day treat next year!!
Treat House, 452 Amsterdam Avenue (btw 81st and 82nd st), New York, NY. 212.799.7779.