Steve & Cookies – The fight for a seat!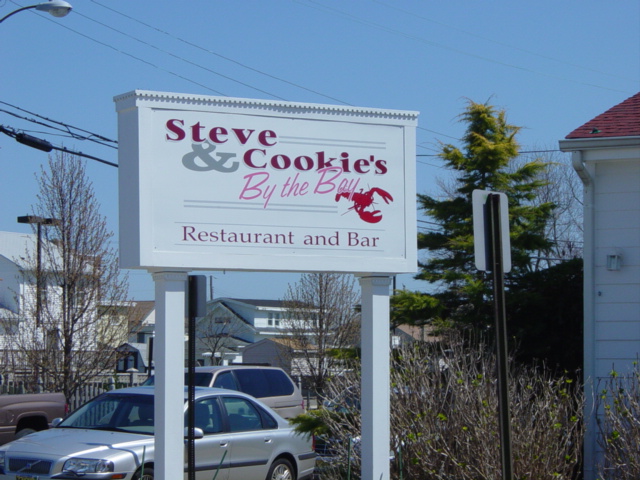 If you have ever been to Margate, NJ you would know Steve & Cookies is the best restaurant in town. It is so good I would go so far to say it is better than most restaurants in Manhattan. They are known for their Ugly Tomato Salad and their Blueberry Pie. The tomato salad is a plate of huge jersey tomatoes with blue cheese and frizzled shallots on top. I have tried several times to replicate the dressing because the dressing is what makes the salad stand out from all the other ones I have had but I always fail to copy it. I dream about this salad all year.
The Blueberry Pie is out of this world! I hate Blueberries and this pie is killer! I think whatever concoction they mix in with the blueberries is what makes this pie off the charts plus the graham cracker crust is incredible.  If you ever take a trip to Margate, you have to order this!
It is impossible to get a reservation there. You have to call 3 weeks to the day at 10am. I am not kidding you, I have to put a reminder in my phone to call otherwise I'm out of luck.
If you do not have a reservation your other choice is to go early, hang by the bar and wait. There are three bars, the front bar, the oyster bar in the back and the middle bar in the center of the restaurant. I actually prefer to eat at the front bar if I am just going with my husband and not friends.  There is a great vibe and Margate is the best place to people watch. If you don't leave Margate with a story there is not shot you ever left your house!
So last night Greg and I went early. We didn't have a res and figured we would wait until somebody was finished. I mean we went at 7pm, most people do not even go out to eat until 8 to eat dinner unless you are 70. Anyway. when we walked in we noticed another couple waiting on the other side of the bar. I wish I had a picture of the bar to show you that it wraps around the whole front of the restaurant. It is pretty big. We figured if that couple was waiting on that end for seats, we would wait on the other end. We stood behind this couple as they finished their dessert so we could grab their chairs. It is so uncomfortable because you don't want to sit on top of them while they are eating but you also want to be the first ones to grab their seats.
Finally, the couple got up and we grabbed their seats. I am not sure why, but it always feels like such an accomplishment to claim the seats you have been waiting for after what feels like forever.  We sat down and the other couple waiting went APE SHIT! Fully freaked out. All I kept thinking was you have to be aggressive! Didn't you learn that song.. BE AGGRESSIVE, BE BE AGGRESSIVE, B.E. A.G.G.R.E.S.S.I.V.E! The lady started screaming at the bartender and the bartender completely stood up for us. I mean they were waiting on the other side of the bar and standing 30 feet from the bar. You could say the right thing would have been to get up and give them our seats but I wasn't having it. I was starving and when Amy is hungry…watch out! (lol). This is the disgruntled couple:
The people next to us were getting up and I was having a heart attack thinking the couple hater was going to sit down next to us. Thankfully, they sat down two people away. The lady was giving me death stares the entire dinner. I was also grateful that a really nice couple wound up sitting next to us. They were awesome and had witnessed the whole seat claiming situation.
Finally, when it was our turn to get up, there was a couple behind us who had been waiting for a table. I promised them they could have our seats after explaining the situation I had gone through earlier. As we stood up, this woman comes running over saying to the couple who had been waiting for our seats and says "Excuse me, we HAVE to have those seats, my friend just had hip replacement surgery and she must sit down!" I literally turned to the woman behind me and said " OMG that lady has been standing over there waiting for 20 minutes, drinking a cocktail and she seemed fine to me. Plus since when is there "handicapped seating"? Have you ever??
I have no idea if the couple behind us gave the hip replacement lady our seats but it amazes me the things people will say to get a seat at the bar at Steve & Cookies! It is that good!!!
Happy Sunday!
xx
 Steve & Cookies, 900 Amherst Avenue, Margate City, NJ 08042. (609) 823-1163