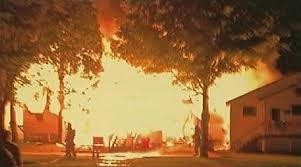 I went back and forth and back and forth. Should I write about this? OR should I leave it alone? Some of my closest friends kids go to this camp. I thought if this was my son's camp, would I want someone talking about this news? And then it hit me. This could have happened at Zach's camp just as much as it could have happened at ANY camp. Pontiac is not to blame…these things happen.  If you have no clue as to what I am talking about this is the quick recap:
Sunday night at 3:30 am, a fourteen year old girl woke up when she noticed her fan turned off. Apparently she is a very light sleeper and noticed all the fans in the bunk were also off.  She saw a fire in the wall and woke everyone else up.  Luckily all 28 people in the bunk made it out safely and nobody was hurt. PHEW! This is so scary and it really hits home to ANYBODY who has a child at camp.
This is the video that was launched on youtube about the fire
After watching this I began to think – how safe are our children in a wood bunk with all these outlets? Do all the bunks have smoke detectors? (they should and I am assuming they do). I have to be honest I never even thought to ask that question on my camp tour!
I came across ANOTHER story that happened at Camp Keystone in Bradford County, Florida in July of this summer. It occurred overnight as well but in the dining hall. Nobody was hurt, however it was Bradford County's largest fire in recent history and it left all the campers without a dining hall.
It really is a miracle that nobody got hurt at either of these camps. Maybe this is a wakeup call to ALL camp owners over the winter to re-check every bunk for faulty wires, etc.  I know this is part of every camp owners job and I am positive this is not taken lightly but sometimes things fall through the cracks. I am no expert when it comes to fires, electricity, or what the codes are for outlets in a bunk but this is a HUGE SAFETY ISSUE and one that must be top priority.  I know this is EVERY camp owners worst nightmare and I cannot imagine how the owners of both camps are handing this ordeal. I believe Pontiac has not commented yet because they do not have a 100% cause of fire. Whatever caused it, I am certain they are taking every precaution to make sure this never happens again. Pontiac has been around for a very long time with an incredible support system and staff, if anyone is going to do their due diligence, it's Pontiac!
Truthfully I am just so relieved that everybody is okay and we will all see those smiling faces in just a few short days!