The camp bus is coming home…now what?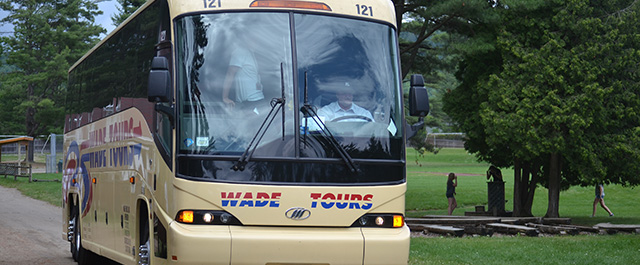 5 days. Yup. 5 days until he is home. I cannot believe how fast it went. All that prep, all those pictures, all those letters, all that money…just to think I will do it all again in 10 months. I am okay with it. I really am. I miss him and I am ready for his return. The real question is…. is HE ready for the return. When I spoke to him last week and I reminded him there were only 10 days of camp left he went quiet. I actually think I heard a pin drop. I said "Did you realize there were only 10 days left?" "Uh, no", he said, "color war didn't even break yet." I told him that is because color war usually breaks within the last 7 days and it is coming! (obviously it broke and I think it ends today…GO BLUE!) I tried to get him excited for all the things we would do when he returned home.
I hope he is nice. He has been a great kid for the past 9 years but who knows what he will be like when he returns. He has had no authority figure, really, to tell him what to do. What is going to happen when I tell him it's bed time? Is he going to look at me, laugh and tell me that he doesn't go to bed at 9 anymore? Has he learned new words that I am going to have to put an end to FAST? Is he going to spend the first week home, since I purposely did not make any plans yet, facetiming all his camp friends? Is he going to beg me to somehow build a Ga-Ga court in our backyard? (it is completely impossible unless I build it on my front lawn…think the neighbors would LOVE that!? LOL). I just am unsure how he is going to adjust to re-entering society. I mean it is not like he is coming back from Vietnam, I just think 7 weeks with no parents, 200 boys and one big sleepover is going to be a huge adjustment for both of us.
I haven't food shopped (well maybe a tiny bit) in 7 weeks. I haven't carpooled, made lunches, screamed or put out fights between the two boys. I haven't done a lot of things I am going to have to do in 5 days. He is going to have to do things he hasn't done in 7 weeks. Like for example, he is going to have to be polite, he is going to have to learn the words "please and thank you" again, he is going to have to get a license because I am not ready to carpool again. He is going to have to learn to be a big brother again. He is going to have to take out the garbage and actually read a book. I think the only thing he has read in the past 7 weeks are color war songs, the schedule and maybe one or two Sports Illustrated Magazines.
Granted I don't expect him to come a monster either. There are some great things I know he picked up at camp such as
1) Making his bed (he did this at home but now maybe learned how to actually put the covers up and place the pillows on the bed correctly)
2) Brushing his teeth (yes he did this also but hopefully now I won't have to ask him every morning if he brushed)
3) Better eating habits (he told me on visiting day weekend he eats salad, floored!)
4) Responsible for his belongings ( one can only hope he will lose less things, like the retainer he hasn't worn all summer because he swears I didn't pack it. I did! I promise you, it is exactly where I told him it was)
5)  Music taste ( he finally knows some of  the classics (paid a lot of money for that!)
6) Increased athletic skills and stronger team player (pictures show this time and time again!)
7) European vocab – (he dropped the word "what" and has officially replaced it with the word "sorry".  "No worries" ( I have been saying this for years but it takes an Australian soccer coach to teach him these little 2 words)
I'm sure I will be able to add to this list when he returns. I know I could list 400 other things he has learned this summer but not really going to bore you because I need your advice …keep reading!
My husband thinks we need to put a one week rule in place where we gradually ratchet up our parental authority or our g-d given rights as parents. I'm down.  I just wonder if we will ever get back to where we were before he left for camp.
I would like some insight from the moms whose kids are coming home NOT for their first summer. How long is the adjustment? Is it tough? Easy? For you first time moms are you wondering the same thing? Insight would be so appreciated in the countdown before the big one returns home! I need to mentally prepare for the few days after he returns.
Personally this is the kid I want to see when he gets home…I do miss him!