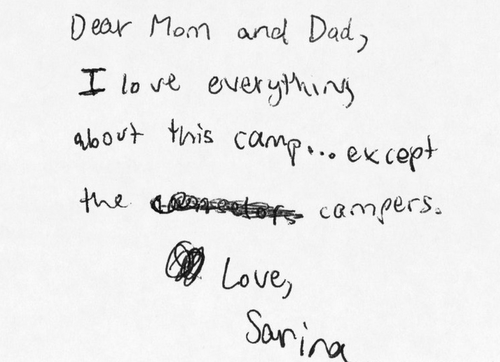 short and sweet – I need your help … I asked a bunch of friends but you know how that goes… Some respond but usually out of 150 emails, maybe 10 people write back.
SO I am writing a REALLY GREAT/FUNNY article on camp. (shocker) But this one is even better. What will make it AMAZING is this:
If you could share with me one of the five things OR all of them listed below!! I would be beyond grateful and I promise I will thank you in my own special way.  YOU WILL REMAIN ANONYMOUS!! 
1) Craziest story that happened at camp (yours or your kids)
2) Funniest story that happened at camp (yours or your kids) (could fall under same category but REALLY FUNNY)
3) Most embarrassing story that happened at camp (yours or your kids) (i.e you got your period first time camp, your first wet dream! who knows! ) 
4) Awesome/Funny letter you received from your kid at camp or one you sent to your own parents IF you still have them!! 
5) Any nostalgia you have from camp that is in a picture (an award, plague, or anything that reminds you OF YOUR CAMP (need a pic of it) !)
Thank you Thank you Thank you
I felt like I could start interviewing a million people and calling around BUT how much easier is it for you to just write down something than taking time out of your precious day to spend time with me (unless you want to!..I am IN!)
EMAIL ME [email protected] (unless you want to comment below…up to you!)
I will promise to repay in my own way.
As always this will be kept anonymous. This goes along with me asking for any babies in a onesies with a camp name. Have one? Send it over!!
You guys rock! Thank you for helping me. I promise to give you a HUGE laugh once I put all together.
xx