Something to Scratch Your Head About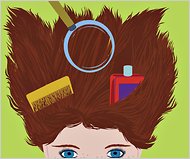 Here we go again…First time mom sends her kid to sleepaway camp. First time mom gets a call.
(friend): "Hey Amy, Did you make an appointment at Lice Be Gone?"
(me): "Um, excuse me, what?"
(friend): "Are you taking Zach, as soon as he gets off the bus, to the Lice Lady?"
(me): (I am LAUGHING) "Are you serious?"
(friend): "Of course, I am serious. Don't you want his head checked before he comes into your house?"
OK STOP! Stop right there. Can we discuss this? I may be a first time mom who sent her kid to sleepaway camp but an appointment to get his head checked immediately off the bus? I can understand wanting to get my kids hair CUT once he gets off the bus (because g-d knows how long it has been since he had a haircut) but LICE!
First of all, ew. Second of all, is this the norm? I had to know. I called the Lice Lady at Lice Be Gone. Well, I will start by telling you she was super nice. Her name was Linda Strand (how ironic) and I wound up talking to her for 30 minutes! This is the juice:
The weekend my son gets home she will be seeing over…READY…200 children! 200 CHILDREN!
O M G. I started to panic. I asked her how far in advance did some of these parents make their appointment. Don't fall over….
1 YEAR IN ADVANCE! She said not all the parents but she has many parents book a year out. HAVE YOU EVER? I mean again, FIRST TIME MOM HERE. Do I book an appointment?
Linda, the lice lady, informed me how rampant lice is and once it enters your house it can spread like wildfire. I am going to recap what she told me, not to gross you out but to give you the low down. She really knows her stuff!  If you are already skeeved out with this topic, you can click out of this little article. If you want the goods, here we go. Deep Breath…
1)"Head lice have six legs equipped with claws to grasp the hair"
2)"Head lice are crawling insects. They can't hop, jump, or fly" (PHEW)
3)"Head lice do not thrive on pets" (good to know!)
4)"Head lice are small, wingless insects which feed on human blood. They need human blood in order to survive" (EW!)
5)"Head lice live for approximately 30 days on a host and a female louse may lay up to 100 eggs" (I know, I know… gross!)

6) "Head lice are usually spread from head-to-head contact, not from sharing brushes, hats or bedding (although that is also possible)."
Those are the facts.
Here is a quick little video to learn what goes on if you decide to take your child once he/she gets off the bus. I know the narrator sounds like a lady we heard from a video we had to watch in 5th grade science but for a virtual walk into the lice center, here is a quick peek:
Not sure why "the larger bugs are kept in a baggie like trophies."Maybe it is a prize to find such big bugs. I definitely would not want to be the prize winner at Lice Be Gone! Also "the keep it a secret thing" that your kid has lice, I can empathize. I mean tough call here. Obviously you want to tell your friends to warn them and give them a heads up in case your kids were playing together, right? It is also a little embarrassing though to tell your friends your kid has lice. I definitely think I would tell my friends as I would want their kids to get checked. But,like I said, I understand wanting to get rid of it, keep it quiet and move on. I see both sides.
So back to what to do. I called Zach's camp to find out what the deal was with the lice checks. According to the nurse, all of the kids heads get checked once a week for lice. I called my friend back and let her know that I would check Zach's head myself when he got off the bus. He has very short hair and I knew I wouldn't miss it. If I had a girl, well, that would be a different story, I would probably spend the money for the consult. However, IF I saw lice in Zach's head then I would be off to Lice Be Gone, no doubt. I do love the fact that if he had it he can" immediately return to school with clean, dry, nit and lice free hair" after the treatment.
Linda said that most over the counter products do not work. Products kill adult lice, but not eggs or babies. The only way to remove it is the long, hard, manual way by separating the hair into quadrants and checking strand by strand. Lice Be Gone charges by the length of the hair (not the time it takes to rid the head of lice). Short hair is $150, medium length (above the shoulders) is $225 and long hair (past the shoulders) is $250. Truthfully I think it is worth it. The thought of trying to rid my son's hair of lice and finding out a week or month later it still is not gone would save me a ton of stress and anxiety.
Anyway  – what is the consensus? Are you having your kids hair checked once he/she gets off the bus??
Every town has a lice center. I have heard some very clever names such as " Lice Lifters", "Lice Busters","Hair Police", and "Nitless Noggins".
If you live local, Linda is the best game in town!!!
Lice Be Gone, 553 Millburn Ave , Short Hills, NJ 07078. 973-467-5423