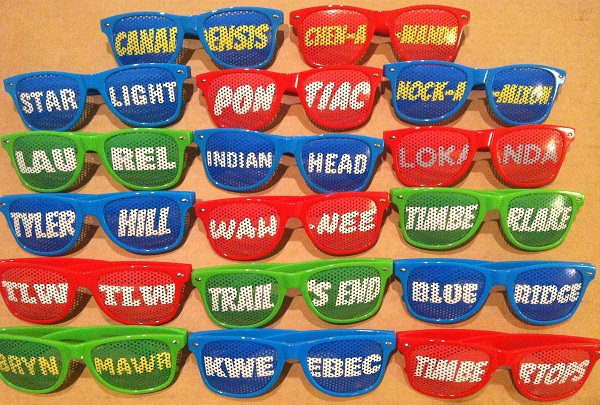 So a HUGE THANK YOU to everyone who supported and responded so nicely to my last article. "The Running with the Jews". I think I will forever now be called the girl who wrote "The Running with the Jews". As we all know it was meant to be funny, AS I AM JEWISH, and poking fun at ourselves is not the same as persecution. Enough on that.
I had an idea, don't laugh. I thought it would be awesome if everyone who LAUGHED AND/OR CRIED reading my article could take a picture this weekend and next (as visiting day is in the next two weekends) and send them to me at [email protected]
I will put together an entire collage, article, etc of everyone's trips to visiting day. The funnier the better! (Even if you want to video). I do not care what camp it is as that is not important. I would love to write a follow up to the visiting days of 2013!
A funny picture from your child's bunk, a crazy food package, etc. Anything you think is good material!
Also since this is my first visiting day, I have asked a lot of people what to bring??
These are things that I have been told
1) Color War Items
2) Stamps – you can go all the way and design your own at Zazzle! ($23.50 for a book for 20)
3) Books
THE THREAD: great book about "four best camp friends, at the start of their freshman year of high school, invite you to read over their shoulders as they chat their way from September to June on one touching, funny and drama-filled Facebook thread.  MEET CAMERON, TALIA, EMMA AND SABRINA CAMERON: Fiercely independent, Cameron lives with her mom in New York City where she begins one of the city's most prestigious and pressured public schools. TALIA: Also a city girl, artsy and pragmatic Talia navigates her way through her Manhattan Prep school and her spot as a middle child in her close but sometimes trying family. EMMA: Flirty but not fickle, Emma takes her Boston all-girls school and its all-boy counterpart by storm. SABRINA: Spirited and athletic, Sabrina is as rah- rah as the suburban town she lives in". (quoted from Amazon)
OR
THE LEMONADE WAR: This is on the list for "Best of Books 2013" and won a ton of awards. "Fourth-grader Evan Treski is people-smart. He's good at talking with people, even grownups. His younger sister, Jessie, on the other hand, is math-smart, but not especially good with people. So when the siblings' lemonade stand war begins, there really is no telling who will win—or even if their fight will ever end. Brimming with savvy marketing tips for making money at any business, definitions of business terms, charts, diagrams, and even math problems, this fresh, funny, emotionally charged novel subtly explores how arguments can escalate beyond anyone's intent." (quoted from amazon).
Or
ESCAPE FROM MR : This book is also on Amazon List of Best Books for Kids 2013. "Kyle Keeley is the class clown, popular with most kids, (if not the teachers), and an ardent fan of all games: board games, word games, and particularly video games. His hero, Luigi Lemoncello, the most notorious and creative gamemaker in the world, just so happens to be the genius behind the building of the new town library.
Lucky Kyle wins a coveted spot to be one of the first 12 kids in the library for an overnight of fun, food, and lots and lots of games. But when morning comes, the doors remain locked. Kyle and the other winners must solve every clue and every secret puzzle to find the hidden escape route. And the stakes are very high.
In this cross between Charlie and the Chocolate Factory and A Night in the Museum, Agatha Award winner Chris Grabenstein uses rib-tickling humor to create the perfect tale for his quirky characters. Old fans and new readers will become enthralled with the crafty twists and turns of this ultimate library experience." (quoted from Amazon)
4) Cookie Cake for the Bunk or Treats for the bunk!
I found these on EBK CREATIONS.  Elizabeth, owner of EBK,  was so awesome she was willing to give out a free cookie cake to my followers! I think whoever sends me the funniest picture will get a free cookie cake for their next event. (She does them for everything, not just camp!). You can also order them from ShopRite! 
Also cookies!! I am not sure who makes them. I am guessing Eleni's. (I writing an entire article on Eleni's cookies which will be up tomorrow! Love them!!)
(Funny here is Vega again, I swear I don't know anybody who goes there! LOL)
Also candy! I have seen it all, I swear.
This is from Candy Creations by Melissa…For all my friends who are going to visiting day next weekend. If you (like me on facebook and subscribe to my blog) shoot me an email at [email protected] with the title "CANDY". I will put all your names in a hat and pick out the winner so one of you lucky people can bring up an entire candy basket to your child's bunk! All entries must be in by Monday. YOU MUST BE A SUBSCRIBER!
The candy bunk is by a company called "Covered in Candy".  This retails for $90. Very cute for the whole bunk!
Or you can go all the way and get the TOWER from " Princessories". The cones in come in a variety of flavors. Super cute! You can also call Lester's! I know they sell them as well!!

OH AND FOR ALL THE LOOMERS! (I have boys that do not loom so I am skipping this one but… a loom box?) (also from Princessories)
Okay that's my wrap! Have the best visiting day! SEND ME ALL YOUR FUNNY PICS!!! It is going to be hilarious once I put this all together.
Stay in touch!
xx