Macarons & Cookies has made it to Short Hills!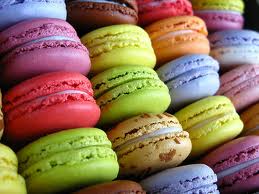 There is a little shop in Bryant Park in the city. It is called Macarons & Cookies. It is super cute and super delicious.
Since owning a cupcake business I always wondered if there would be a new hot item that would ever replace the trend of the cupcake. Macarons seem to be leading the pack at the moment. So what is a macaron? A macaron is French confection consisting of two layers of light meringue-based cookie filled with ganache, buttercream or jam. If you can make a macaron right you will understand why everyone loves them so much. They are extremely difficult to master as they need to have the perfect amount of filling, no bubbles, no extra sugar and the exact size cookie on both sides. I am telling you, they are VERY hard to make!
I was walking in the Short Hills Mall yesterday and I noticed Macarons & Cookies opened next to Bloomingdales!!! I always think that when a speciality dessert store opens in The Short Hills Mall the trend is real. Space is a fortune in the mall (especially first level) and this company must be doing something right to open in Short Hills.
I had to walk in and try one!  There were so many flavors like: Lemon, Blueberry, Green Tea, Vanilla, Strawberry, Nutella, Cafe, Peanut Butter, Dark Chocolate, Sicilian Pistachio, Caramel Flour and Raspberry
I didn't know what to pick so I chose the "Nutella" macaron. WOW! $2.50 for just one little macaron but it was delicious. I learned a few little tidbits while I was in the shop. First of all they use the finest quality natural ingredients, free of chemicals and preservatives. All of their products are certified Kosher (Star K- Dairy). To top it off, I had no idea that ALL macarons were naturally gluten-free, as there is no flour used in these almond paste-based treats. Good to know, right?
This is their menu:
I didn't try a cookie because after eating one macaron I figured I had my calories for the day. I will have to go back and try one. They also serve coffee, lattes, espresso, hot chocolate and a bunch of other drinks. I apologize for the blurry picture. There was nobody in there and I felt like an idiot taking all these pics.
sneak peek at the waffle cookies:
Def worth a try. One macaron will satisfy your sugar craving and bring a smile to your face because after all, how cute are they?
Macarons & Cookies, located on first level of Short Hills Mall next to Bloomingdales, 973-376-0017. They are also located at the  South Street Seaport (NYC), Garden State Mall (Paramus), and Roosevelt Field Mall (Garden City).