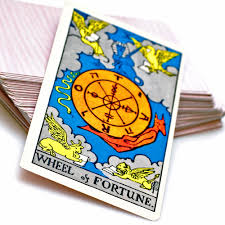 15 years ago I had my palm read on a side street in Italy. I don't remember all the details but I do remember him telling me I would have 3 kids. 2 boys and a girl. But the girl would be much later in life, maybe with a second marriage. Yesterday I went to see a Tarot card reader that was recommended by a friend. The first card and last card he pulled was about me having a third kid. He said it would be a girl. Seriously? I don't know what to say here. I'm not getting pregnant again, am I?
He asked me if someone I knew died in December. Ron ( Greg's dad passed away in December). He would never have known that. He never met me before. He spoke about my grandmother and how she may live to be 100. My grandmother is the only grandparent on either side who is still alive.  We talked about work a lot. I won't bore you with the details but he had a lot to say. He spoke about my children, my husband and my parents. He asked me  if I was planning a trip to Israel. How in the world would he know I was planning Zach's Bar Mitzvah in Israel besides me? He said I would be back there more than once in my lifetime. We shall see. I have 5 pages of notes. He encourages you to take notes or to bring a scribe with you. His name is Dante Sabatino and he is the real thing.  There are a lot of people out there who do not buy into these things. I totally get the skepticism BUT I am a believer. Not in all of them. But Dante was no joke! I'm still shaking from the experience. I actually left crying ,which if you know me, know I am not a crier. He only talks about the next 6-8 months in your life. He urges you to come back either every 6 months or yearly. I will go back in January.
He reads out of his apartment (in NYC) in a private setting. To set up an appointment you can call him  212.727.7362 or email [email protected]. I wasn't sure if I wanted to post this because I thought if I let the cat out of the bag I will never get an appointment again! Let's hope I do!
I would love to hear about your experience if you go!! He is worth every penny! I was told to refer back to your notes in 3-4 months after going to see him. Can't wait to see!
You can check Dante out here on his website